GREENSBORO, NC - A business woman stood in the middle of a crowded room at the Windsor Center in Greensboro, took a deep breath and said, "We are tired and that's why we're here."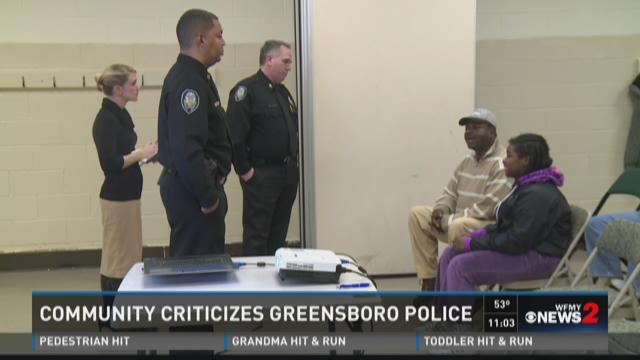 The woman, joined by at least 40 other community members, rattled off a list of complaints. The target of their criticisms? The Greensboro Police Department.
In late November, Chief Wayne Scott assembled the Office of Community Engagement, a three person team tasked with interacting with the community to find solutions and programs to help develop the GPD. On Wednesday night, the team met with community members for the first of six meetings scheduled before the end of the year. 
Captain Nathaniel Davis told WFMY News 2's Hope Ford earlier that week, the department needed to hear, face and address issues in the communities they police. The community did not disappoint.
It was clear, racism was the focus, as one person said, "We have a racism problem," However, it was not a police bashing session. Rather, people said these were their experiences with the police and the stories of their communities. 
Read: GPD Invites Community to Tell All
"Respect," another chimed in, "Regardless of what you think humans have the right to be treated with respect."
"You need to acknowledge there is a trust issue in the police system," yet another said. 
Some said there is a lack of communication and training in the department, while others feared a violent situation erupting in Greensboro that echoed what they've seen nationally. 
"There's no protection for a black person in Greensboro. There's no protection for a black person in North Carolina. But you want me to work with your system," said Bishop Dean. "We don't want another Ferguson. We don't want another Laquan McDonald killed and gunned down."
Dean referenced the 17-year-old that was shot 16 times by police in Chicago in 2014. Others referenced the McDonald shooting that lead to Officer Jason Van Dyke being charged with murder, as well as Ferguson and the Black Lives Matter movement. Also mentioned, the New York Times article which highlighted data showing black people are pulled over more often than anyone else. 
Read: Article: Greensboro Police Pull Over Black Drivers More Often Than White Drivers
One woman said, "I watched two or three officers pull over two young black men for a broken tail-light, handcuff both men and search their car with dogs. Then, after they didn't find anything, they released them with no apology at all.'
The woman said claimed she recorded the incident and asked Chief Wayne Scott,"Who do I call when something like this happens? When someone breaks the law and it's an officer?"
Scott recommended the woman file a complaint with the department's Professional Standards Division. The chief added at the conclusion of the meeting he was happy with the conversation between the department and the community and would make concrete steps to solutions.
"We are looking at procedural justice training as we go into our 2016 in-service goes right along with what a lot of the people here are saying and the concerns that they have. But I don't know if that will be enough. I have to digest what I heard here and what happens in subsequent meetings"
Read: GPD End Minor Traffic Stops Following Racial Disparity Data
There are 5 more meetings in December. (see below) The chief said he might not attend every meeting, but will be briefed. 
December 5 – Lewis Center, 3110 Forest Lawn Dr., 10am – 12pm
December 8- Griffin Center 5310 Hilltop Rd., 6:30pm- 8:30pm
December 10- Lindley Center, 2907 Springwood Dr., 6:30pm- 8:30pm
December 14- Peeler Center, 1300 Sykes Ave., 6:30pm-8:30pm
December 17- Glenwood Center, 2012 Coliseum Blvd., 6:30pm-8:30pm