GREENSBORO, N.C. -- Families with terminally-ill and medically fragile children will be losing home health services from a Greensboro Hospice organization at the end of the month and two families say they haven't received any official notice.
"It's like a messy divorce," says Dan Smith. "Where everything we're learning we're learning from other people."
Smith and his wife Dania Ermentrout have been working with Kids Path since 2013. Their 5-year-old daughter Moira has a rare form of cerebral palsy and can't walk or talk. She's terminally ill.
Dan and Dania have relied on home health care from a Kids Path nurse for the past four and a half years. They say it's a level of care not every nurse or doctor has training for.
"All of these terrible diseases that nobody ever wants their children to ever have. And they understand them."
Kids Path is program under Hospice and Palliative Care of Greensboro. They currently serve more than 250 kids a year, including 21 families that receive specific home health care.
But Kids Path will be cutting those home health services at the end of the month, saying November 30, 2017 is the last day those services will be provided.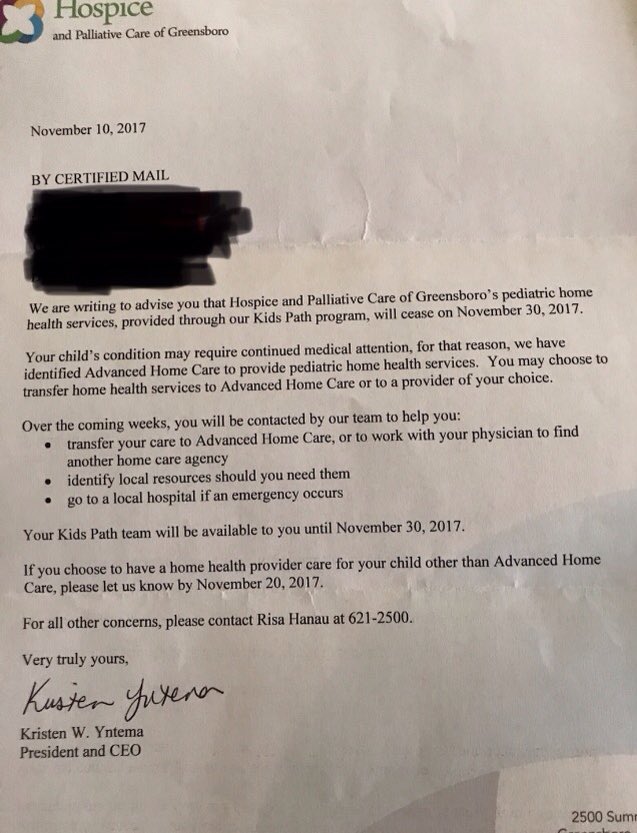 In a release, the organization says it will work with families to help with the transition. Kids Health said it sent letters to families Friday, letting them know the home health services would be stopping.
Cassidy Mackay says she hasn't gotten that letter yet, but learned what was happening second-hand from a nurse.
"To choose to shut that down without even asking the people that they serve just is unconscionable," MacKay explains.
Her 6-year-old son Caleb has a degenerative neurological disorder and he's not going to get better. She's relied on Kids Path for the past two years and a lot of it is help with a feeding tube Caleb has to wear all the time.
She points out it's a holiday week before the home health care will stop and worries about trying to find someone else on such short notice.
"So, essentially that's one week," she says. "We have one week's notice to find someone to replicate that level of care and that is an impossible task."
Dan and Dania haven't gotten their letter yet either and they also found out what was happening from someone else in the healthcare industry. They tried to contact leadership at Kids Path about it but say they still haven't gotten a straight answer.
"They didn't tell us," Smith says. "We are people. Moira is a person. And it is frankly cruel to do that."
To be clear, Kids Path says they will still be providing all their other services, like pediatric hospice care and counseling.
The home health services make up less than 10% if what the organization provides to families in the Greensboro area and those are the only services they will be stopping.
A spokesperson says it was a business decision that came after months of research, but the families say it's the type of care they need the most.