Tuesday, former and current NFL players met with team owners, NFL Commissioner Roger Goodell and Troy Vincent, as well as members of the National Football League Players Association (NFLPA).
The group meets in New York for two days of meeting, with the main discussion surrounding player protests during the National Anthem and opposition to said protests, led by President Donald Trump.
Prior to the meeting, the NFLPA said owners and players would discuss player protests during the national anthem, but the league isn't expected to change its policy, which currently states players should stand during the Anthem, not that they must. In a memo to owners, Goodell said the NFL would present a plan to "move past" the anthem controversy, with a possibility of providing other in-season platforms to promote the work of players on social issues that drove many to protest.
At 10am, a small group of players met with owners, before a quarterly NFL league meeting at 1pm on Tuesday.
It's Jerry's World at the NFL owners meetings. @WUSA9sports @wusa9 pic.twitter.com/LiEqiDGncS

— Darren M. Haynes (@DarrenMHaynes) October 17, 2017
Protestors gathered outside of the meeting, chanting "take a knee against white supremacy," and kneeling in support of players. Dallas Cowboys' owner, Jerry Jones briefly stopped and talked to protestors.
After the meeting, the NFL and NFLPA released a joint statement.
"Today, owners and players had a productive meeting focused on how we can work together to promote positive social change and address inequality in our communities. NFL executives and owners joined NFLPA executives and player leaders to review and discuss plans to utilize our platform to promote equality and effectuate positive change. We agreed that these are common issues and pledged to meet again to continue this work together.
As we said last week, everyone who is part of our NFL community has a tremendous respect for our country, our flag, our anthem and our military. In the best American tradition, we are coming together to find common ground and commit to the hard work required for positive change."
Following Colin Kaepernick's lead in 2016, dozens of players have taken a knee during the Anthem to protest racial injustice and police brutality. Kaepernick, the former 49's quarterback, in now a free agent and recently filed a lawsuit against the NFL, alleging owners colluded to keep him from being signed.
In recent weeks, more teams and players protested, following a mention from President Trump, who denounced the protests during a rally in Alabama. Several owners released statements criticizing the president and his comments, and many locked arms with players during the Anthem.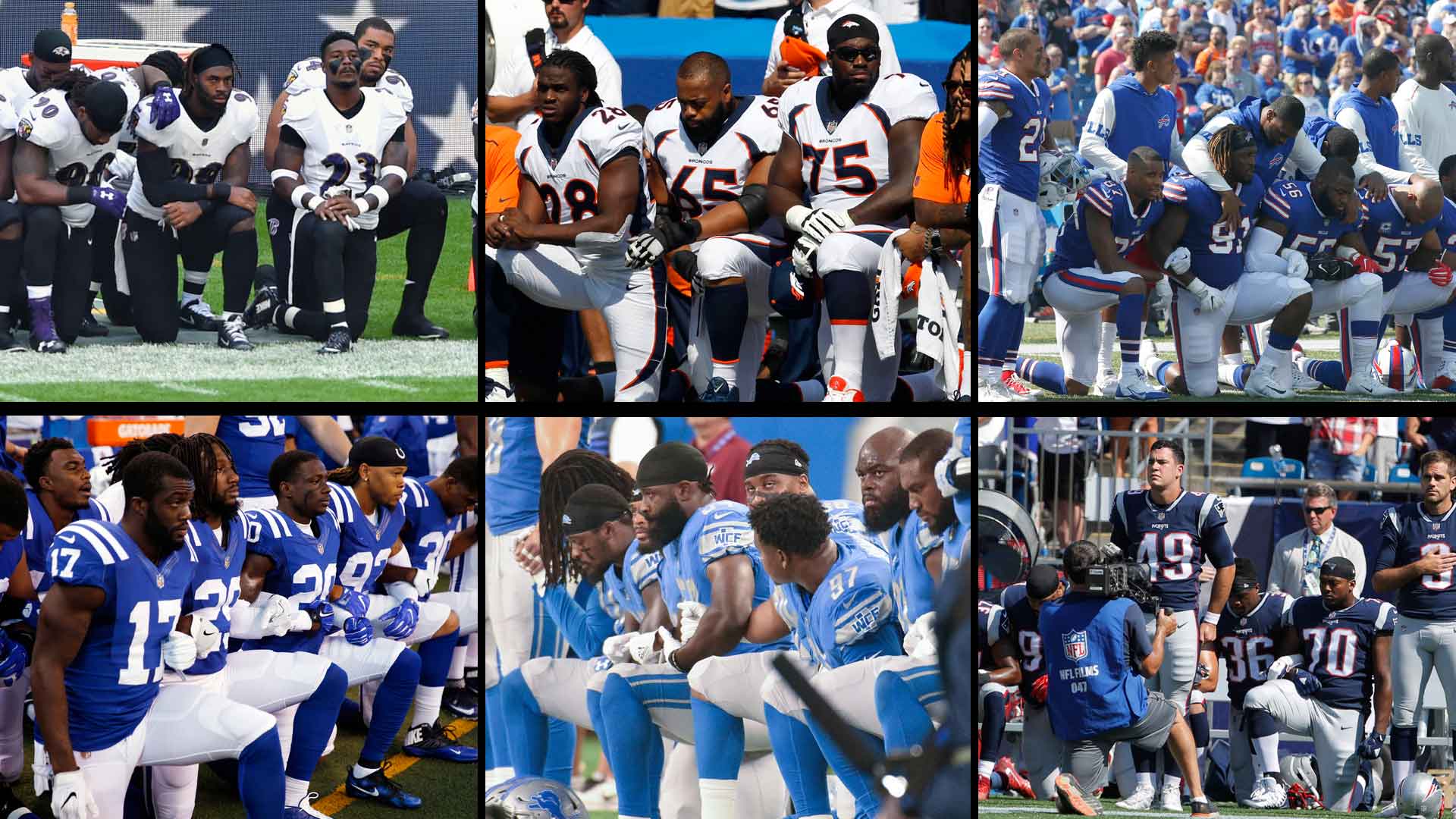 MORE: NFL Protests After President's Remarks
However, tones have changed again. Weeks after Jones knelt with his team, the Cowboys, prior to the Anthem, he said on Oct. 10th, any player who "disrespects the flag" will be benched.
TV networks made a move to shield the public from the protests as well. During week 6, FOX, NBC and CBS stayed in commercial breaks during the pregame presentation of the Anthem and the flag.
Meanwhile, Monday night, Goodell and Seahawks WR Doug Baldwin sent a letter to the Senate Judiciary Committee, backing bipartisan legislation for criminal justice reform. The bill, introduced last week by Rep. Sen. Chuck Grassley and Dem. Sen, Dick Durbin, would cut mandatory minimum sentences for non-violent drug offenders, give judges more discretion to tailor sentence to individual offenders and establish new programs to help low-level offenders re-enter society.
NFL Meeting Attendees
(Former and Current)
NLFPA
NFL
Clubs
Anquan Boldin
DeMaurice Smith
Roger Goodell
Arizona: Michael Bidwill
Darius Butler
Eric Winston
Troy Vincent
Atlanta: Arthur Blank
Russell Okung
Don Davis
Buffalo: Terry Pegula
Kenny Stills
Houston: Robert McNair
Julius Thomas
Jacksonville: Shad Khan
Michael Thomas
Miami: Stephen Ross
Mark Herzlich
New England: Robert Kraft
Kelvin Beachum
NY Giants: John Mara
Demario Davis
Pittsburgh: Art Rooney
Malcolm Jenkins
Philadelphia: Jeffery Lurie
Chris Long
San Francisco: Jed York
Eric Reid
Josh Norman