GREENSBORO, NC -- Not so fast. That 90 degree heat isn't done with the Triad just yet.
Temperatures will continue to rise throughout the work-week here in the Triad as warm air moves in from the west. This will turn into yet another heat wave for us, with several days of 90 degree temperatures.
This won't be as bad as some other heat waves we saw this summer. The biggest difference will be that we won't have much humidity this time around.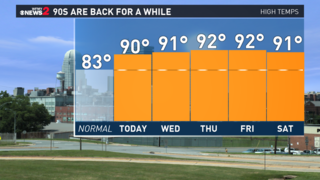 High temperatures will be in the low 90s on Wednesday, but could rise to the mid 90s on Thursday and Friday.
High pressure will keep any storms away from the Piedmont during this time, with lots of sunshine.
The heat will begin to subside a bit heading into the weekend with highs dropping into the upper 80s on Sunday, getting even cooler than that next week.
This has been a hot summer. In fact, this is the 2nd warmest summer on record in the Triad.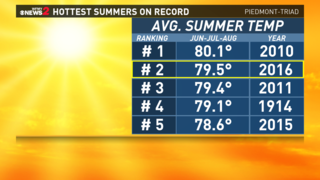 Copyright 2016 WFMY