GREENSBORO, NC -- Sunday morning plans could be impacted by an icy glaze as freezing rain moves into the Triad. The WFMY News 2 Weather Team is watching a storm system moving in that is likely to bring freezing rain for the first part of the day Sunday.
By Saturday night, moisture will start to move our way from the west. As it does, clouds will increase.
Precipitation will start early Sunday morning, as early as 5am in the west and 8am in the east. As it does, it's likely to fall as a mixed bag of snowflakes, sleet, and freezing rain at first. Then, mostly freezing rain for a few hours around sunrise through the mid-morning hours. As temperatures rise through midday, we'll see everything change over to regular rain. Just how fast this changeover happens will determine how much ice accumulation we see.
In the Triad, a light icy glaze is likely, maybe even as much as a tenth of an inch. This could coat cars, trees, power lines, and some roads, but is unlikely to create widespread power outages or downed trees. If you need to travel, you'll need to use a lot of caution.
In the Foothills, it will take longer for temperatures to rise above freezing, so an icy coating up to a quarter of an inch is possible. This is likely to create icy roads, especially overpasses. Power outages and downed trees aren't likely, but some can't be ruled out.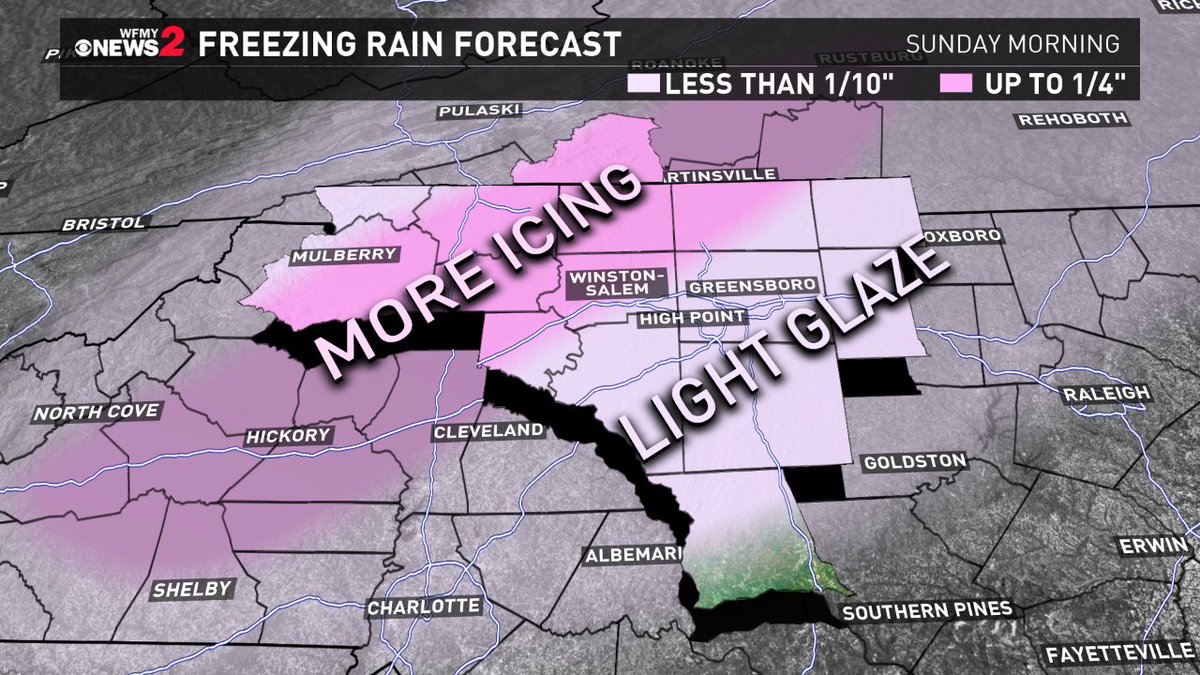 Rain will take over throughout the day and any problems created by the wintry mix will melt away through the afternoon. No problems are expected to linger into Monday morning.
Stick with the WFMY News 2 Weather Team for updates throughout the weekend.
Follow WFMY News 2 on Facebook and Twitter
► Make it easy to keep up to date with more stories like this. Download the WFMY News 2 App now
Copyright 2017 WFMY