North Carolina Gov. Pat McCrory says he and other officials are working with fuel suppliers to monitor and quickly replenish gasoline supplies.
McCrory's office issued a statement Sunday night saying a pipeline repair in Alabama should soon have normal supplies flowing to North Carolina.
The governor's statement says state officials are working to make sure that motorists are protected from excessive gas prices and minimize any interruptions in fuel supplies.
POLL: Whats' Your Biggest Concern? (Mobile Users)
On Friday, Gov. Pat McCrory signed an executive order to help ensure there was an adequate supply of fuel across the state.
In a statement, he said, "This executive order will help protect our motorists from excessive gas prices and ensure an uninterrupted supply of fuel that is essential for the health, safety and economic well-being of businesses, consumers and visitors in North Carolina."
McCrory also issued an executive order temporarily waiving hours of service restrictions for fuel vehicles traveling in and through North Carolina.
"The move will help prevent disruptions and backups at major fuel distribution hubs," state officials said.
The North Carolina price gouging law is now in place as gas prices statewide are expected to rise anywhere between five and 20 cents over the coming days.
The rise is due to a pipe leak in Alabama that carries gas to states up and down the east coast. The Colonial Pipeline Company has not actually started to fix the pipe — and said it will need to build a bypass line.
Some service stations across the state reported they've run out of gasoline.
In the North Carolina, signs have already been posted at some gas stations. On Sunday, in Raleigh, the Sheetz on Atlantic Avenue was completely out of gas while a nearby Shell only had 93 octane.
At least a dozen Sheetz stations in the Triangle have either run out of gas or have a low supply. Other stations in the Triangle and throughout the state have reported being out of gas or having shortages.
McCrory's office says most of those stations are getting new supplies of gas or will get them Monday.
Colonial Pipeline said in a press release Monday that they had been gathering gas from Gulf Coast refiners and then shipping it to markets throughout the southeast. Supplies of gasoline have either been delivered or are expected to be delivered soon to "terminal stations" in Georgia, North Carolina, South Carolina, Alabama, and Tennessee.
Colonial's system of distribution while repairs are being made: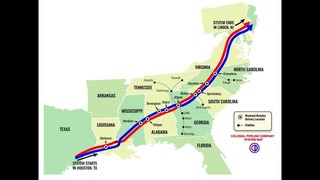 As described above, gasoline shipments on Lines 1 and 2 (Mainlines) initiated on the system starting last week were delivered this past weekend or are in route to the following markets, with local and regional fuel marketers distributing the product from their terminals to retail stations:
Boligee, Oxford and Birmingham, Alabama
Opelousas, Louisiana
Atlanta, Georgia
Meridian, Mississippi
Belton and Spartanburg, South Carolina
Greensboro and Charlotte, North Carolina
Upon arrival at the mainline terminal locations outlined above, Colonial will deliver fuel directly to local terminal customers or re-originate the fuel down lateral or stublines to additional terminals in several other markets, which are highlighted below. Fuel terminal operators will then determine distribution patterns for each respective market, where gasoline will be off-loaded into tanker trucks for delivery to retail stations.
Griffin, Macon, Albany, and Bainbridge, Georgia
Raleigh and Selma, North Carolina
Nashville, Knoxville, and Chattanooga, Tennessee
North Augusta, South Carolina
Under normal circumstances, the Colonial Pipeline system transports approximately 2.6 million barrels of refined products each day, with Line 1 accounting for half of this volume
Fuel is being delivered to mainline terminal stations in Greensboro and Charlotte and following that, fuel will be delivered from those terminal stations to local ones in Raleigh and Selma, the company said. From that point, fuel will be delivered in tankers to other areas in the state.
The company did not provide an update on when any fixes to the lines in Alabama would be complete.
Copyright 2016 WFMY