GREENSBORO, NC -- After a hot summer in the Carolinas, everybody wants to know how the leaves will be impacted heading into the fall season. Experts are expecting that this years season could be a bit longer than average.
This was one of the warmest summers on record in the Carolinas. Typically, extreme heat does not bode well for good fall colors. However, Dr. Beverly Collins, a biology professor and fall foliage forecaster at Western Carolina University told ExploreAsheville.com that this region's summer heat was not so extreme that it would be a threat to fall colors, although it could lessen the vibrancy a bit.
Summer rains varied from town to town, with some areas seeing a drought, and others seeing near-normal rainfall. According to Dr. Collins, trees react differently to these conditions. Some trees will be likely to start changing colors earlier, while others will start changing later. This should prolong the fall color season in the North Carolina mountains.
Typically, fall color starts to peak in the highest elevations in late September. Here in the Triad, we typically wait until mid October before peak color arrives.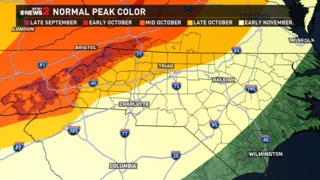 Copyright 2016 WFMY