GREENSBORO, N.C. -- Thousands of students across the state will come together Wednesday night, demanding change after deadly officer-involved shootings in Charlotte and Tulsa, OK.
The organization Black University is working with historically black colleges and universities across the state to organize the rallies.
There are events planned at North Carolina A&T as well as Winston-Salem State University.
READ MORE: CMPD Chief Responds To Deadly Shooting, Protests Turning Violent
Organizers of the A&T event talked to WFMY News 2 Wednesday about the need for these rallies.
"Definitely providing a space for students to come and talk and share their grievances and just talk about next steps, like what do we do now," said A&T senior Vashti Hinton. "Because, a lot of times, we have these protests, and then there's nothing to follow, like what are our next steps?"
Sophomore Delaney Vandergrift added, "Folks need to be around people that love them and understand. We don't need any more devil's advocates. We've been doing that for too long. So yeah, it's important. It's very important."
Hinton and Vandergrift say they do expect the rally to remain peaceful Wednesday. The goal is to give students a place share their feelings about the incidents and think about ways to fix problems in their communities.
The event at A&T is scheduled for 10 p.m. at the campus' reflection pool.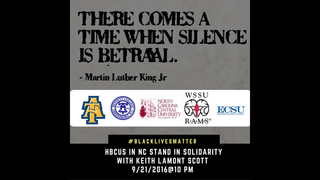 At UNCG, police have been looking for ways to bridge gaps between the department and the community. Last fall, the department started hosting forums for students, faculty and police to give them a chance to discuss issues in the community.
Police say the goal is to help both sides build trust.
"We want to hear, we want to listen to what folks are saying," said Maj. Richard Bailey, with the department. "You're going to find that, when you come to our events, we are not there to defend what we do or don't do. What we are there to do is listen."
The next police and student forum is set for Monday.
The department hosts a number of trust building events throughout the year. To learn more about them, visit the UNCG Police Facebook page.
Copyright 2016 WFMY