GREENSBORO, N.C. -- The Charlotte Hornets take on the Boston Celtics in a NBA pre-season match up at the Greensboro Coliseum Thursday, October 6, 2016 at 7:30 p.m.
Basketball legend and Hornets all-star Dell Curry stopped by WFMY News 2's Good Morning Show ahead of the game to talk about the Hornets exciting new season, the Greensboro Swarm and his family.
Curry played with the Hornets for 10 years and remains connected with the organization serving as one of the Hornets Ambassadors. As a matter of fact, Curry still leads the franchise in the number of games played, most points and most three-point field goals. He knows first hand what it means to take the game out of Charlotte and bring it to Greensboro.
"Greensboro has always been a big follower of Hornets Basketball," said Curry. "I remember having preseason games when I played so we're excited to come back and show what the new team is going to be like this afternoon in Greensboro against a good team."
Curry says the upcoming Hornets season looks promising with some key players coming back. The Hornets resigned key players Nic Batum and Marvin Williams and the team gets back Michael Kidd-Gilchrist from injury and Kemba Walker.
Curry's interview also touched on the new Development League Team, the Greensboro Swarm. As well as the new field house.
"It really looks great. What a thing by Michael Jordan to invest and put a D-League so close to the NBA team. I had a chance to go through the field house yesterday; one of the best in the D-League. I told him, you can't make it too nice, you're going to want the players to leave."
The Greensboro Swarm launches its season in November. Curry's younger son Seth played in the NBA Development League for the Santa Cruz Warriors and the Erie Bayhawks.
"I'm really proud of Seth. To get in the league you can do it a number of ways. Stephen the #7 pick in the draft back in 2009, his career really taking off. Seth coming out of Duke. He had surgery after his senior year so he needed to develop to get over the surgery un-drafted," said Curry.
"The league really helped him develop his game, find out what the pace of an NBA game is like, work on his body learn how to practice again. And that really got him ready for his opportunity.
Seth Curry just signed a two year deal with the Dallas Mavericks. Dell Curry's oldest son, Stephen is the NBA's reigning MVP.
You can see more of the interview by watching the videos included in this story.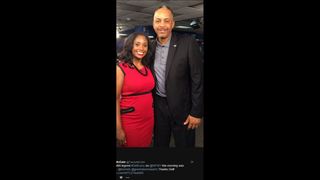 Copyright 2016 WFMY