GREENSBORO, N.C.-- Today marks 20 years since Fran devastated North Carolina, the worst hurricane to hit the state since Hazel in 1954. The strong hurricane hit near Wilmington with wind gusts over 120 mph and a 12 foot storm surge from Carolina Beach to Topsail Island.
Piers were destroyed, much of Topsail Island was uninhabitable for weeks. Fran brought strong winds inland too, with 80 mph winds in Raleigh, and nearly 50 mph winds in Greensboro. It's been a long time since we've seen a hurricane like Fran in North Carolina.
Fran brought strong winds inland too, with 80 mph winds in Raleigh, and nearly 50 mph winds in Greensboro. It's been a long time since we've seen a hurricane like Fran in North Carolina.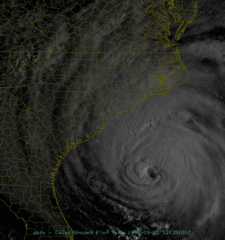 Fran's Impact
Fran was the worst storm to strike southeastern North Carolina since Hurricane Hazel in 1954. According to the Wilmington Star-News, Fran knocked out electricity for 1.5 million people. Of the 26,000 customers served by Four County Electric Co-op only 100 still had working electrical service after the storm. Interstate 40, U.S. highways 17 and 74/76, and College Road near Castle Hayne were closed for a time due to trees blown across the roadway. Hurricane Fran was responsible for 26 deaths and $4.16 billion in damage according to a report from the National Hurricane Center.
In Wilmington, 75 percent of homes sustained some damage, with 24 percent sustaining major damage. Historic First Baptist Church downtown lost its 197-foot steeple which landed in Market Street. Galloway Hall at UNC-Wilmington lost a portion of its roof and suffered significant water damage. Curfews were in place for Wilmington and New Hanover County from 10 p.m. until 6 a.m. for several days after the storm. Wrightsville Beach, Kure Beach and Carolina Beach were completely closed to all but emergency workers.
Storm surge flooding in Carolina Beach reached six feet across Lake Park Blvd, flooding many businesses and the town fire station. Three feet of sand was left behind on parts of Carolina Beach Ave. The Carolina Beach Fishing Pier, heavily damaged during Hurricane Bertha earlier in the summer, was completely destroyed along with the restaurant. The Star-News interviewed Carolina Beach resident Granger Soward who stayed at his home through the storm; during the eye he watched a manatee swim up to his back door! At Kure Beach part of Atlantic Avenue was undermined by the storm surge and impassible after the storm. The portion of Kure Beach Pier that survived Bertha was destroyed. At least 200 homes were damaged with about 25 beachfront homes destroyed in the south part of town along Fort Fisher Blvd.
At Wrightsville Beach, Fran destroyed part of Crystal Pier and most of Johnnie Mercer's Pier. Most of the island's dunes were flattened and sand covered most residential roads near the beach. Figure Eight Island's main road was covered in three feet of sand, and some homes had enough sand scoured from their yards to expose parts of septic systems. Many beachfront homes had their first floors knocked out by Fran's storm surge.
Topsail Island was almost completely overwashed by the storm tide which reached 12 feet in places. The Surf City fire station was destroyed, as was the North Topsail police station. The Surf City Pier, Scotch Bonnet Pier, Ocean City Pier, and Barnacle Bill's Pier were heavily damaged. North Topsail Beach lost an entire row of beachfront homes and a 60-foot section of highway 210. Topsail Island was breached in six places according to the Star-News, with 331 homes destroyed.
In Duplin County the dome of the historic courthouse in Kenansville was blown down. The Raleigh News & Observer stated that nearly every road across Duplin and Sampson Counties was impassible due to trees felled by high winds. The city of Raleigh experienced significant wind damage and flooding. Thousands of tall oaks crashed to the ground during the hurricane-force gusts, with power lines and houses subsequently damaged. Crabtree Creek, normally a small stream almost unnoticed in the midst of a major commercial district, filled with Fran's rainfall and rose seven feet above flood stage. This flooded Crabtree Valley Mall as well as nearby neighborhoods.
Farther up the coast Fran's surge was generally lower with five feet measured in Beaufort, NC, and seven feet at Atlantic Beach, NC. However the surge was funneled into river estuaries with observations of up to a 10 foot surge in New Bern, and nine feet in the towns of Belhaven and Washington. This surge was sufficient to flood the majority of downtown Washington. A portion of the roadway leading up to the Highway 17 bridge in downtown New Bern was washed out.
The Cape Fear River crested about seven feet above flood stage at Lock and Dam #2 in Elizabethtown, but at Lock and Dam #3 near the Cumberland County line the river reached 17 feet above flood stage. The Northeast Cape Fear River in Pender and Duplin Counties had significant flooding. Homes along highway 53 near Burgaw and Holly Shelter Creek had up to ten feet of water inside. This was several years before the gauge BGWN7 was installed along this portion of the river.
In Columbus County about two-thirds of the county residents lost power due to downed trees. County officials said 92 homes suffered major damage, 128 homes had minor damage, and one mobile home was destroyed. Duplin County suffered over $30 million in agricultural losses with complete losses to the county's tobacco crop. Reports state 300,000 turkeys and chickens were killed. Residents of the Crusoe Island community were isolated due to flooding along the Waccamaw River. At one point Lake Waccamaw was reportedly 26 inches above the dam spillway. In Brunswick County cotton, tobacco and corn crops were heavily damaged by Fran and by Bertha earlier in the summer. Storm surge and beach erosion claimed a small number of beach houses on Ocean Isle Beach and Holden Beach. Overall damage to structures was mild considering the situation.
*Information is from Weather.gov*
What do you remember?
Copyright 2016 WFMY