Greensboro Couple In Oak Island Custom
10:45 p.m. Saturday - Almost all of eastern NC is under a flash flood warning.
First responders had to rescue dozens of people.
8:45 p.m. Saturday - Governor Pat McCrory urged residents east of Raleigh to stay off the road.
Two men and a woman were trapped on top of their vehicle in downtown Fayetteville Saturday night. None
As of 5:30, I-40 and I-95 were closed in multiple locations in the eastern part of the state. The NC DOT reports I-95 is closed in parts of Robeson, Wilson and Johnston Counties. I-40 is closed near Warsaw in Duplin County and near Benson in Johnston County.
8:30 p.m. Saturday - Looks like Matthew has one more cell of rain before moving on. All the rain should be out of the Triad around midnight.
.@CityofWS getting a last little burst of rain before it finally comes to an end. #EndInSight pic.twitter.com/4jnuQqWdfq

— Grant Gilmore (@grant_gilmore) October 9, 2016
8:15 p.m. Saturday - Here's WFMY News 2 Chief Meteorologist Grant Gilmore with a Facebook live update for the Triad.
8:05 p.m. Saturday - Matthew remains a Category 1 now moving east.
8PM #MATTHEW ADVISORY: Still a Cat. 1 with winds at 75 mph and moving east of Cape Fear. pic.twitter.com/M07bNmnBOt

— Grant Gilmore (@grant_gilmore) October 9, 2016
8 p.m. Saturday - The town of Oak Island issued an 8 p.m. curfew for residents.
7:40 p.m. Saturday - Here's today's observed rain totals and maximum wind gusts throughout the state as of 7 p.m.
7:35 p.m. Saturday - The National Weather Service is reporting water levels in Wilmington have now broken records.
7:20 p.m. Saturday - Saturday Rain totals for Fayetteville increase to over 14 inches and more than 16 inches southeast of Fayetteville on the Cape Fear River.
Rain gauge south of Fayetteville, NC reporting over 16" of rain so far today. pic.twitter.com/Eqwsb0lxmm

— Grant Gilmore (@grant_gilmore) October 8, 2016
6 p.m. Saturday - Fayetteville flooding worsens. Here's a picture from downtown.
This is the scene in front of my in laws place in downtown Fayetteville NC pic.twitter.com/dtMPNnGPgA

— Will Brinson (@WillBrinson) October 8, 2016
5:15 p.m. Saturday - Rain totals now surpassing three inches in Greensboro and six inches at the Raleigh-Durham Airport.
Now over 3" of rain in Greensboro and Burlington. RDU has picked up more than 6". pic.twitter.com/0Ww7pOkmSI

— Grant Gilmore (@grant_gilmore) October 8, 2016
#Matthew still a hurricane and is centered 15 miles WSW of Cape Fear, NC. Hugging coast as it heads ENE at 13 mph. pic.twitter.com/E73PT1FPGZ

— Grant Gilmore (@grant_gilmore) October 8, 2016
2:45 p.m. Saturday - Governor McCrory says three deaths in North Carolina are related to Hurricane Matthew. Two people died in a submerged car in Bladen County, and one person died when a car hydroplaned in Sampson County.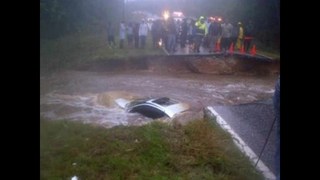 10:45 a.m. Saturday - Ocean breaching the dunes along Oak Island. Roads are also seeing some flooding.
9:50 a.m. Saturday - Gov. Pat McCrory is warning NC residents that even though Matthew's winds have downgraded, the storm is still dangerous because of flooding and storm surge.
McCrory says Hurricane Matthew Could cause the worst flooding in NC since Floyd in 1999.
Read: Princeville Remembers Hurricane Floyd
Southeastern North Carolina could see between 10-15 inches of rain even as Matthew tracks back out into the Atlantic Ocean.
9:00 a.m. Saturday - Our crews in Oak Island reporting a Hurricane Warning, Tornado Warning, and Flash Flood Warning in their area and surrounding counties.
8:30 a.m. Saturday - Oak Island is under a flood warning. Our crews are reporting that the dunes along the beach have eroded which will likely mean flooding.
8:00 a.m. Saturday - Matthew has weakened to a Category 1 storm but remains a threat to the coasts of Georgia and the Carolinas. The National Hurricane Center in Miami said Saturday morning that Matthew was centered about 20 miles south-southeast of Charleston, SC.
12:30 a.m. - NE Cape Fear River in Duplin County will reach major flood stage next week
NE Cape Fear River in Duplin County will reach major flood stage early nxt week and b near the record Many roads/homes will b affected #ncwx pic.twitter.com/E7UoLfX5jR
— NWS Newport/Morehead (@NWSMoreheadCity) October 8, 2016
11:50 p.m. - National Weather Services issues briefing on Hurricane Matthew's threat to NC coast
11:50 pm: Quick-brief on the wind and heavy rain threats in Central NC. #MatthewNC #ncwx pic.twitter.com/Cjv4cCupMH

— NWS Raleigh (@NWSRaleigh) October 8, 2016



Storm Surge Concerns on NC Coast None
11:30 p.m. - South Carolina residents advised to go to highest floor of home
HURRICANE #MATTHEW NOW EXPECTED TO BE CLOSER TO SOUTH CAROLINA SOINER... STAY INSIDE, HIGHEST FLOOR OF YOUR HOME. #alert https://t.co/9ZjS1rhI7w

— SCEMD (@SCEMD) October 8, 2016
11:00 p.m. - North Carolina Emergency crews at work in New Hanover County
NHC Emergency Operations Center continues to monitor Hurricane Matthew. Visit https://t.co/mjJiWH18HZ for updates and alerts. #MatthewNC pic.twitter.com/ED1vBSaxpN

— New Hanover EM/911 (@NewHanoverEM) October 8, 2016
10:45 p.m. #HurricaneMatthew approaching SC coastline
#Matthew approaching SC coastline. 51 mph gusts at Hilton Head #HXD and Savannah #KSAV #scwx #gawx pic.twitter.com/Nm2vA0eSjz

— NWS Columbia (@NWSColumbia) October 8, 2016
10:15 p.m. - SC emergency numbers issued for helpline
SC EMERGENCY HELPLINE (Public Information Phone System) is active AROUND THE CLOCK for questions regarding #Matthew. Call 1-866-246-0133.

— SCEMD (@SCEMD) October 8, 2016
10: 00 p.m. - National Guard drives through flooded street in Charleston.
.@SCNationalGuard Soldiers drive through a flooded street in Charleston caused by the outer rain bands of #HurricaneMatthew pic.twitter.com/IFCrPCScMu

— National Guard (@USNationalGuard) October 7, 2016
9:30 p.m. - NCDOT crews here in the Triad working to gather message boards to warn of weather-related closures
Crews from across the Triad are gathering message boards for use in NE NC to alert travelers of weather-related road closures. #MatthewNC pic.twitter.com/0vzvz14ZCg

— NCDOT (@NCDOT) October 7, 2016
9:25 p.m. - NC Emergency management reveals Matthew could bring some of the worst flooding in eastern NC since Hurricane Floyd.
#MatthewNC will bring some of the worst flooding seen in eastern NC since Hurricane Floyd. Heaviest rain is expected on Sat -Sun. #ReadyNC pic.twitter.com/RwaMJNLeAU

— NC Emergency Managem (@NCEmergency) October 7, 2016
9:00 p.m.- More emergency shelters opening along the coast tonight.
Read: NC Shelter and Emergency Information
8:30 p.m. - Higher waves rolling in along coastal communities
The highest waves with #Matthew are closer to the center, but 10-15 footers are breaking closer to the coast. pic.twitter.com/B4GDn7cg2G

— Grant Gilmore (@grant_gilmore) October 8, 2016
8:15 p.m. - Greensboro Swift Water Rescue team arrives in South Carolina. Crews will help with rescue operations.

.@GSOFireDept Swiftwater Rescue Team are in Jasper County, #SC
BE SAFE GUYS! pic.twitter.com/GdxaEJyDUe

— WFMY News 2 (@WFMY) October 8, 2016
5:20 p.m.
WFMY News 2 Meteorologist Tim Buckley talks about the latest developments from the beach at Oak Island.
5 p.m.
Matthew downgraded to a Category 2, now projected to take hard dive south on Sunday.
5PM #MATTHEW UPDATE: Down to a Cat. 2 with winds at 110mph. Still tracking N at 12 mph. Full coverat on @WFMY at 5. pic.twitter.com/ydhuzCc1k9

— Grant Gilmore (@grant_gilmore) October 7, 2016
4:40 p.m.
Matthew's track has changed this afternoon and that's altered the forecast for the NC coasts. The southern beaches have the highest threat for a severe impact.
Southern NC Beaches have a high threat for highs winds, storm surge and heavy rain/flooding. Here's a timeline. pic.twitter.com/o5g2sbxdgS

— Grant Gilmore (@grant_gilmore) October 7, 2016
2:30 p.m.
2PM #MATTHEW UPDATE: Still a Cat. 3 with winds at 115mph. The storm is expected to make a very close approach to the NC coast Sat. night. pic.twitter.com/3PjVb6K4WX

— Grant Gilmore (@grant_gilmore) October 7, 2016
Hurricane force winds could graze the coast Saturday afternoon. T.S. force winds extend well inland. pic.twitter.com/vtTr1BWuB0

— Grant Gilmore (@grant_gilmore) October 7, 2016
12:45 p.m.
Oak Island issued a voluntary evacuation for residents. The mandatory evacuation for visitors is still in effect.
We now have a voluntary evacuation for residents, and still a mandatory evacuation for visitors. No plans to close the bridges at this time.

— Town of Oak Island (@OakIsland_Town) October 7, 2016
Hyde County issued a mandatory evacuation for everyone on the island on Thursday.
12:15 p.m.
A mid-day update from WFMY News 2 Chief Meteorologist Grant Gilmore suggests Hurricane Matthew's latest developments may make this weekend a bit messier in the Triad. Here's Grant's latest take:WFMY News 2 Chief Meteorologist Grant Gilmore suggests Hurricane Matthew's latest developments may make this weekend a bit messier in the Triad. Here's Grant's latest take:
It looks like Matthew may make a closer pass to North Carolina. It still doesn't look quite like a landfall, but the center could be pretty close. This will result in a greater threat for storm surge (especially Oak Island), heavier rain and stronger winds. This will also result in heavier rain along the coast as well as inland and the Triad. Flooding is a huge concern along the coast and down east. The Triad may also see some localized flooding.
TRIAD TIMING/IMPACTS:
- All impacts increase from NW to SE (closer to Matthew)
- Scattered showers throughout Friday.
- Periods of heavy rain become more likely Friday night into Saturday.
- Wind gusts begin to increase overnight Friday. Gust up to 35 mph.
- Scattered showers with pockets of heavy rain through Saturday.
- Rain begins to clear from NW to SE through Saturday afternoon/evening
- 1-3" of rain possible across the Triad with higher totals to the south and east.
- Flash flooding may be possible, but generally south and east of the immediate Triad
- No other severe weather expected in the Triad.
Waiting for the 11am Advisory, but here are a few changes NC & the Triad need to prepare for ahead of #Matthew : https://t.co/Olv7qrcIOE pic.twitter.com/COMzsysUN1

— Grant Gilmore (@grant_gilmore) October 7, 2016
11 a.m.
The National Hurricane Center issued a hurricane warning for Pender, Brunswick, New Hanover Counties as well as Horry County, South Carolina. All coastal counties in SC and Georgia are under a hurricane warning as well as some Florida counties.
#BREAKING... Hurricane Warning extended northward to SE NC. Center of #Matthew will pass close by on Saturday. @wfmy pic.twitter.com/IDPv2UH7ua

— Tim Buckley (@TimBuckleyWX) October 7, 2016
11 a.m.
South Carolina governor Nikki Hailey addresses a hurricane warning that now covers the entire coast of her state. Hailey said 310,000 people evacuated from the state.
SC Governor Nikki Haley Gives Update On Matthew None
9 a.m.
North Carolina Governor Pat McCrory addresses media at a news conference and details yesterday's decision to issue a State of Emergency for all 100 counties. McCrory said he was 'very concerned' about potential flooding.
Governor McCrory Friday Morning Hurricane Matthew Update None
8 a.m.
Hurricane Matthew was downgraded to a Category 3 storm early Friday morning as it sat offshore of Florida's Atlantic coast. The associated press reported Matthew's strongest winds of 130 mph were offshore, but the storm still caused more than 300,000 homes and businesses to lose power. The AP also reported the coordinator for Haiti's Interior Ministry said at least 283 people died in the southwestern part of the country. The Hurricane is expected to move along the southeast coast until Sunday.
The UPDATED track for Hurricane Matthew. No changes for us locally. pic.twitter.com/7SNm6OToWZ

— Eric Chilton (@EricChilton) October 7, 2016
In North Carolina, the Oak Island skyline produced a nice sunrise before a cloudy morning developed. WFMY News 2's Meghann Mollerus was on the beach where waves were rough.
Wow! Look at this breathtaking beach #sunrise over #OakIsland as we wait for #HurricaneMatthew to come by NC @WFMY pic.twitter.com/5xYREHUgSM

— Meghann Mollerus (@meghannmollerus) October 7, 2016
Surf's up on #OakIsland as early effects of #HurricaneMatthew create bigger-than-normal waves on NC coast @WFMY pic.twitter.com/xcDwV2W7SF

— Meghann Mollerus (@meghannmollerus) October 7, 2016
Matthew hit Florida as a Category 4 storm, one of the strongest ones to take aim at the Florida coastline in years.
WFMY News 2 will keep you updated with the latest information on the hurricane as it continues to impact the southeast coast. Keep reading for complete WFMY News 2 coastal coverage, information on evacuations, shelters, emergency numbers and other information for North Carolina.

WFMY News 2's Coastal Teams
Tim Buckley, Chad Silber, Meghann Mollerus, Ryan Gavette, and Sean Higgins will bring you the latest coastal coverage from Oak Island, N.C.
Waiting on Hurricane Matthew at Oak Island, NC None

WFMY News 2 On Twitter
Follow our crews on Twitter for the latest updates:
@TimBuckleyWX @ChadSilber @meghannmollerus @RyanGavette @SHiggon2
Follow WFMY News 2's Meteorologists on Twitter:
@grant_gilmore @TimBuckleyWX @EricChilton @EdMatthews2 @wfmyweather
Hurricane Matthew Florida
A hurricane warning is in effect for the majority of Florida's east coast stretching from Jacksonville to Miami.
President Obama has declared an emergency in the state of Florida and has ordered federal aid to help with disaster relief efforts.
For the latest information from Florida on Hurricane Matthew check out the following:
Florida Live Blog: Hurricane Matthew Updates

NC Coastal Threat
Tropical storm warnings are in effect for south North Carolina beaches into South Carolina. However, the concern for North Carolina really begins over the weekend. The latest forecast track keeps the center of the storm off the coast. However, this could still change.
Anticipated impacts for the NC coastal areas via the NWS, especially south facing beaches like Oak Island, NC.
Even without a direct hit, a track just offshore would still bring impacts of wind, rain, and storm surge to the beaches. Places already hit by flooding two weeks ago are already under another threat.
Keep reading for information on evacuations, shelters, and other emergency information for North Carolina.
Check It Out: Live Beach Cams In The Carolinas
NC Coastal Preparations
Governor Pat McCrory said on Thursday at a news conference, "We're praying this storm stops."
Gov. McCrory Talks Preparations Custom
Emergency Operations In NC
Emergency crews have set up three deployment areas with the main one in Elizabethtown, N.C. That's where the National Guard, swift water rescue teams, medical emergency teams are ready to take action.
State Of Emergency
Gov. Pat McCrory has declared a state of emergency for 100 counties in both the central and eastern parts of the state.
Gov. McCrory said, "Our guard is still up. If this storm doesn't turn at Charleston and does a U-turn our conditions could change pretty quickly."
Places like Windsor, NC already impacted by flooding two weeks ago is under another threat.
NC leaders say Brunswick County could get 10-12 inches of rain.
The state will also provide emergency assistance to South Carolina and possibly Georgia.
Shelters In NC Open
Shelters in Brunswick County will open at 8:00 a.m. on Friday and include: South Brunswick High, West Brunswick High.
Preparations are underway to open three shelters in Pender County and include: Malpass Corner Elementary, Topsail Elementary, and Burgaw Middle.
Mandatory Evacuations
Hyde County
Officials in coastal Hyde County have ordered mandatory evacuations of visitors to Ocracoke Island. Those who live on the island or who have property will have an additional 24 hours to make preparations before evacuating on Thursday.
Ferries to and from Ocracoke Island will run as scheduled on Thursday, but not on Friday.
Carteret County
Cape Lookout National Seashore on Harkers Island in Carteret County is also under evacuation.
No vehicles will be allowed to enter the seashore effective immediately. The ferries for vehicles will begin to take people and their cars off the islands. Cabins will be closed.

Ferry operators say it will take two days to evacuate everyone.
UNC Wilmington
UNC Wilmington is also a mandatory campus evacuation for all students. Students must leave campus no later than noon on Thursday.

If a student doesn't have a designated location for evacuation, the university said it will assist them.
Voluntary Evacuations
Pender County
Pender County is under a voluntary evacuation order. For more information call 910-259-1210.
Bald Head Island
Bald Head Island is under a State of Emergency and has issued a voluntary evacuation notice to residents and property owners, visitors requesting them to leave the island as soon as possible.
Holden Beach
Holden Beach will hold a meeting Thursday, October 6 to discuss a plan of action which could include a voluntary evacuation.
Oak Island
The Town of Oak Island is calling for a voluntary evacuation of visitors in low-lying areas and oceanfront properties effective 9:00 a.m. on Thursday, October 6.
Kure Beach
Kure Beach Town Council will hold an emergency meeting at Town Hall on Thursday, October 6 at 6:00 p.m. to decide when and if a State of Emergency should be declared and further action.
Sunset Beach
No decisions have been made at this time concerning evacuations and/or bridge closures.
Emergency Contacts
NC Mandatory Evacuation Information
252-926-4191
If you're separated from your family as a result of a disaster call the American Red Cross
1-800-733-2767
Disaster Recovery Information
SBA Disaster Assistance
1-202-205-6734

FEMA Disaster Assistance
1-800-621-3362
1-800-462-7585
Power Outages
Duke Energy: 1-800-769-3766
Duke Energy Progress: 1-800-419-6356
Dominion: 1-866-366-4357
Albemarle EMC: 1-800-274-2072
Blue Ridge Electric: 1-800-448-2383
Brunswick EMC: 1-800-682-5309
Cape Hatteras Electric: 1-866-511-9862
Carteret-Craven Electric: 1-800-682-2217
Central EMC: 1-877-766-6769
Edgecombe-Martin: 1-800-690-0657
Energy United: 1-800-386-4833
Four County EMC: 1-888-368-7289
French Broad EMC: 1-828-649-2051
Halifax EMC: 1-800-690-0522
Haywood EMC: 1-800-951-6088
Jones-Onslow EMC: 1-800-681-4146
Lumbee River EMC: 1-800-683-5571
Pee Dee EMC: 1-800-693-0190
Piedmont EMC: 1-800-449-2667
Pitt and Greene EMC: 1-800-622-1362
Randolph EMC: 1-877-736-2633
Roanoke Electric: 1-800-358-9437
Rutherford EMC: 1-800-521-0920
South River EMC: 1-800-338-5530
Surry-Yadkin EMC: 1-336-356-4141
Tideland EMC: 1-800-637-1079
Tri-County EMC: 1-800-548-4869
Union Power: 1-800-794-4423
Wake EMC: 1-800-743-3155
Make sure you prepare before a storm.
5 Tips To Save Your Phone Battery
1. Recharge anything that can be used to recharge your phone (external, battery packs, laptops).
2. Put your phone in low battery mode
3. Uninstall apps that use power while running in the background
4. Dim your phone screen
5. 5. Turn off locations services, Wi-fi, Bluetooth, and Airdrop
Stay connected if you lose power during Hurricane Matthew! Here are five tips to save your phone battery. Custom
5 Ways to Prepare For A Hurricane
1. Line washer with plastic and fill it with ice to act a cooler
2. Bring in outdoor items that aren't tied down
3. Reinforce garage doors to keep out wind
4. If you live in a high rise, shelter below the 10th floor
5. Fill empty freezer space with water bottles to cool food in power outage
Here are five tips as you get ready for Hurricane Matthew. Custom
Watch: 8 Things Not To Do In A Hurricane
Tip from Florida Today about what not to do in a hurricane. Custom
Disaster Relief Teams
Triad Red Cross volunteers are preparing to deploy to the North Carolina Coast. Volunteers will help provide shelter, food, water, and first aid.
Triad Volunteers Ready To Help NC Coast Custom
Wake Forest Baptist Volunteers Ready To Help
Wake Forest Baptist Medical Center is one of eight teams made up of volunteers headed to the coast.
The State Medical Assistance Teams, which Wake Forest is a part of, is sending trailers across the state to set up medical shelters.
Wake Forest has four trailers and a generator making its way to Goldsboro. In the trailer, there is a 72 hour supply of medical equipment for up to 25 people who need to be evacuated from nursing homes.
Other Relief Efforts
Feed The Hunger based out of North Carolina will step up to provide hundreds of thousands of meals to Haitians after Hurricane Matthew.

Triad Non-Profit Will Feed Thousands In Haiti Custom
Stay on top of News, Weather, Sports by downloading WFMY News 2 apps or signing up for our text alerts.
Get the WFMY News 2 Weather and News App
WFMY News 2 Weather iPhone App
WFMY News 2 Weather Android App
Hurricane Matthew