Kensington Palace released images of the design of Meghan Markle's spectacular wedding dress on Sunday.
Award-winning designer Claire Waight Keller came up with the dress after consulting with Markle on what she wanted for the design.
The Kensington Palace Twitter feed called the design a "timeless minimal elegance referencing the codes of the iconic House of Givenchy."
According to a release by Kensington House, Markle chose to work with Waight Keller on the design after meeting with her early this year.
Markle "wanted to highlight the success of a leading British talent who has now served as the creative head of three globally influential fashion houses -- Pringle of Scotland, Chloe and now Givenchy," Kensington House said.
► RELATED | Royal Wedding: Full Coverage
► MORE | Prince Harry, Duchess Meghan seal their wedding with a tradition-breaking kiss
She had expressed the wish to have all 53 Commonwealth nations with her through the ceremony, and this was represented in the five-meter-long veil designed by Waight Keller. Flowers from each of the nations were blended into the veil itself.
"The Commonwealth family of nations – of which Her Majesty The Queen is Head – will be a central part of Prince Harry's and Ms. Markle's official work following His Royal Highness's appointment as Commonwealth Youth Ambassador. Ms. Markle wanted to express her gratitude for the opportunity to support the work of the Commonwealth by incorporating references to its members into the design of her wedding dress," Kensington House said.
PHOTOS: Prince Harry and Meghan Markle leave for wedding reception in style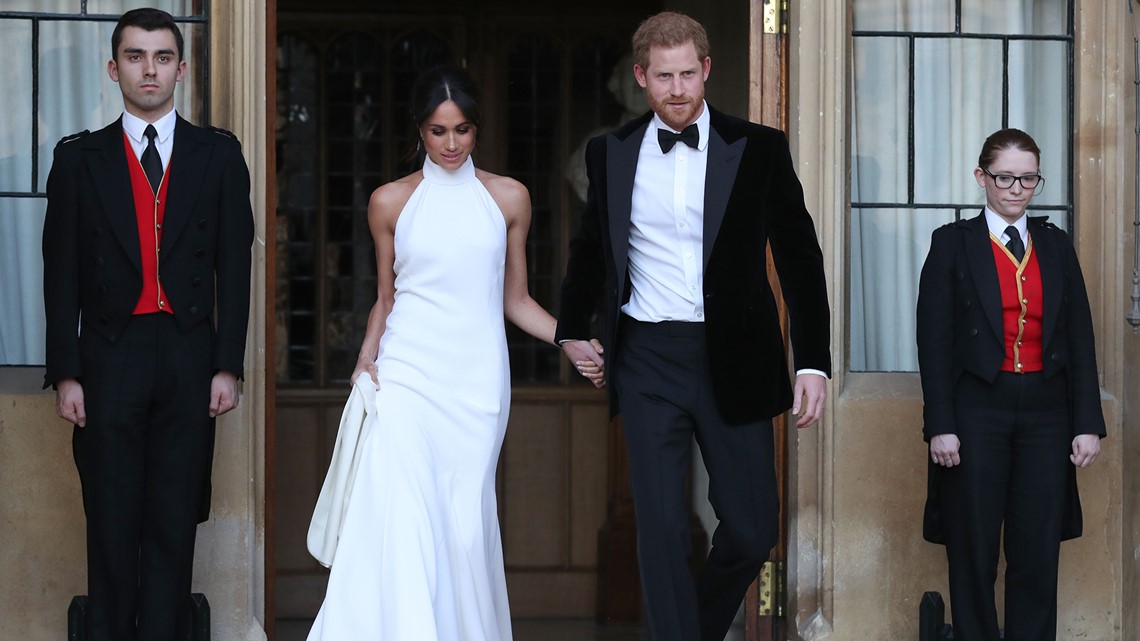 In addition to the flora of the nations of the Commonwealth, Markle selected two personal favorites -- Wintersweet, which grows on the grounds of Kensington Palace in front of Nottingham Cottage and the California Poppy, which is the official flower of the state of her birth, California.
► Download the FREE 11Alive News app now in the iTunes store or on Google Play.
A selection of flora distinctive from every member state of the Commonwealth is listed below:
AFRICA:
Botswana - Ear of Sorghum and Cat's Claw
Cameroon - Red Stinkwood
Gambia - White Variety Orchid
Ghana - Caladium
Kenya - The Tropical Orchid
Lesotho - Spiral Aloe
Malawi - Lotus
Mauritius - Trochetia Boutoniana
Mozambique - Maroon Bell Bean
Namibia - Welwitschia
Nigeria - Yellow Trumpet
Rwanda - Torch Lily
Seychelles - Tropicbird orchid
Sierra Leone - Scadoxus
South Africa - Protea
Swaziland - Fire Heath
Uganda - Desert rose
United Republic of Tanzania - African violet
Zambia - Bougainvillea
ASIA:
Bangladesh - White Water Lily
Brunei Darussalam - Simpor
India - Indian Lotus
Malaysia - Bunga Raya Hibiscus
Pakistan - Jasmine
Singapore - Vanda Miss Joaquim Orchid
Sri Lanka - Blue Water Lily
CARIBBEAN & AMERICAS:
Antigua and Barbuda - Agave
Bahamas - Yellow Elder
Barbados - The Pride of Barbados
Belize - The Black Orchid
Canada - Bunchberry
Dominica - Carib Wood
Grenada - Bougainvillea
Guyana - Victoria Regia Water Lily
Jamaica - Lignum Vitae
Saint Lucia - The rose and the marguerite
St Kitts and Nevis - Poinciana
St Vincent & the Grenadines - Soufriere Tree
Trinidad & Tobago - Chaconia
EUROPE:
Cyprus - Cyclamen Cyprium
Malta - Maltese centaury
UNITED KINGDOM:
England - Rose
Wales - Daffodil
Northern Ireland - Flax flower
Scotland - Thistle
PACIFIC:
Australia - Golden wattles
Fiji - Tagimaucia
Kiribati - Bidens Kiribatiensis
Nauru - Calophyllum
New Zealand - Kowhai
Papua - Sepik Blue Orchid
Samoa - Teuila
Solomon Islands - Hibiscus
Tonga - Heilala
Tuvalu - Plumeria
Vanuatu - Anthurium
PHOTOS: Royal Wedding of Prince Harry and Meghan Markle