REIDSVILLE, N.C. — It's their mission to serve and protect and that's exactly what five officers including the Reidsville Police Chief did while helping a woman in the community.
RELATED: Viral A Cappella Singing Police Officers Bring Harmony To The Streets
When the group of officers visited a neighborhood during Operation Clean Sweep, they came across Mrs. Louvenia Crawford.
"They said, 'Is there anything we can do for you?' and I said, 'Yes, move all that debris from that garage!'" Mrs. Crawford said.
Mrs. Crawford says she was just joking at first, but Chief Hassle's answer caught her by surprise.
"He said, 'We'll do it!' and I said, 'For real?' and he said, 'Yeah, for real!' and they did it! For real!" she shared.
The garage roof started to collapse after last year's April 15 storm and kept caving in with time.
She lives on her own and relies on a walker to get around, so she couldn't repair it herself.
Desperate to get it cleaned up before snakes and rodents moved in, the officers promised to come by during their own time.
"I did not believe that that would be done," Mrs. Crawford said.
PHOTOS | Reidsville Police Department Helps Elderly Lady Clean Garage Roof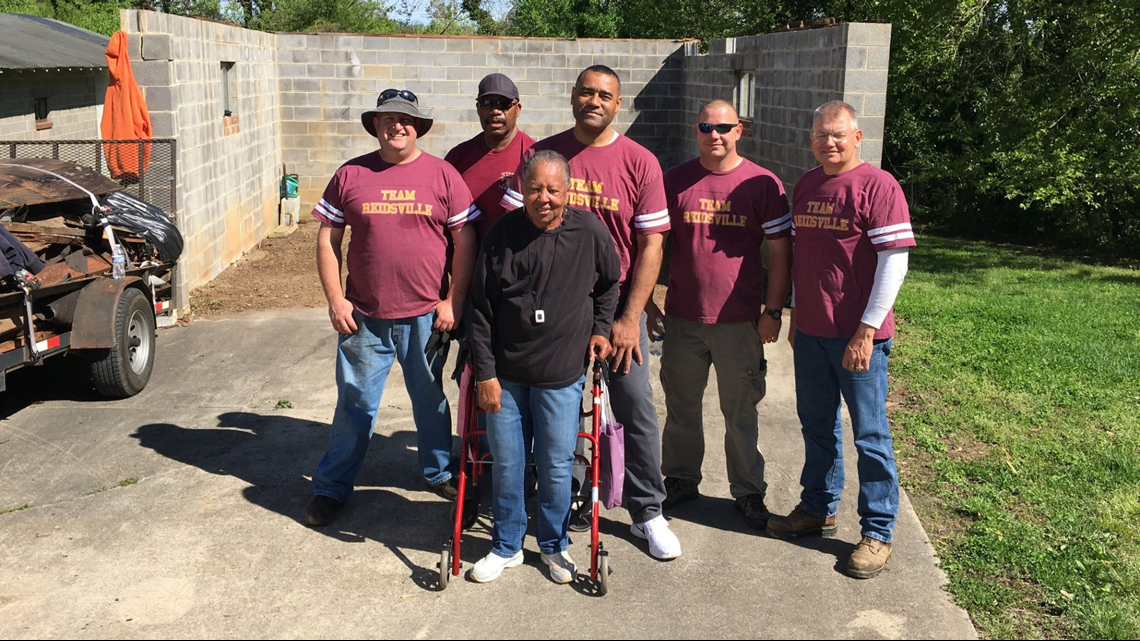 Reidsville Police Chief Hassell, Major Ellison, Captain Oakley, Lieutenant Hinnant, and Lieutenant Bayne surprised Mrs. Crawford by showing up at her doorstep ready to lift and haul the debris with their personal tools.
"We have a busy schedule, but that morning felt really good for us, to be able to get out of the office and do something for her," said the Chief.
RELATED: True Heroes: 7 Times Law Enforcement Showed How They Serve And Protect
The group cleared their schedules and dedicated their morning to making sure they took care of Mrs. Crawford.
"They were cleaning up my mess and I really, really, really appreciated it!" Mrs. Crawford said.
"We just wanted to help Mrs. Crawford out," said Captain Oakley.
"Mrs. Crawford, she's a woman of God and she's just got a pure heart, you know, so it was a good thing for us to do," Major Ellison added.
Their work was an unexpected gesture from her local law enforcement she will always cherish.
"No matter how big or how small that little helping someone can be, it will make a big difference hopefully in their life," Chief Hassle said.
OTHER RELATED STORIES
RELATED: Winston-Salem Police Officer Pushes Navy Veteran In Wheelchair All The Way To Hotel
RELATED: 'She Just Stole My Heart': Houston Officer Dances With Girl in Wheelchair