Age is just a number when it comes to Stanley Sasine.
He is 93-years-old, served in World War II, and once won the lottery. But the Sandy Springs native says, in his life, he hasn't done one very important thing: jump out of a plane.
At 93, the filter is gone and the years become golden. Surrounded by family, Stanley is happy to show his life in pictures especially the album of his "fun days."
Nearly 75 years ago, Stanley served in a World War II unit called Merrill's Marauders. He fought alongside 3,000 foot soldiers through Japanese-occupied Burma without a clear plan to get out.
"If we weren't standing, which was rarely, we had to crawl," Stanley said.
Stanley keeps the memento of his most perilous moment.
"This is the rifle that shot me," he said. "Hit me here and took out the whole wings."
For a long time, he didn't talk about it but he lived his life after with the sense to savor. He traveled the world, he won the lottery and he did it all with Irene.
"She and I were inseparable," Stanley said. "She could see everything I was thinking about before I did it."
When asked what Irene would say about Stanley jumping out of a plane, he said, "She'd say, 'You're out of your freaking mind!' Just like everything I did."
Two years ago, just shy of their 70th anniversary, Irene passed away. Stanley said it's been lonely without her.
"Thank God I got 42 children," he said.
More like 42 children, grandchildren, and great-grandchildren. All of them close to Atlanta, so Stanley had an idea to bring many of them together.
"It came up: 'What have you not done?' And I said, 'I've never jumped out of an airplane.'"
PHOTOS | 93-year-old WWII veteran checks skydiving off bucket list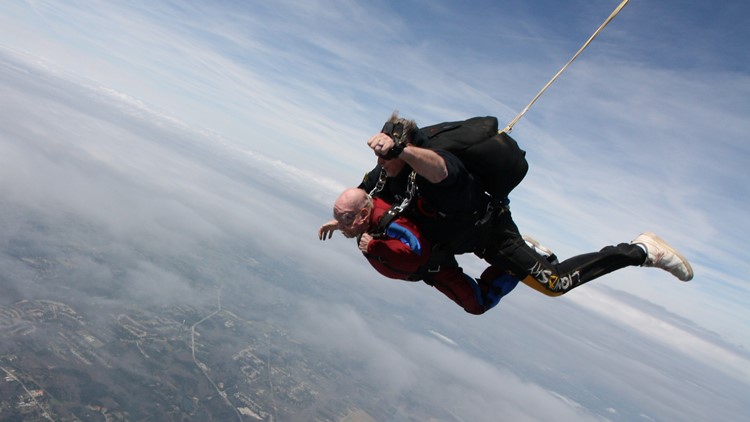 His granddaughter Hailey took the next step.
"Over the years, he just kept mentioning and mentioning it," Hailey Sasine Burden said. "I heard of this company called Skydive Monroe that takes paraplegics and people with cerebral palsy and takes them skydiving."
Hailey said there's not a lot of dreams Stanley has left.
"At 94, there are so many things that he can't do," she said. "But if this is something he can do, why not try to find him that opportunity to live out his dreams?"
At 93, it's hard to wait but in Monroe, Georgia on Saturday, the man who's lived nearly 5,000 weeks jumped from roughly 14,000 feet with his family in attendance.
Stanley strapped into his suit and headed for the sky so he could take the dive.
In the sky, all Stanley could say was how beautiful everything looked.
When he landed, he hurt his leg. But two days later, Stanley said he wants to jump again when he turns 95.
"That's only the beginning," Stanley said. "I got plenty more exciting things to happen."