GREENSBORO, N.C. – Amanda Oakley had her baby boy Michael nearly a month earlier than expected.
Though he was healthy enough not to be sent to the NICU, Oakley's main concern as a mom is her baby's safety.
That's why she decided to get a new parent starter kit 'Baby Box' from Cone Health's Women's Hospital for the baby to sleep in.
"It's all about safe sleep," said the new mom. "Making sure that they don't have anything else around them where they can develop SIDS."
Family Support Network of Central North Carolina is providing the boxes by The Baby Box Company. Moms in Finland have traditionally gotten similar kits with the baby box.
Nancy Micca works with Family Support Network and says the program started in early February.
The cardboard boxes are believed to lower chances of Sudden Infant Death Syndrome or SIDS.
SIDS is the sudden, unexplained death of a baby younger than 1 year of age that doesn't have a known cause even after a complete investigation.
"Babies suffocate in a variety of ways, that is co-sleeping in a bed where they can get their face up against a blanket, anything where they're sleeping face down on a soft pillow, or with stuffed animals in the bed," Micca said in an interview.
Micca described the "ABCs" of safe sleep for a baby as: sleeping ALONE, sleeping on their BACK, sleeping in a CRIB or CRADLE, and in a SMOKE-FREE environment.
PHOTOS: 'Baby Box' Can Help Prevents SIDS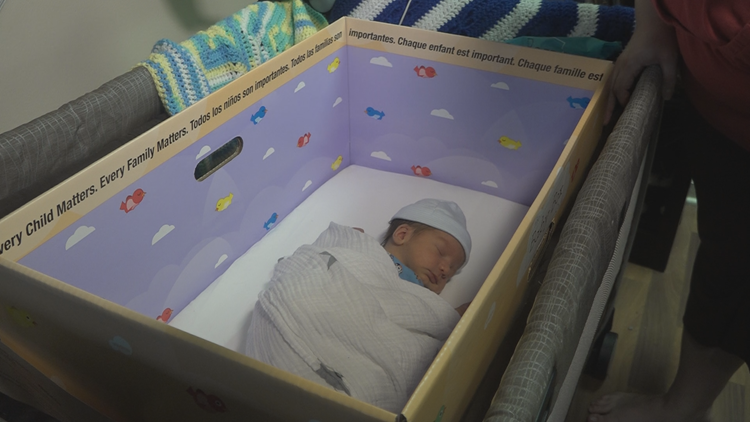 SIDS is the leading cause of death among babies between 1 month and 1 year of age, especially among low-income and African-American families.
"Beds and cribs and bassinets are very costly," Micca mentioned. "This is a free alternative so it's wonderful to be able to offer that to families."
And Oakley understands why.
"There are people in our area and around the world that don't have the resources to get a crib or something to help them protect their baby," she said. "Learning that I could get it was a relief, because you want to do everything you can to take care of your little one."
To get a baby box, moms must:
Register online with Baby Box University.
Watch a series of short videos about infant care and safe sleep.
Take and pass a brief test.
Print or capture a screenshot of the code certifying completion of the program.
Bring the code to the education desk at Women's Hospital or call FSNCC at 336-832-6507 to pick up the Baby Box.
Each kit includes a baby box, a mattress, a fitted sheet, diapers, breast pads, brain-boosting activity cards, coupons and more.
Oakley is grateful for the resource as a new mom and hopes others can learn about the baby boxes as well to maybe save their littles ones' lives.
"It's the biggest amount of love in the smallest body and that's the biggest thing is you know they have this love for you and you just can't contain how much love you have for them."