Charlotte-Mecklenburg Police said Tuesday that 31-year-old Steven Staples was charged with murder in Scott Brooks' killing. Staples was already in custody on other charges, according to CMPD.
"It gives me a little bit of assurance that something is going to happen," said David Brooks, Scott Brooks' twin brother. "And just want to bring a little bit of justice to my brother, and you know, for his wife and family."
They believe the murder stemmed from a robbery attempt at the popular Charlotte restaurant.
In March, CMPD arrested and charged 33-year-old Terry Conner Jr. with Scott Brooks' murder and announced they were still looking for a second suspect in the case. Authorities had offered a $21,000 reward.
CMPD said Staples, who is already in custody on pending charges, has been served with additional warrants for murder, robbery with a dangerous weapon, conspiracy to commit robbery with a dangerous weapon, kidnapping and possession of a firearm by a convicted felon.
Lieutenant Bryan Crum, with CMPD's violent crimes unit, didn't go into specific evidence or details but said police were finally able to bring charges after dissecting the information in the case.
"Obviously, when somebody is in custody, we don't have a rush to make charges at that point," Crum said. "We want to make sure that we have a case we can prove, and so today we got to a point we believe we can prove this case."
Crum said he believes the suspects didn't seem to be concerned with the consequences of their actions.
"These are really violent individuals that probably weren't real concerned about the outcome of their behavior was or what their actions were," Crum said. "You know, that month and a half period of time to continue to participate in this kind of violence, I would say that they're just very violent, dangerous individuals."
Detectives are continuing to investigate the case but have not said if they are looking for any other suspects at this time.
Candlelight vigil for Scott Brooks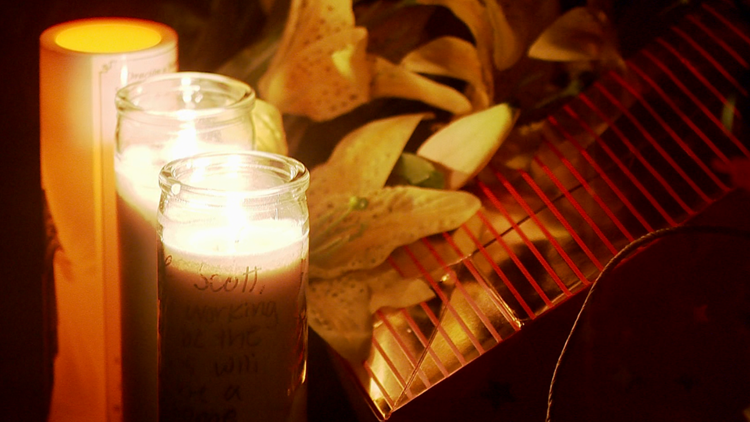 The restaurant closed down shortly after Scott Brooks' murder in 2019 before reopening briefly in February. The COVID-19 pandemic forced the family-operated restaurant to shut down again in March.
It has since reopened with changes due to COVID-19.
"I'll see him one day," David Brooks said Tuesday after the arrest. "We'll all see him one day, and until then, we just have to pray that we get justice."