GREENSBORO, N.C. – Greensboro Police have returned a 2-month-old stolen French Bulldog puppy to the Friendly Pets store.
PHOTOS: Stolen Puppy Returned To Friendly Pets
PHOTOS: Stolen Puppy Returned To Friendly Pets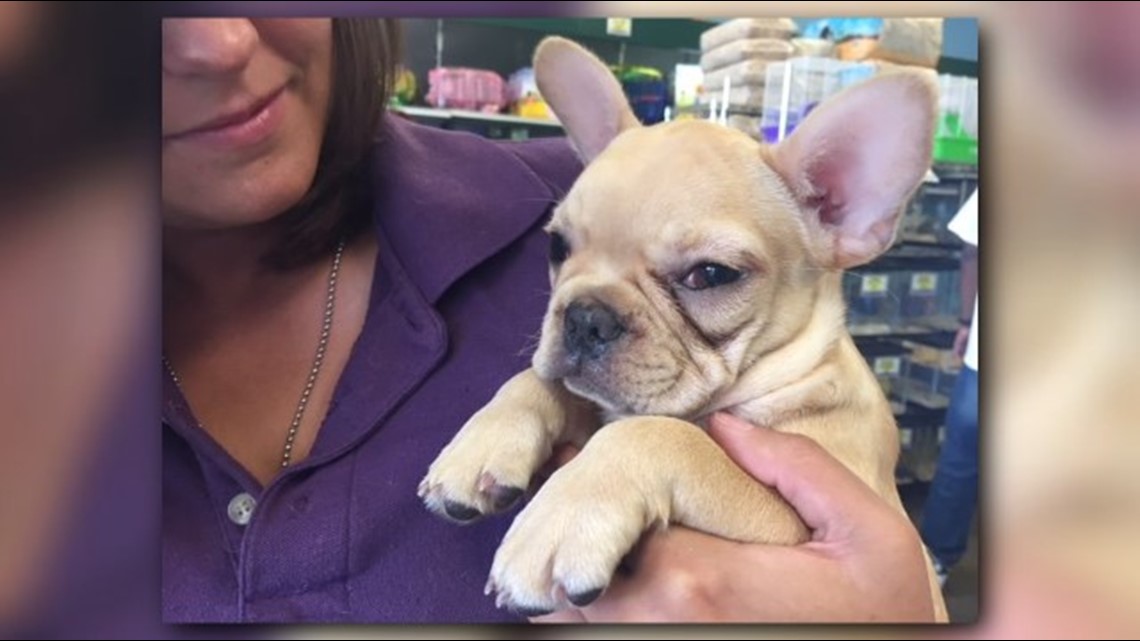 Police recovered the stolen puppy Tuesday afternoon. Officers took the puppy to the vet where it was treated for pink eye before it was returned to the store. Store employees said the dog did not have pink eye before it was stolen. They also said they're very happy to have her back. Workers have now named the dog, "French Toast."
The General Manager of Friendly Pets, Eliza Sargeant couldn't contain her excitement.
"French toast came back to me the detective personally delivered her into our arms and I just literally almost fell to the floor and cried, I just I cried when I got her I haven't put her down and its been a couple of hours."
Related: French Bulldog Puppy Stolen From Friendly Pets
Police arrested Jaqueris Emon Eaves, 24, of Charlotte who's charged with Felony Larceny of a Dog.
The General Manager at the store said two men asked to play with the puppy in an enclosed play area inside the store. While one man left the store the other asked to play with the dog for a few more minutes.
But only one person was charged.
"Apparently the gentleman is claiming to have been the only one involved and claiming he didn't know what was going on," Sargeant said.
Sargeant credits great detective work and the power of social media for French Toasts safe return. She said a person who wants to remain anonymous messaged the 'Friendly Pets' Facebook page saying she believes she had seen French Toast in a mans post, claiming he had bought the dog.
"A really amazing person reached out to the Facebook page and sent a photo of her asking 'hey is this the dog' and it happened to have the guys face in it, and the sales associate that was there that night pulled it up at the same time and I immediately go that's her - and then she goes - that's him."
Sargeant turned his Facebook profile and information over to police because they believed he was posting pictures with French Toast. Greensboro Police were able to track down Jaqueris Emon Eave.
The dog is valued at $4,500 and is micro-chipped. French Toast is recovering from a couple of illnesses like pink eye and a runny nose so she's not for sale just yet, but will be soon.
"The amazing part is everything she's been diagnosed with is 100% treatable so we can get her back to her happy puppy self," Sargeant said.
Eaves has also been charged with Felony Possession of Stolen Property.