GREENSBORO, N.C. (WFMY) -- A Wake Forest University (WFU) Men's Assistant Basketball Coach has been charged after punching a man who later died, according to CBS.
The death has now been ruled a homicide according to the New York City medical examiner's office.
Jamill Jones turned himself into New York City Police. He appeared in court in New York City on Thursday and faces a third-degree assault charge. He was released on his own recognizance and will return to court on October 2.
Sandor Szabo, visiting from Boca Raton, Florida, banged on the window of Jones' SUV while looking for his ride after his stepsister's wedding, police said. The coach got out, followed Szabo to the sidewalk, clocked him and sped off, police said.
Szabo never regained consciousness and was taken off life support Tuesday. Josh Gillon, the CEO of the company where Szabo worked, told WABC-TV Szabo's co-workers were shocked by his death.
Jones, 35, of Kernersville, North Carolina, turned himself in to police Thursday, accompanied by a lawyer. He was arraigned Thursday night on a misdemeanor assault charge and released on his own recognizance after entering his plea
PHOTOS: Jamill Jones Appears in Court
PHOTOS: Jamill Jones Appears in Court After Deadly Punch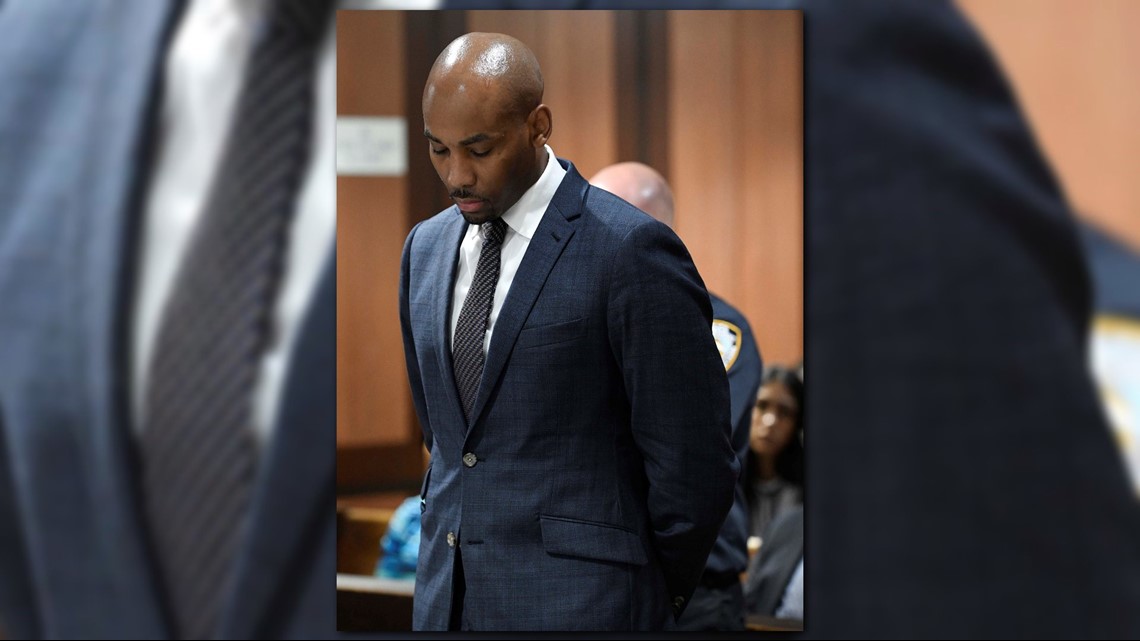 Jones' attorney told reporters "The Jones family sends condolences and will not be making further comment" but they have released a statement.
Statement by the Jones family regarding the accidental death of Sabor Szabo
"We would like to extend our deepest condolences to the Szabo family for the loss of their son, Sabor Szabo. It is our sincere hope that this matter not be tried in the court of public opinion. The Jones family stands by Jamill, and his legal right to be presumed innocent in what is, ultimately, a tragic incident.
Jamill Jones is a wonderful son and father – a good-hearted man who protects his loved ones from harm. As the father of two young children, their safetyandwellbeingis of the utmost importance to him at all times. As a coach, Jamill safely shepherds young men to be respectful contributors to society while competing at the highest levels of collegiate sports. Jamill is a man of good character and has a strong work ethic. Those two qualities led him to become one of the top assistant college basketball coaches in the country. Before working in collegiate basketball, he worked directly with youth basketball players. At every stop in Jamill's career, he has been regarded as a key contributor to the success of his students, colleagues, and teams. Out of respect for the Szabo family and the integrity of the ongoing investigation, the Jones family requests privacy moving forward in this matter. We will not issue any additional statements at this time. Thank you."
Szabo's parents told NBC's "Today" show that the coach, Jamill Jones, should have tried to save their son Sandor Szabo's life after punching him early Sunday.
Jones' lawyer called Szabo's death "a tragic accident."
Donna Kent says Jones' condolences are "are a little bit too late."
NYPD issued a Crime Stoppers alert to help find Jones who later turned himself in with an attorney.
On Friday, Wake Forest Athletics released a statement revealing that have placed assistant coach Jones on leave.
Statement from Wake Forest Athletic Communications, Friday. Aug. 10, 2018
"Wake Forest Athletics Director Ron Wellman has placed assistant men's basketball coach Jamill Jones on leave. Wellman spoke with Jones today and he agreed that the decision is appropriate at this time given the circumstances. Wake Forest University expresses heartfelt condolences to Sandor Szabo's family and friends following his tragic death."
The coach's next court appearance is scheduled for Oct. 2, the Queens district attorney's office said. Jones was with his family after the court session, his attorney, Alain Massena, told The Associated Press.
"This was a tragic accident, and Mr. Jones and his family send their deepest condolences and their thoughts and prayers to the Szabo family," Massena said. In a statement, Wake Forest said the school would comment further once it gathered more information.
Jones, a Philadelphia native, joined the Demon Deacons staff in May 2017 after coaching at Central Florida, Virginia Commonwealth and Florida Gulf Coast and playing at Arkansas Tech and North Platte Community College in Nebraska. Wake Forest head coach Danny Manning said at the time that Jones was a "well-respected bright mind" in the coaching world and brought "new blood" and "new perspectives" to Wake Forest.
Szabo, also 35, was "super outgoing, friendly, and an incredibly smart businessman," said his company, What If Media Group, based in Fort Lee, New Jersey. "He was always upbeat, positive, kind and caring," the company said in a Facebook post.
"He was fun to be with, interesting, and always interested," the company said. "He was a really good person."
Szabo, who lived in Boca Raton with his brother, always had a bright smile and shared a love of fishing, cooking and family, the company said. "His beautiful spirit and his love of life will remain with us," the company said. "We are going to miss him dearly."
___________________________________________________
Follow WFMY News 2 on Facebook and Twitter
► Make it easy to keep up to date with more stories like this. Download the WFMY News 2 App: Apple Users, Android Users