GREENSBORO, N.C. — Dozens of Hampton Elementary teachers, staff, and students came together one last time to say goodbye to a very special place.
On April 15, 2018 the school was one of two others devasted by a tornado. Since then students have been going to other schools.
RELATED: 'I've Never Seen Anything Like It Before' | The April 15 Tornado, One Year Later
On Monday, Guilford County Schools Superintendent, Dr. Sharon L. Contreras, said she would make a recommendation to close the school permanently to the Board of Education.
Hampton Elementary Staff Says Goodbye to Tornado-Damaged School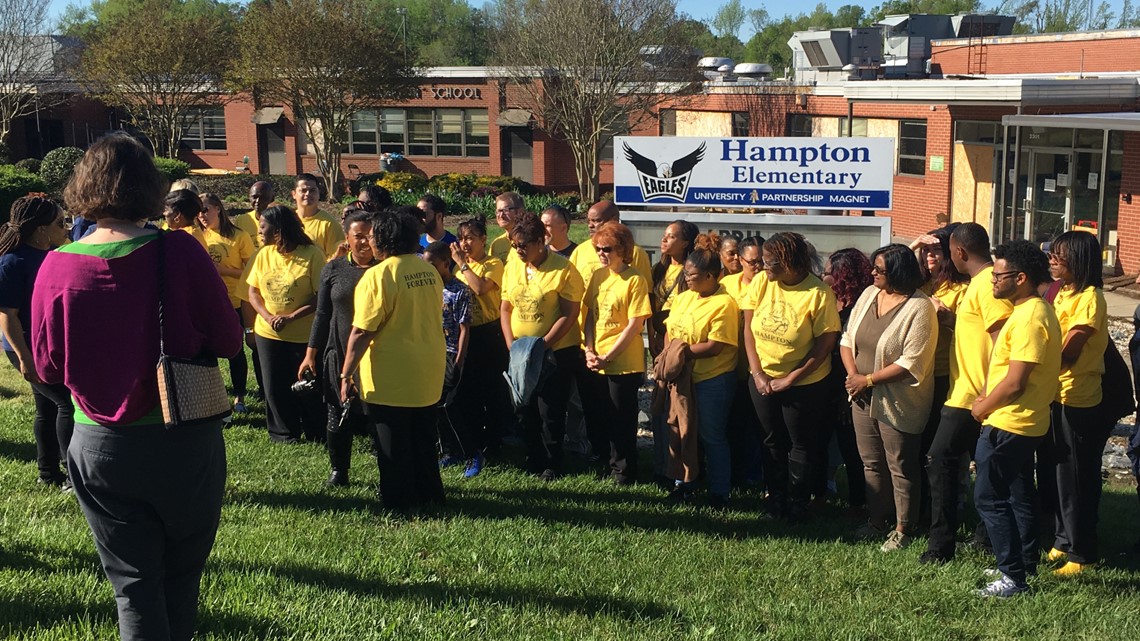 RELATED: Close Hampton Elementary. That's the Recommendation Guilford County Schools Superintendent Plans to Make to School Board
After the tornado, Hampton lost many students after parents enrolled them at other schools. Contreras said too few students remained enrolled.
Just a little over 100 Hampton students are currently at Reedy Fork Elementary, and Contreras said considering many 5th graders will also go to middle schools, the district expects even less next year.
"Many of the students who live in that neighborhood, already, the first year, decided to transfer to other schools and not move with Hampton to Reedy Fork," she explained.
"We have questioned the parents again, many of them said they will not be returning to Hampton, making it very difficult to run a school with less than 50 students, which is what we've been projecting for the next year."
Since Hampton Elementary is a magnet school, Contreras said students are allowed to go to any school in their zone.
In terms of what will happen to Hampton staff, Contreras says they are forted the right to other positions within the district and that there are positions available for those teachers and other staff.
Contreras said the principal from Hampton Elementary is becoming the principal at Wiley Elementary in Greensboro.