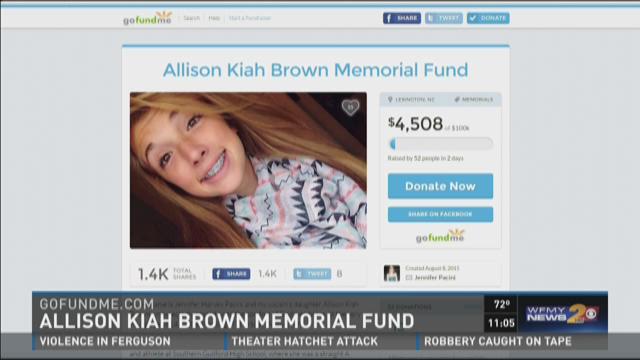 THOMASVILLE, N.C. -- Hundreds of people gathered Monday afternoon to celebrate the life of 14-year-old Allison Brown. The young athlete died suddenly last week after collapsing during cross country try outs at Southern Guilford High School. The cause of death is still unknown.
"We're taking this opportunity to get together and celebrate all the beautiful things that Allison was to this community, to her family, to her fellow students, to all of her loved ones," said Allison's family member Mo Pacini.
The Celebration of Life ceremony included different pieces of music and a variety of speakers like local ministers, friends and Allison's parents.
"To lose a child is just unimaginable, so to have them stand and basically minister to the people there, it was just impressive, it was just beautiful actually," Anyua Clark said who came to support the family.
Allison comes from a family of coaching legends in Thomasville. She is daughter and granddaughter of state champion football coaches, Benjie and Allen Brown. The Thomasville High School football team came out to support the family wearing their jerseys.
Related Story: Hundreds Attend Wake Of Southern Guilford Student-Athlete
"Sorry about your loss, Coach. Just keep your head up. I respect you a lot," Jahare Taylor-Thomas said, one of the players.
Also among the crowd, Thomasville's Police Chief Jeff Insley.
"It was to show respect and to show and let them know that the community's there for them and will continue to be there for them and remembering," he said.
Following the ceremony, some of Allison's friends and teammates released balloons while shouting, 'Fly high Allison!'
"She'll always be in our thoughts and memories because we have good memories with her," Gabrielle Von Der Lippe said, who played basketball with Allison. "She'll be making those three pointers up there."
The ceremony lasted about an hour and a half and the crowd filled the auditorium.
"I think that the family finds a lot of comfort in knowing that Allison was the kind of person that many people loved and will continue to remember and cherish," Pacini said.
Related Story: Friend Of Allison Brown: "She Was The Sunshine Of The School"
Allison's family is now raising money for a scholarship fund in her honor. They've started a Go Fund Me account to raise the money in her name. So far, more than $4,500 has been donated.
The recipient of the scholarship will be a female student who is an athlete and graduate of Southern Guilford. Money will also go toward a monument to keep her memory alive.
To find out more about the scholarship fund, click here.