WFMY News 2 is providing daily coronavirus updates with the latest information from emergency leaders, the state's task force, health departments, universities, school districts and a lot more.
MONDAY, APRIL 6, 2020
9:00 p.m. - Free Food Giveaway in Greensboro
Mount Zion church in Greensboro will host a Free Food Giveaway for families in need. It's Tuesday, April 7 from 11 a.m. - 1 p.m. at the church located at 1301 Alamance Church Road in Greensboro.
8:30 p.m. - If you are having difficulty paying your Greensboro City water/sewer bill, the Water Resources Department has instituted several options to assist you during the COVID-19 pandemic.
Payment plans are available and can be arranged by calling the City's Contact Center at 336-373-CITY (2489) on Mondays through Fridays from 7 am to 3 pm.
If your water service was cut off for nonpayment prior to mid-March, and is still off, the City will reconnect you for the duration of the COVID-19 emergency. Call the number above to be reconnected. Also in mid-March, the City temporarily suspended water shutoffs for non-payment and late fees on past due water accounts.
And while an in-person bill payment window has remained open in the Melvin Municipal Office Building downtown, even though the building is closed due to COVID-19 concerns, City officials urge customers to pay by one of these methods instead:
By credit card by phone at 336-373-IPAY (4729)
Online at www.greensboro-nc.gov/WaterBill
Using the payment drop-box located at the Kitchen Operations Center, 2602 S. Elm-Eugene St.
The usual $1 convenience fee for paying online or by phone has now been temporarily waived.
7:51 p.m. - Rockingham County gives update on coronavirus cases:
6 cases, 1 death and 2 recoveries
6:00 p.m. - North Carolina Gov. Roy Cooper and health experts are laying groundwork to convince the public that social distancing orders could be needed beyond April to dull COVID-19′s spread and preserve hospital beds and lives.
5:00 p.m. - North Carolina is now reporting more than 2,850 positive COVID-19 cases and 33 deaths.
4 p.m. - North Carolina has had 14 COVID-19 deaths since last Friday.
3:55 p.m. Alamance County COVID-19 cases update:
Alamance County has confirmed a total of 20 COVID cases. Of these confirmed cases, 12 now have recovered from illness and have been released from Health Department control measures and restrictions. Of those 8 remaining active cases, 5 are isolating at home and 3 are receiving care at the hospital. The NC DHHS map may show fewer cases than reported locally due to the timing of the updates to the map.
3:50 p.m. - Randolph County COVID-19 cases update:
Randolph County as of 3:55 pm, Monday, April 6, 2020:
Number of laboratory-confirmed cases of COVID-19: 33
Randolph County deaths associated with COVID-19: 1
3:41 p.m. - Wyndham Championship Tournament Director Mark Brazil talks about pushing back the tournament due to the coronavirus.
"At the end of the day, all tour events are in the position of just really wanting to have their tournament....I would call this year a huge success if were actually able to have our tournament." @WyndhamChamp Tournament Director Mark Brazil.
2:35 p.m. - Brady Services recently donates 92 laptops to the Laptop Project to help Guilford County Schools' students.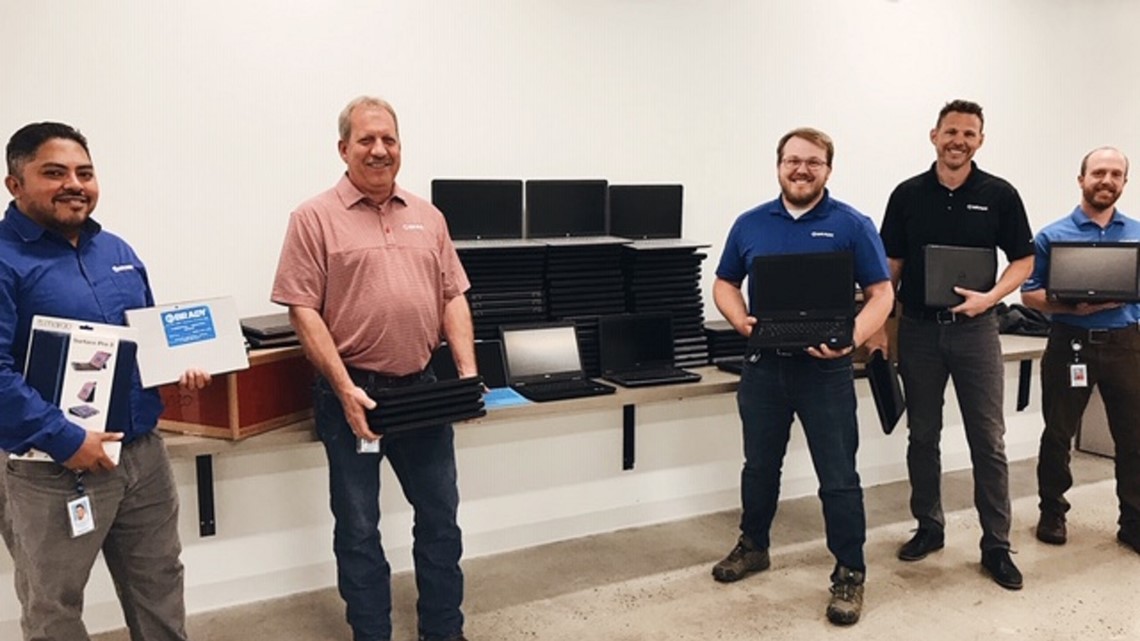 2:05 p.m. – The Davidson County Health Department released information that a Davidson County resident has died due to COVID-19.
12:15 p.m. - The Wyndham Championship is being pushed back due to coronavirus, but not by much. The pro-golf tournament announced on its website that it will now be held from August 11-16, 2020 - just a week later than it was originally scheduled. The Wyndham said the schedule change came after the PGA Championship move.
Noon. - Guilford County Public Health has verified a new death from coronavirus in the county, bringing the total number of deaths to four, according to its official Facebook page. As of Monday afternoon, Guilford County Public Health has identified 104 cases of COVID-19.
9 a.m. - High Point University is donating supplies to first responders and food banks amid the coronavirus outbreak, school officials said in an emailed release.
"From health and wellness, to volunteering, to supplying medical provisions for frontline responders, HPU is grateful to reside in a community that takes care of one another, just as we're committed to helping take care of our community," says HPU President Nido Qubein. "With faithful courage, our community and our nation will move forward to a better future. Remember that this too shall pass."
Here are some supplies HPU is distributing:
14,000 bottles of water are being donated to Greater High Point Food Alliance, Guilford County EMS, Community Clinic of High Point, High Point Fire Department, High Point Police Department, High Point Housing Authority, High Point Physical Therapy Pro Bono Clinic, Macedonia Family Resource Center and Open Door Ministries and other area organizations.
5,000 HPU ponchos were donated to Guilford County EMS in case PPE supplies are depleted.
More than 4,000 meals were donated to Open Door Ministries.
In the tradition of HPU supporting the United Way of Greater High Point with a $300,000 gift, $50,000 is specifically being designated for the United Way's Emergency Fund.
7:45 a.m. - We'll bring you a live update on the latest with coronavirus. Join us for our digital newscast After GMS. Watch in the video player below.
The CDC is now recommending people wear face-coverings while in public places, especially where social distancing is hard to follow.
Not many Greensboro shoppers were wearing face-coverings while shopping at three different stores last night.
In North Carolina, there are 2,585 cases of coronavirus. 31 people have died.
FACTS NOT FEAR
Remember facts, not fear when talking about the coronavirus. You should take the same measures recommended by health leaders to prevent the spread of the flu and other viruses. That means washing your hands, avoiding touching your face, and covering coughs and sneezes.
WHERE YOU GET INFORMATION ABOUT THE CORONAVIRUS IS IMPORTANT
It is important to make sure the information you are getting about the coronavirus is coming directly from reliable sources like the CDC and NCDHHS. Be careful not to spread misinformation about coronavirus on social media.
NC CORONAVIRUS HOTLINE
The state also has a special hotline set up where you can call 866-462-3821 for more information on the coronavirus. You can also submit questions online at ncpoisoncontrol.org or select chat to talk with someone about the virus.
You can also text keyword VIRUS to WFMY News 2 at 336-379-5775 to find out more information.
Stay connected to local, national and breaking news: Download the new WFMY News 2 app.
►Text the word APP to 336-379-5775
►For the latest weather conditions and forecast text the word WEATHER to 336-379-5775
►For traffic alerts text the word TRAFFIC to 336-379-5775