National Wear Red Day brings attention to heart disease in women. "Going Red" is as easy as putting on a red dress, a red tie or a red accessory.
Cardiovascular disease kills more women than all forms of cancer combined and yet only 44% of women recognize that cardiovascular disease is their greatest health threat, according to the American Heart Association.
Go Red for Women inspires women to make lifestyle changes, mobilize communities and shape policies to save lives.
The American Heart Association wants to ensure women recognize the symptoms of a heart attack or stroke.
The symptoms of a heart attack are:
Chest discomfort: Most heart attacks involve discomfort in the center of the chest that lasts more than a few minutes, or that goes away and comes back. It can feel like uncomfortable pressure, squeezing, fullness or pain.
Shortness of breath: This may occur with or without chest discomfort.
Discomfort in other areas of the upper body: Symptoms can include pain or discomfort in one or both arms, the back, neck, jaw or stomach.
As with men, women's most common heart attack symptom is chest pain or discomfort. However, women are more likely than men to experience some of the other common symptoms, specifically shortness of breath, nausea and vomiting and back or jaw pain.
The symptoms of a stroke are:
Sudden numbness or weakness of the face, arm or leg, especially on one side of the body.
Sudden confusion, or trouble speaking or understanding.
Sudden trouble seeing in one or both eyes.
Sudden trouble walking, dizziness or loss of balance or coordination.
Sudden, severe headache with no known cause.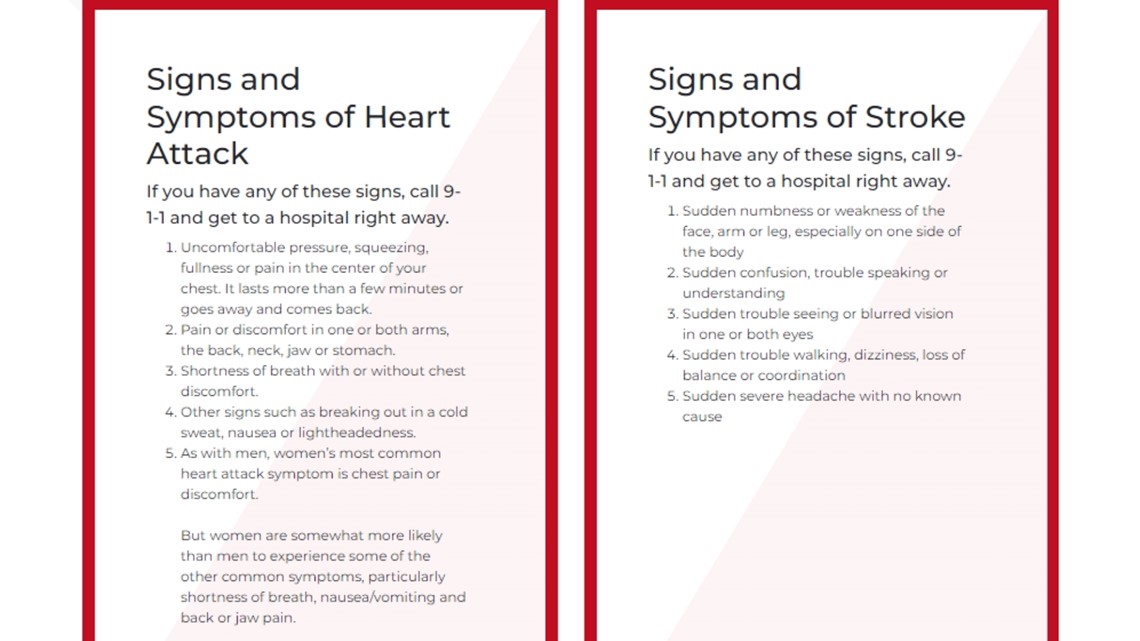 The American Heart Association recommends at least one family member know Hands-Only CPR, as it only takes a few minutes to learn.
The Go Red initiative also encourages women to be aware of their risks of strokes or heart disease. Women have an increased risk of high blood pressure, and therefore a higher risk of stroke, according to the American Heart Association.
You can read more about different risk factors here.
Healthy living is encouraged by the American Heart Association. You can find tips on how to lower stress, eat better and exercise at this link.