ATLANTA — Soul singer Gladys Knight will perform at the 2019 Super Bowl at Mercedes-Benz Stadium on Sunday, Feb 3.
You can catch Super Bowl 53 on WFMY News 2/CBS.
The Atlanta native will sing the national anthem before the NFL's biggest game of the season, the NFL announced Thursday.
"I am proud to use my voice to unite and represent our country in my hometown of Atlanta," Knight said in a statement. "The NFL recently announced their new social justice platform Inspire Change, and I am honored to be a part of its inaugural year."
Less than a year ago, April 19, 2018, Knight performed at the Carolina Theatre in Greensboro during the theater's gala and fundraiser.
PHOTOS | Gladys Knight at Carolina Theatre 2018 Command Performance Gala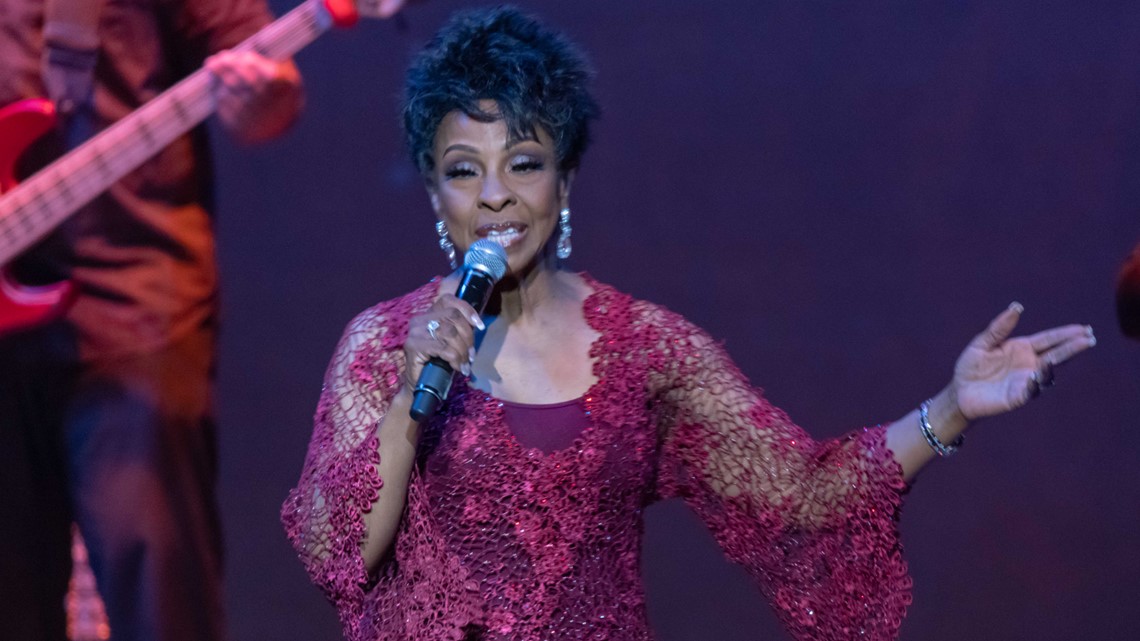 Wednesday, the committee released the final details and more performers on the list. Singer Monica, country music star Craig Campbell, Atlanta-born indie rock and pop group Hero The Band and other entertainers are a part of the line up.
Super Bowl LIVE presented by Verizon will run from Saturday, Jan. 26 until Saturday, Feb. 2.
Below is the concert schedule. The events will be held at Centennial Olympic Park:
Saturday 1/26 – Hip Hop:
1 p.m.: Emerald Empire Band
3 p.m.: Gritz & Jelly Butter
5 p.m.: Robnhood Tra
6 p.m.: Taylor Girlz
7 p.m.: Street Bud & Friends:

Atlanta Drum Academy, LayLay, Bankroll PJ, Tootie Raw, Nia Kay, King Imprint, Backpack Kid, Lil Donald, Ayo & Teo

8 p.m.: Pastor Troy
9 p.m.: S.O.S. Band
Sunday 1/27 – Country:
1:30 p.m.: Sunday Gospel Brunch, Players Gospel Choir
2:30 p.m.: REMakes
4 p.m.: Jack Michael
5 p.m. Josh Bricker
6 p.m.: Seckond Chaynce
Monday 1/28 – Hip Hop/R&B:
5 p.m.: Ayanis
6:30 p.m.: 5am
7 p.m.: Goodie Mob
8 p.m.: DJ Holiday & Friends:

YFN Lucci, Waka Flocka, Trinidad James, DJ Unk, Travis Porter, 1playy, Young Dro, Derez Deshawn, Fly, Coca Vango, Light Skin Keisha, Swag Surf Boys, Scrappy
Thursday 1/31 – Country & Rock:
4 p.m.: Lyn Avenue
6 p.m.: Tyler Tritt
7 p.m.: Hero the Band
8:30 p.m.: Craig Campbell
Friday 2/1 – Pop & EDM:
3 p.m.: Super Bowl LIVE Happy Hour, Seed & Feed Marching Band
5 p.m.: Leah Culver
6 p.m.: The Jacks
7 p.m.: Hearty Har
8 p.m.: Heroes X Villains
9 p.m.: ATLiens
Saturday 2/2 – Hip Hop:
11:30 a.m.: "Around the NFL" (NFL Podcast)
12:30 p.m.: Georgia Tech Pep Band
1 p.m.: Team (TBD) Fan Rally
2:15 p.m.: Georgia Tech Drum Line
3 p.m. Team (TBD) Fan Rally
5 p.m.: Kelechi
7 p.m.: Monica
8 p.m.: DJ Smurf & So So Def All-Stars

MC Shy D, Raheem the Dream, Kilo Ali, Playa Poncho, Deuce, DJ Kizzy Rock, KP & Envyi, DJ Taz, Freak Nasty, 12 Gauge, Tag Team, Ghost Town DJ's, Lathun