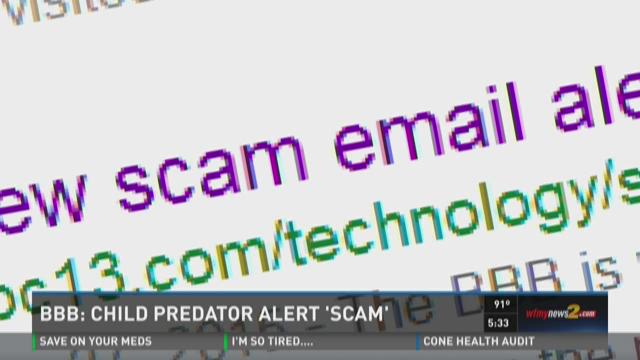 GREENSBORO, N.C. - A new e-mail in Triad inboxes wants to warn you about a danger to children in your neighborhood. It's from Kids Live Safe. And the subject catches your attention with "Childpredator alert in your area." Then you look at the picture of these two cute kids in shadow and it says in big red letters - "warning, neighborhood safety alert" - 
with three exclamation marks. Reading: "If you would like to know who they are where they live and how you can protect your family from sexual predators, please click here."
But don't do it!  The BBB says this e-mail is a scam.
"Just by accessing the link, you've downloaded the malware that the spammers want to give to your computer. You're infected. They're going to go hunting for what they really want. Which is your passwords, your usernames, your credit card information." said Michael Henson with the Central NC Better Business Bureau.
Instead, you can use a free tool from the North Carolina Department of Public Safety to check for registered sex offenders near you.