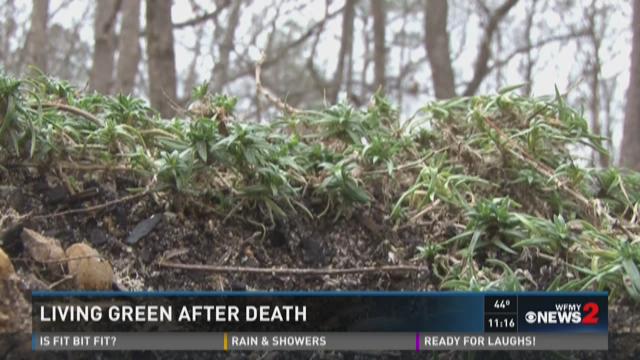 GREENSBORO, N.C. - Tucked away in a North Carolina forest, this green burial spot is unlike any cemetery you've ever seen.
"I love the peacefulness. You can hear the water. And you forget that you are just in the middle of a city. It's like you've been swallowed by nature," Dyanne Matzkevich said.
She knows this is also how wants to go. Her body won't be embalmed. She won't even have a casket – just wrapped in a biodegradable cloth. Buried under the trees With a simple stone maker. And the plants that will grow up out of her body.
"When you see the first growth on a grave, it's kinda exciting. You've got the green springing up from something that was just associated with death. And now it's showing life," Matzkevich said. "They are going to cheat death at least a little bit in a way that they can."
This might seem out of left field, but the traditional burial – really has only been traditional since the Civil War. People needed to embalm soldiers who died in battle, so their bodies could make the trip back home without decomposing.
"You just do it because that's what everybody has always done. But once people find out they can kinda do their own thing, they appreciate that. And it's their little signature on how they've lived their life," Matzkevich said. "It kinda quiets your soul and just gets you back in touch."
You might be thinking: is this even legal? Well, you can't just chuck a body in the back yard, you'll want a cemetery with the proper permits.  Right now the Green Burial Council has certified 340 sites across the country. Only three in North Carolina. All around the Triangle.
Green burial is also about half the cost of the traditional method. A plot in the woods will start around $3,000.
To see more investigations like this follow 2 Wants To Know's Ben Briscoe on social media:
Facebook: Ben Briscoe WFMY
Twitter: @WatchDogBen
Instagram: WatchDogBenBriscoe
Stay connected 24/7 via WFMY News 2
Get the WFMY News 2 App free in the Apple store and the WFMY News 2 Weather App which is also free in the Apple store.
2 Wants To Know Investigations