GREENSBORO, N.C.-- No one likes car payments and when you have buy a car, whether it's your first, second or third, you want to last forever.
There's one way to get as much life out of that care as possible-- it starts with good care.
Here are some recommendations from Triple A:
Make sure to check your oil.. and change it often
Check your battery.. make sure all the cables are secure and free of any corrosion
You also want to make sure your radiator has enough fluids.. and that your tires are in good condition.
Lastly.. make sure your wipers are clean and that all your lights are working
A CBS MoneyWatch story list of 15 Cars You Can Drive For 15 Years:
Some extreme buy-and-hold motorists now keep their cars running for 15 years or more.
"While a decade on the road used to be a significant milestone for vehicle life expectancy, the elevated quality of cars being produced has raised this standard," said Phong Ly, CEO of iSeeCars.com. His research firm is out with a study showing which vehicles' original owners are most likely to keep them for 15 years or more. The study looked at 650,000 cars sold in 2017 that were 2002 or earlier models.
The top vehicle is the Toyota Highlander SUV, which had 18.3 percent of cars sold in 2017 that were 15 years or older -- 2.7 times the average vehicle's 6.8 percent. The list is dominated by Japanese models, with Toyotas, Hondas, Subarus and Nissans. The one non-Japanese model that made the top 15 is the Volkswagen Golf.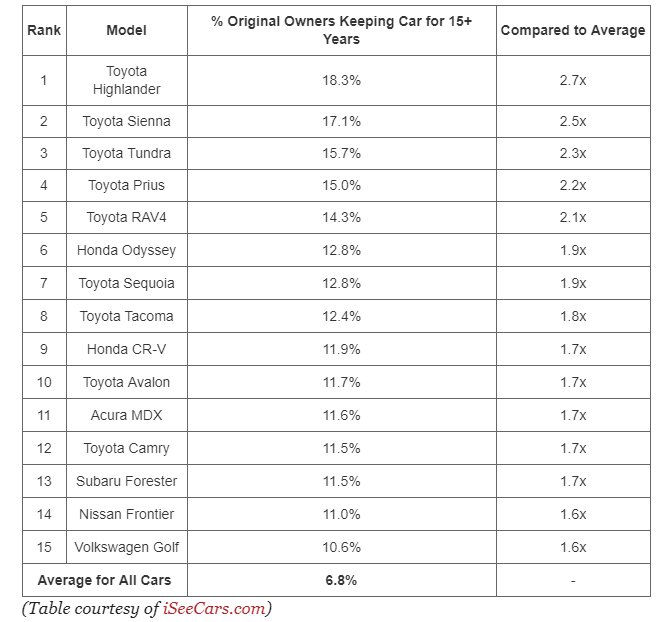 Toyota dominated with nine of the top 15 models. Those nine included Toyota's most popular models such as the Camry sedan and RAV4 compact SUV. Also on that list is the gas-electric hybrid Prius. "Despite consumers' concerns about battery durability and the associated high replacement cots, its appearance on the list shows that the reliability of the Prius measures up to Toyota's conventional fuel counterparts," said Ly.
Honda has two entries on the 15-year list: the Odyssey minivan and the CR-V compact SUV. As for the only non-Japanese entry, the study points out that the Volkswagen Golf is highly practical as a compact car with unusually commodious cargo space.
To see the full list and where they rank click on CBS MoneyWatch.