GREENSBORO, N.C. — Post Summary: Add this to your "To-Do" list. The feds have mandated new drivers licenses for all states taking effect in the next calendar year. Read more for: What Are REAL ID's?, What's New? and Changing My License/Costs.
Beginning Oct. 1, 2020, federal agencies will require a REAL ID, U.S. passport or another form of federally-approved identification to board commercial airlines and to enter federal buildings. With the enforcement date approaching, the N.C. Division of Motor Vehicles wants North Carolinians to have the key information they need about REAL ID.
A REAL ID is optional and not a requirement. Depending on one's unique situation a REAL ID may make certain activities easier, such as flying domestically or entering federal facilities. You may still use approved documentation if you do not have a REAL ID. If you have no plans to fly or enter federal buildings, there is no need to change your current traditional driver's license or ID card. You CAN still get a REAL ID after the October, 1, 2020 deadline, but if you don't have one before then, you just won't be able to fly commercial or enter federal buildings.
Starting October 1, 2020, you'll need a REAL ID for the following:
Boarding a commercial airplane.
Visits military bases.
Visits to nuclear sites.
Visits federal courthouses, federal prisons or other federal facilities.
If you don't have one, as it's not required, you can use other approved documentation. And if you have no plans to fly or enter federal buildings, there is no need to change your current traditional driver license or ID card.
After the Oct. 1, 2020 deadline, non-REAL ID's will still be acceptable forms of identification for:
Driving
Voting
Applying for or receiving federal benefits (e.g., Veterans Affairs, Social Security Administration, etc.)
Entering a federal facility that does not require an ID (e.g., a post office)
Accessing hospitals or receiving life-saving services
Participating in law enforcement proceedings or investigations (e.g., serve on a federal jury, testify in federal court, etc.)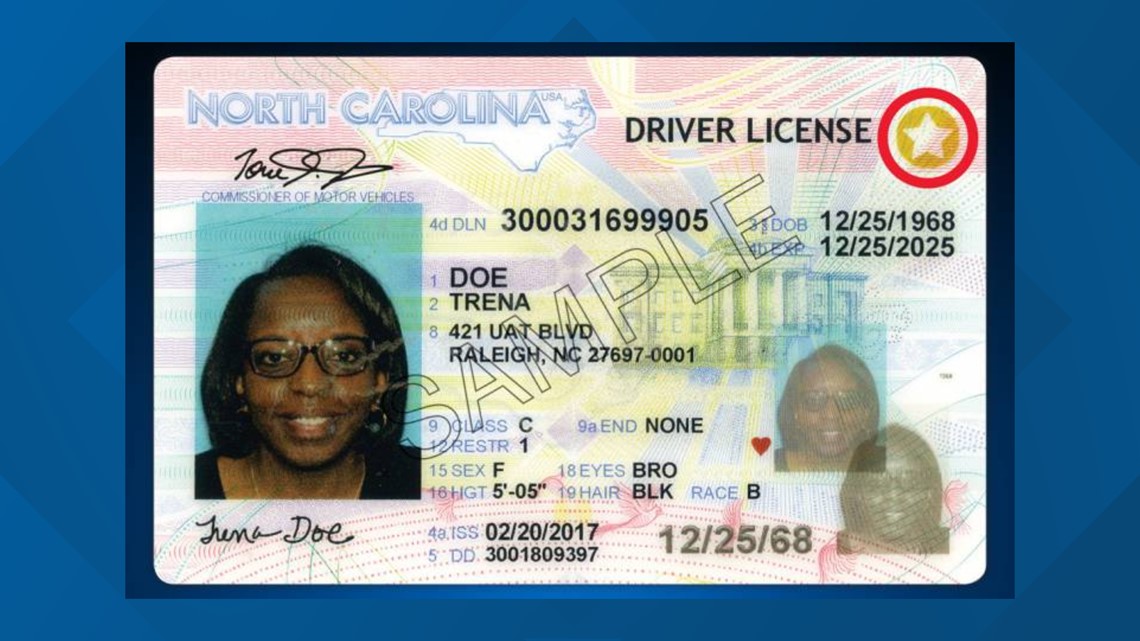 Aesthetically, your REAL ID card will not look much different than your previous license, with the noticeable exception of the new star (varies by state) in the upper right corner.
Changing My License/Costs
The cost of a REAL ID is the same as a driver's license: $13.
To get a REAL ID, you need proper documentation. Do not forget to bring one document (with full name) proving identity and date of birth and one document proving your social security. Additionally, you will be asked to provide two documents (can be the same as the first two) proving you a resident in North Carolina. The NCDOT's website has the full list of acceptable documents.
REAL ID's cannot be completed or obtained online, so you will need to visit a DMV office. If you're not planning to travel domestically or enter a federal building in the next year you can get a REAL ID later.
Call ahead and schedule an appointment using 919-715-7000.
REAL ID's have faced opposition, with several states going as far as passing statutes that prohibit their states from complying with the Real ID requirements. Complaints have included the REAL ID's use of facial recognition software, identity security/privacy concerns and potential federal access to the state's databases as explained in the Final Rules document for the REAL ID Act of 2005. Some states, like Florida, have been issuing REAL ID's for more than a decade.