GREENSBORO, N.C. — Over the years 2 Wants To Know has learned some great tricks to make spring cleaning easier! Most of them come from Consumer Reports. Let's break it down by each area of your home.
Bed: Refresh your mattress in three easy steps: vacuum it with your upholstery attachment, then sprinkle it with baking soda (let it sit for 24 hours if possible), then vacuum up the baking soda. Also, you can run the pillows through the dryer on the no-heat cycle or hang them up outside on a breezy, sunny day.
Dishwasher: Odors from the food left on dishes can build up inside your dishwasher and waft into your kitchen. We suggest cleaning the exterior with a disinfectant spray before moving to the interior. Then place a clean bowl filled with vinegar at the center of the bottom rack and run your dishwasher on a normal cycle without detergent. The vinegar will sanitize and deodorize your dishwasher.
Washing machines: While they're made to clean clothes, washing machines can get dirty. Front-load machines are particularly prone to mildew, soap scum, and mold. CR's experts suggest cleaning your washing machine by running a wash without clothes on the hottest setting with a cup of bleach. The bleach will kill the mildew, mold, and soap scum.
Windows: They are at the top of almost everyone's spring cleaning list. To avoid streaking, tackle this job on a cloudy day or when the windows are in the shade. In Consumer Reports' window tests, one surprising discovery was that it's easy to stain some models if you use the wrong cleaner. Ammonia-based formulas, including some Windex products, can cause streaks or film on windows. So before you grab your squeegee, check the manufacturer's website for instructions.
Blinds: Laura Redd with Laura Redd says to wrap a pair of tongs with two washcloths with rubber bands, grip the tongs on the blinds, and slide. You can also order a device like this fairly cheaply online.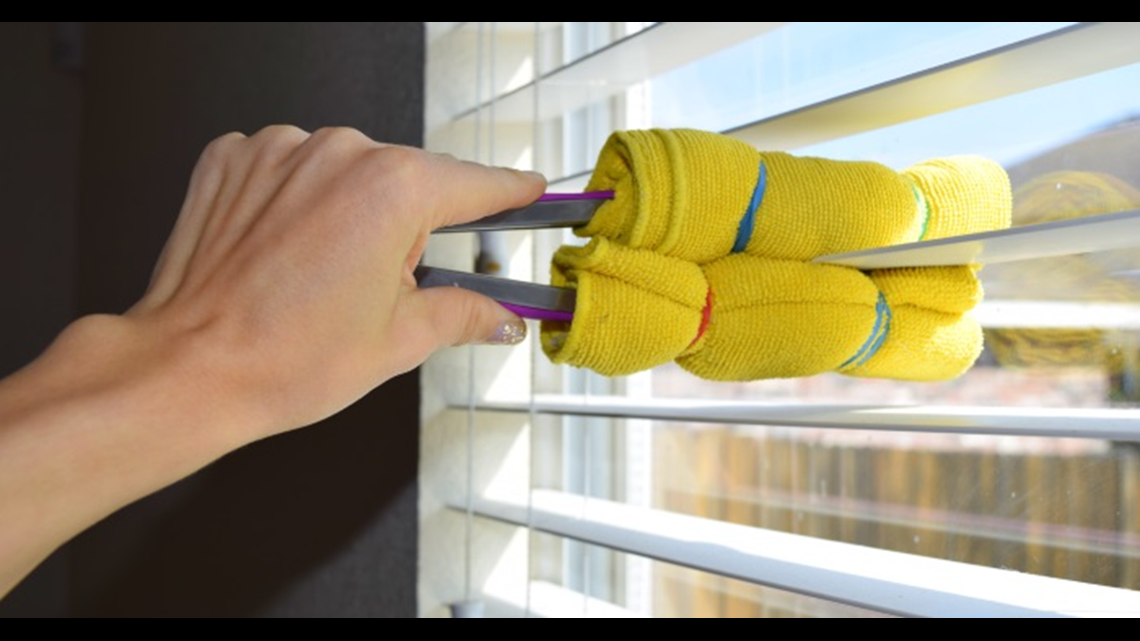 Curtains: Before cleaning your curtains and draperies, read the care instructions carefully to determine whether you can wash them or whether you should have them dry-cleaned. If your curtains are washable, throw them in the washing machine with one of CR's top-rated detergents like Tide Plus Ultra Stain Release, which performed the best in our lab tests, or Persil Pro Clean Power-Liquid 2in1, which also stood out for excellent stain fighting.
After the deep cleaning, remember to dust curtains and drapes regularly with your vacuum cleaner's soft brush attachment or with a soft, long-handled broom with synthetic fiber.
Stainless steel appliances: Avoid using harsh abrasives, scouring powders, steel wool, bleach, and ammonia, all of which can damage the finish. Always check the owner's manuals and manufacturers' websites for other cleaners to avoid. Some manufacturers advise against using glass cleaner on stainless steel, for example.
Step 1: Dip a soft cloth in warm water mixed with a mild dish detergent. Wipe the surface, rinse the cloth, and wipe again, then dry with a towel to prevent water spots.
Step 2: If you still see fingerprints, spray a glass cleaner onto a soft cloth and wipe the fingerprints away.
Step 3: To remove baked-on food and grease, make a paste of baking soda and warm water. Gently rub onto the surface using a soft cloth or sponge. Wipe with a clean wet cloth and towel dry. For scratches and stains, use a stainless steel cleaner and apply it to the area, following directions. Rinse with a clean damp cloth, then dry.
IMPORTANT TRICK: Use a second squirt of disinfectant after the first one is dry! Here's why: