Long before your child is old enough to get their first credit card or buy their own car, criminals will be trying to steal their identity.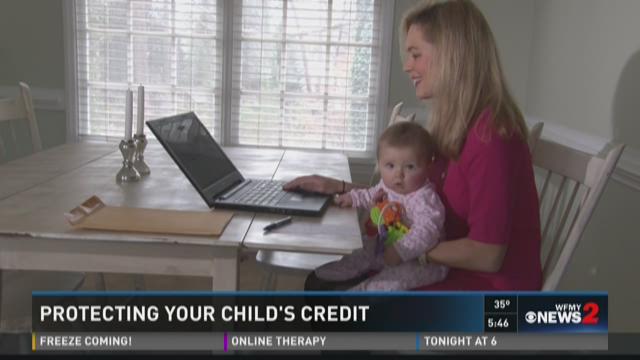 It might not be enough anymore to just keep an eye on their credit report. (which you can do and should do!)
Equifax Security Freeze
P.O. Box 105788 Atlanta, GA 30348//1-800-685-1111
Experian Security Freeze
P.O. Box 9554 Allen, TX 75013//1-888-397-3742
TU Protected Consumer Freeze
P.O. Box 380 Woodlyn, PA 19094//1-800-916-8800
And yes, you need to do it with all three. A freeze on one doesn't mean a ID thief can't try it on the other two.
Freezing your child's credit could be your best option, but you'll have to invest some time and a little money.
Parents can put a security freeze on their child's credit. It blocks anyone from opening a financial account in their name. With a social security number, identity thieves can open credit card accounts, sign up for utility services, even rent a place to live.
2 Wants to Know how easy or difficult it is to freeze your child's credit. We asked former WFMY News 2's Lauren Melvin to go through the process.
She quickly learned the process could take some time.
To freeze your child's credit, you need to send a written request to all three credit reporting agencies. The three agencies vary slightly in what they require but you'll at least need a copy of your Driver's License and Social Security card, plus a copy of your child's birth certificate and Social Security card.
Equifax requires one step further. Parents will need to submit a certified or official copy of a birth certificate, not just a plain old copy. That means you'll have to mail the request to an office in Raleigh and pay $24 to get a certified copy.
The entire process could be time-consuming.
"It certainly would take a weekend to get it all together because with a baby, things aren't done quickly number one," said Melvin. "But number two, it's a lot of documentation. You have to have all that documentation at home or go make copies of it, one of them even required a certified copy of it."
Depending on your situation, you'll also have to pay $5 to each credit reporting agency for the service, $15 total. If your child's financial identity has already been stolen, those fees are waived.
Parents or legal guardians are the only ones who can lift the freeze, not even the child who's account is frozen is able to do it. Learn more here.
RELATED LINKS:
You Can Freeze Your Child's Credit Starting January 1