GREENSBORO, N.C. — Not every school project is memorable. A lot of the styrofoam, shoeboxes and tri-fold boards are easily forgotten.
Yet, a first grader in Greensboro recently did a school project that really stands out. It was a Black History Month project that didn't feature one of the usual well-known figures.
"She was born in Durham and she grew up in Greensboro and she went to NC A&T," Victoria said.

She knows all kinds of facts about longtime news anchor at WFMY News 2, Sandra Hughes.

"We found the microphone on Amazon. Found the clipboard around the house, and with the magic of a tri-fold board from the science fair and a color printer, the project came to life," said Jennifer Redfearn, Victoria's Mom.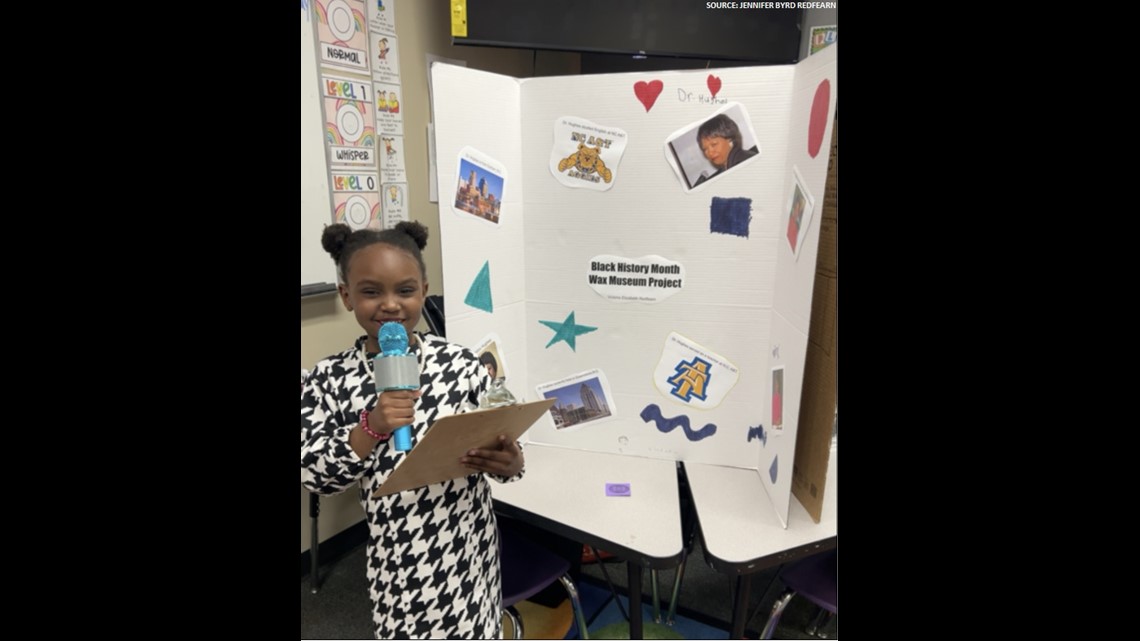 Like most school projects, it was a family affair. Mom Jennifer and dad Brandon put their heads together to help Victoria.

"When this project came home, we knew there were traditional figures that were done for Black History Month, but we thought who do we all have ties to? Because Brandon's grandmother was like a super fan of Sandra, and my mother worked with her at NC A&T, and Sandra has interviewed her," said Jennifer.
Victoria's grandmother is Dr. Goldie Byrd, the former Dean of the College of Arts and Sciences at NC A&T. There is a YouTube video of their sit-down interview. Victoria has seen it many times.

While Victoria's grandmother knows Sandra, Victoria has never met her, and when asked if she wanted to meet her reply was, "I really want to go tomorrow!".

WFMY News 2 wanted to make that a reality for Victoria. We invited Victoria to come to the WFMY News 2 studios and of course, our own Sandra Hughes was more than happy to meet the student who chose her as her school project.
You can see the meeting live on WFMY News 2 at 6 p.m. Monday night.
MORE WAYS TO GET WFMY NEWS 2
ADD THE WFMY+ APP TO YOUR STREAMING DEVICE
ROKU: Add the channel from the ROKU store or by searching for WFMY.
Amazon Fire TV: Search for WFMY to find the free app to add to your account. You can also add the app directly to your Fire TV through your Amazon account.