ARCHDALE, N.C. — Fire crews said the area around the Circle K is reopened and should be cleaned up around noon.
Firefighters are back on the scene of a fuel leak Tuesday morning as they continue to investigate what caused the leak.
Businesses reopened after a fuel leak in Archdale prompted several of them to evacuate Monday afternoon.
It started around 10 a.m. in the area of Bonnie Place and W. White Drive near a Circle K, Guil-Rand Fire Department officials said. Officials said someone called in a gasoline smell from inside the gas station.
Katie McDonald and her daughters were at a nearby coffee shop around that time.
"We came back outside and saw some fire department looking in the drain and stuff like that and we could actually smell the gas," McDonald said.
Fire crews learned there was fuel in a storm drain that had leaked down to a nearby creek. They got the leak contained so it is no longer getting into the creek, and cleanup crews are working to locate the source of the leak.
All roads have reopened as of 8 p.m. and businesses are allowed to reopen, according to Guil-Rand Fire.
"You have to be ready for whatever life throws at you," Nichole Norman said.
Norman owns Nattie's Frozen Creations, one of the businesses that had to evacuate due to the leak.
"The fire chief came in and said 'it's time to evacuate. You've got a few minutes, close things down as you can, and then it's time to go home' so I went home," Norman said.
This was supposed to be her first day back at work after a surprise surgery five weeks ago. She said she was grateful no one was hurt.
"There's a tremendous amount of gasoline in the storm drains," said Fire Chief, Luke Richardson.
Twelve businesses had to evacuate the area. They may be able to return by this evening.
"The danger to the public right now is minimal because we've evacuated the area," said Richardson. "Our biggest concern right now, the reason we're staying here is because there still is an active leak and we want to make sure that something doesn't happen to a business that is unoccupied right now, so we're gonna stay here until that hazard has dissipated."
Sample said that there was roughly 475 gallons of fuel missing from a 20,000 gallon tank. He said they are working to figure out the exact number but said the amount was large.
The gas station had their power turned off and won't be able to reopen until the leak is fixed.
"They'll have to determine where and how that gas leak smell got in the store to begin wit," Battalion Chief Shane Sample said. "Not exactly sure how that happened yet, but if they can solve the leak, issue, leak source and stopping that leak and preventing it from entering the structure again, it'll be okay to reopen as well."
Fire officials said the gas station is still testing the leak.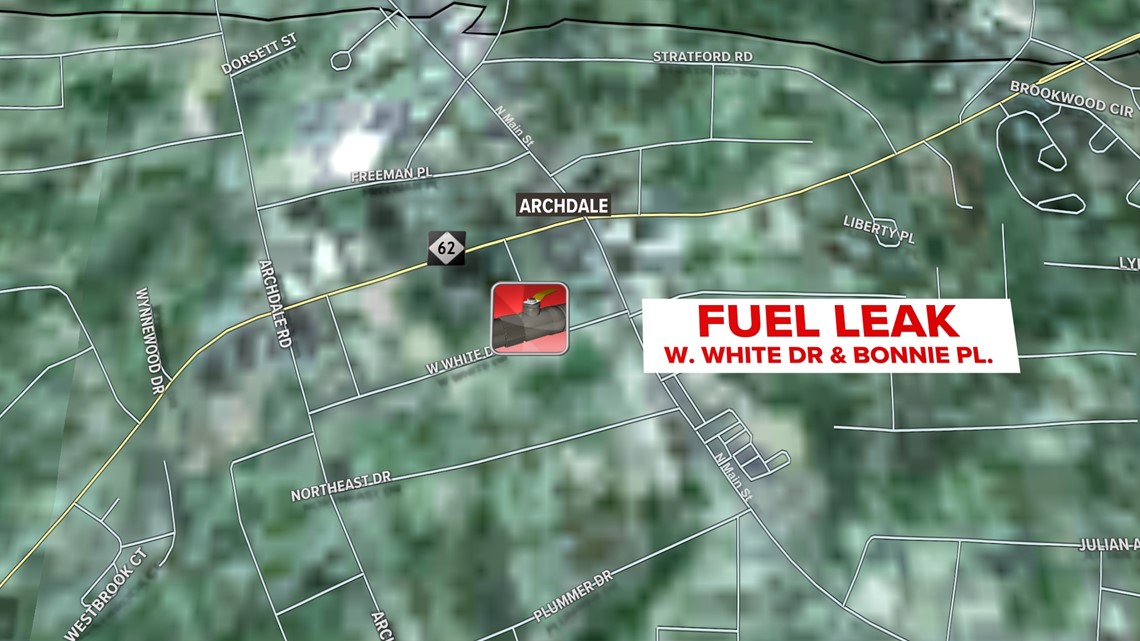 More stories out of the Archdale area: