FINAL | Falcons 24, Panthers 10
Facing 4th & 10, Heinicke is tripped up from behind and that could do it with 6:36 left.
The Panthers get a much-needed turnover on a fumble recovery. Julius Peppers gobbled it up. Brian Hill tried to jump over the defender and succeed before losing the ball.
On 4th and 2, the Panthers can't complete a pass and the Falcons will get to milk some clock.
Samuel with a great extra effort after the catch to get the first down. Panthers need a touchdown here.
McCaffrey now with 30 touches for 159 yards.
END THIRD QUARTER: Falcons 24, Panthers 10
McCaffrey has broken the record!
A holding call pushes Carolina back again. Atlanta gets an interception with a second left in the third quarter. Heinicke just made one read there and the defender read his eyes.
Panthers with a chance to score as we enter the final quarter. They need six points here.
McCaffrey breaks the record!
DJ Moore with a nice run after the catch, that's his specialty. First down Panthers at the Atlanta 25 as they try to get back in the game.
On 3rd & 5, the Panthers jumped early for a neutral zone infraction and give Atlanta a first down. One play later, Ryan finds Mohamed Sanu for a touchdown.
Ryan misses Julio Jones on a deep pass, but Tevin Coleman with a big run to get the Falcons out of jail.
Penalties hurt the Panthers again on that drive. Another punt for Carolina.
McCaffrey has tied the NFL record for catches for a running back with 102. Heinicke has 33 yards running on three carries.
Another good play from cornerback James Bradberry on that pass breakup on third down.
Panthers face 3rd & 7 and a false start pushes them back. Heinicke can't find anybody and the Panthers will punt it away.
Well, that was quick. Matt Ryan finds a wide-open Calvin Ridley after a bust in coverage. Touchdown Falcons. As easy a touchdown as you'll see on the first play of the second half. 17-10 Falcons.
McCaffrey guided the team offensively that half, as you may have expected with Heinicke at quarterback. Heinicke has had an interesting first half, leading the Panthers to a touchdown early, getting hurt and leaving the game, then coming back in and throwing a critical red zone interception.
Panthers had the ball for 19:34 in the first half compared to the Falcons 10:26. The two turnovers were especially big.
PHOTOS | Carolina Panthers Host Atlanta Falcons In NFC South Battle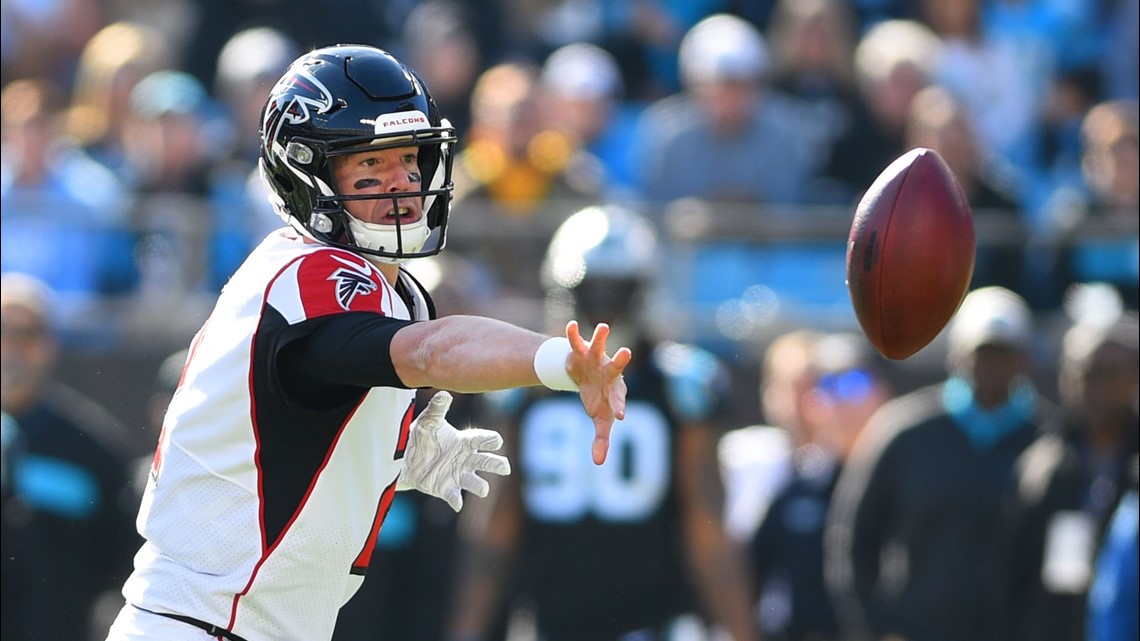 HALFTIME: Panthers 10, Falcons 10
Panthers will get the ball back once more before the end of the half. No timeouts left for Carolina but 35 seconds left as the Falcons get ready to punt.
The Falcons get an interception after a tipped pass on a rollout. The Falcons come up with a huge red zone turnover to negate the scoring chance.
3rd & 1 at the 9 and McCaffrey gets the handoff in shotgun formation. Of course, he picks up the first down! 1st & goal Panthers.
McCaffrey's second-effort gets the first down on 3rd & short. We hit the 2-minute warning with the Panthers looking to regain the lead. Heinicke is back in for the Panthers.
Wright was wide open inside the 30 and Allen keeps moving the Panthers downfield.
Allen comes out for another drive, but Heinicke is throwing on the sideline, a good sign for the Panthers. Allen finds Curtis Samuel for the first down near midfield.
Matt Bryant with a 39-yard field goal to tie the game. 5:31 left in the half and we're tied at 10.
Heinicke is questionable to return.
On 3rd & 4, Falcons sniff out an off tackle run by McCaffrey to force fourth down. Chandler Catanzaro comes out for the field goal and it's good! Panthers lead 10-7.
Heinicke heads to the locker room with the left elbow injury. Rookie Kyle Allen is under center.
Another 3rd & long and Heinicke goes down and he's holding on to his elbow. The Falcons are flagged for roughing the passer and the Panthers will keep possession and get a first down. Kyle Allen may have to come in.
Panthers face 3rd & 9 and Heinicke finds Ian Thomas on a nice back shoulder throw for a first down. A well-placed throw gets the Panthers to midfield.
The ball comes out after a completion and it's ruled a fumble. Jarius Wright lost it and the Falcons have a first down. One play later, the Panthers get a strip sack and recover! What a sequence!
Falcons punt and the Panthers will get the ball deep in their territory.
Panthers go three & out and will have to punt from deep. Falcons will start with it from their own 37.
END FIRST QUARTER: Panthers 7, Falcons 7
Matt Ryan finds Jones for a first and goal. On third and goal, Jones evades double coverage and gets open for a touchdown in the back corner. We're tied at 7. 38 seconds left in the first quarter.
Sanu with the read option gets Atlanta into the red zone.
Falcons move into Panthers territory with the completion to Julio Jones. James Bradberry had a nice deflection in coverage on a deep ball earlier.
Touchdown! Heinicke finds Ian Thomas for the score! The extra point is good and the Panthers go up 7-0 after one drive! Heinicke completed 5 of 6 passes on that drive.
A penalty on Atlanta gives the Panthers a first and goal and another shot at a touchdown.
Heinicke gets a first down with a scramble. The backup looking good so far.
On 3rd & 3, Heinicke finds McCaffrey again for the first down. Panthers moving into Falcons territory.
Christan McCaffrey making Heinicke look good on the first possession with a first down.
1:02 - It's game time! Panthers get the first possession. They'll start at their own 28.
The Panthers are barely hanging out to playoff contention and are facing their first game without Cam Newton this season. This is the final home game of the year for Carolina, who had a 10-game home win streak dating back to 2017 snapped against the Seahawks last month.
PHOTOS | Panthers-Falcons Warming Up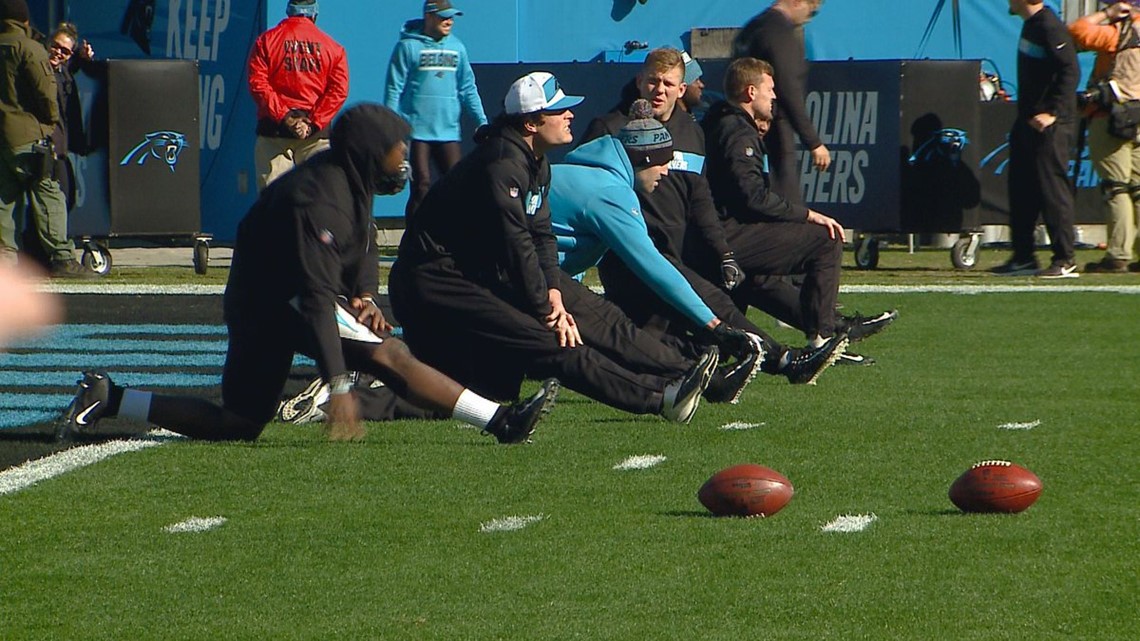 Quarterback Taylor Heinicke is preparing for his first start of the season for Carolina. Rookie Kyle Allen will back up Heinicke.
Here are DJ Moore and Curtis Samuel practicing dance moves before the game!
Meanwhile, defensive tackle Kawann Short has been ruled inactive. This is the first time Short has missed a game in six years in the league.
Sunday's matchup is the second of the year between the Panthers and Falcons after Atlanta prevailed 31-24 in Week 2.
Panthers running back Christian McCaffrey broke the franchise record for scrimmage yards in a season, passing DeAngelo Williams mark of 1,636 scrimmage yards in 2008.
Against New Orleans, McCaffrey threw a 50-yard touchdown pass to Chris Manhertz on a fourth down in the first quarter. He became the first non-QB to throw a touchdown pass in franchise history.
Week 16: Atlanta Falcons (5-9) at Carolina Panthers (6-8)
Bank of America Stadium, 1 p.m.
LINE: ATL -3
Follow WFMY News 2 on Facebook and Twitter
► Make it easy to keep up to date with more stories like this. Download the WFMY News 2 App: Apple Users, Android Users