KERSHAW COUNTY, S.C. — Nearly one month ago, North Central High School in Kershaw County was destroyed by a tornado.
Students are finishing the school year at a different campus. But Friday, the Carolina Panthers surprised the school by telling them they're all going to the prom.
"We are bringing you to Charlotte for an unforgettable prom experience we're all going to the prom!," Director of Community Relations for the Charlotte Panthers Riley Fields said.
North Central High School students have had a difficult passed few weeks since and EF-2 tornado heavily damaged the school on January 11.
The Panthers said the prom will be held at the team's Atrium Health Dome indoor facility in Charlotte.
"I was really excited and surprised," said senior Madison Dixon said. "I'm glad they did this for the students you know because I heard a little bit about how they were going to bring us some stuff so i was like ok that's great for the football team and everything but I didn't expect the prom. That's really big for us."
Dixon says the transition to their new campus hasn't been easy but they're overwhelmed by the outpouring of encouragement.
"The community does support us but its hard for the community too. that school has been there for so long but they really have been standing behind us and the Knight [the school mascot] family," Dixon said.
But the surprise didn't stop there.
The Panthers also donated weight room equipment, fifty sets of football practice uniforms some of which are game worn pants and practice jerseys, and $5,000 to go towards replacing the school's scoreboard in the football stadium.
Some of the former practice jerseys belonged to well known panther stars like #90 Julius Peppers, #28 Jonathan Stewart, #59 Luke Kuechly, and #35 Mike Tolbert.
"One of the things that was special about today was how the teams mantra keep pounding really plays into the students school year so no matter what adversity or challenges from a Panthers stand point we always say keep pounding to get the job done."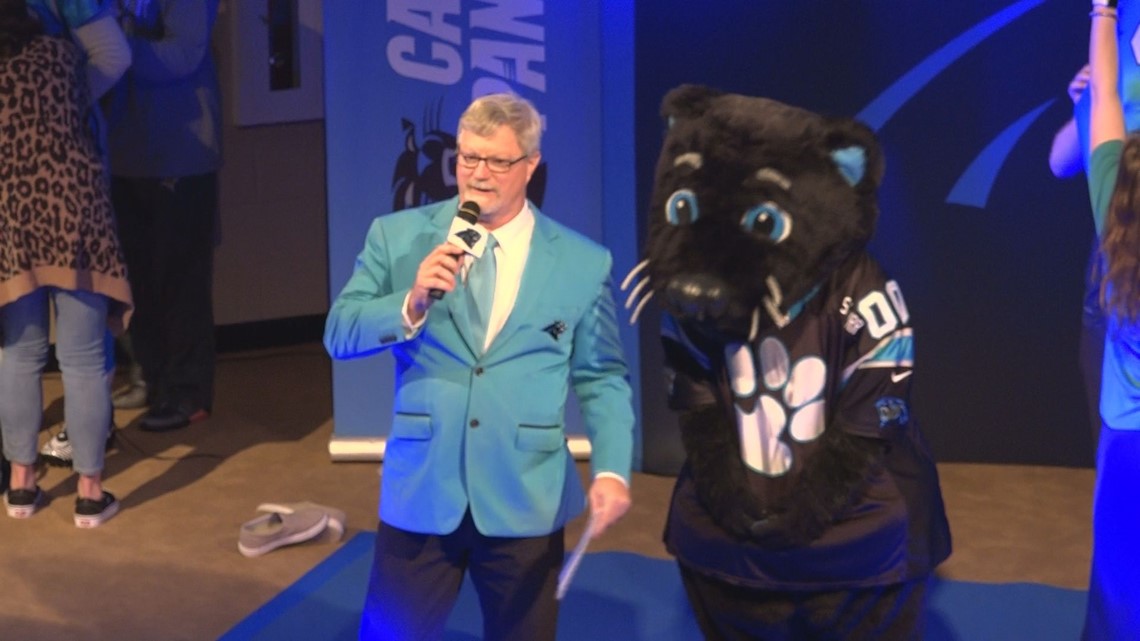 Now these students have a way to end their year on a high note.
"It's going to be amazing and it's really nice I mean we don't have to pay for anything our budget was really small for prom and this year we don't have to worry about it its really cool that they're going to provide it for us."
It's unclear when the school will be able to reopen. The superintendent said about 75 percent of the school can't be saved.