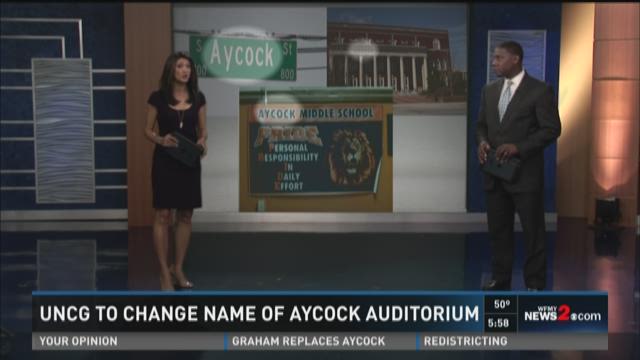 GREENSBORO, N.C.-- Thursday afternoon, the University of North Carolina Greensboro's Board of Trustees voted unanimously to remove Charles Aycock's name from the school auditorium. 
This comes after a subcommittee recommended the board rename the historic Aycock Auditorium.
Charles Aycock was North Carolina's 50th Governor. Aycock was considered one of the minds behind North Carolina's white supremacy campaign during his years as governor, from 1901-1905.
UNCG isn't the first university to take on the issue. East Carolina University and Duke have removed Aycock's name from campus buildings. UNC-Chapel Hill is also removing references on buildings to Aycock. 
UNCG Board of Trustees Form Committee to Review Concern Surrounding Buildings Named in Honor of Charles B. Aycock
According to the school's website, in September 2014, the Board of Trustees established a committee to review and respond to the statewide concern surrounding buildings named in honor of former Governor Charles B. Aycock (1859-1912). He was known as both the Education Governor, because of his role in helping to create a modern education system in North Carolina, and as one of the architects of the state's White Supremacy Campaign, which disfranchised black voters.
Stay connected 24/7 via WFMY News 2
Get the WFMY News 2 App and the WFMY News 2 Weather App free in the Apple store.
For News Tips: news@wfmy.com or 336-379-9316
Pictures and Videos: myphotos@wfmy.com