GREENSBORO, N.C. -- This is huge! How many kids can say they are the second fastest 10-year-old Triathlete in America? Jake Adler can! He won the silver medal at the National Youth Triathlon competition in West Chester, Ohio.
Adler is part of E3: Endurance, which is based at the Club at Oak Branch in Greensboro and coached by Matt Clancy.
"We swim, bike and run all week long and we've been preparing for Ohio since last year," said Clancy. "We had a lot of top 10 finishes, two top 5 finishes and obviously Jake taking second in his age group."
Clancy trains eight kids ranging in age from 7 to 16-years-old to compete in the three sport event.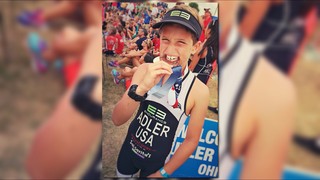 "They swim first, at nationals they have to swim in open water versus a lot of local races where they swim in a pool. They get on their bike for anywhere between 3 and 6 miles and then they finish with the run," explained Clancy.
The team joined WFMY News 2's Tracey McCain on the Good Morning Show Wednesday to talk about their success and hopes for future competitions.
The youngest on the team explained what makes it so hard. "When you swim in a Triathlon a lot of people are in front of you and the water kind of gets in your mouth."
"It can be difficult," added Adler. "Just all the training, and all the hard work you have to put in to get the results you want."
"If you've ever done a Triathlon or your run, or you bike or you swim you know how difficult it is at an adult age or even if you're in really good shape. So for these guys to work out and do all this hard work at such a young age it's really impressive," said Clancy.
Congratulations, guys! You make the Triad proud!