GREENSBORO, NC (WFMY) -- Guilford County Schools (GCS) has announced its plan to make up days missed due to inclement weather from Hurricane Florence and Michael, but it means getting to school earlier starting in January.
Guilford County Schools will only have to make up two of the four days it missed due to inclement weather, but the district has decided to start school five minutes earlier beginning in January to make up the missed days.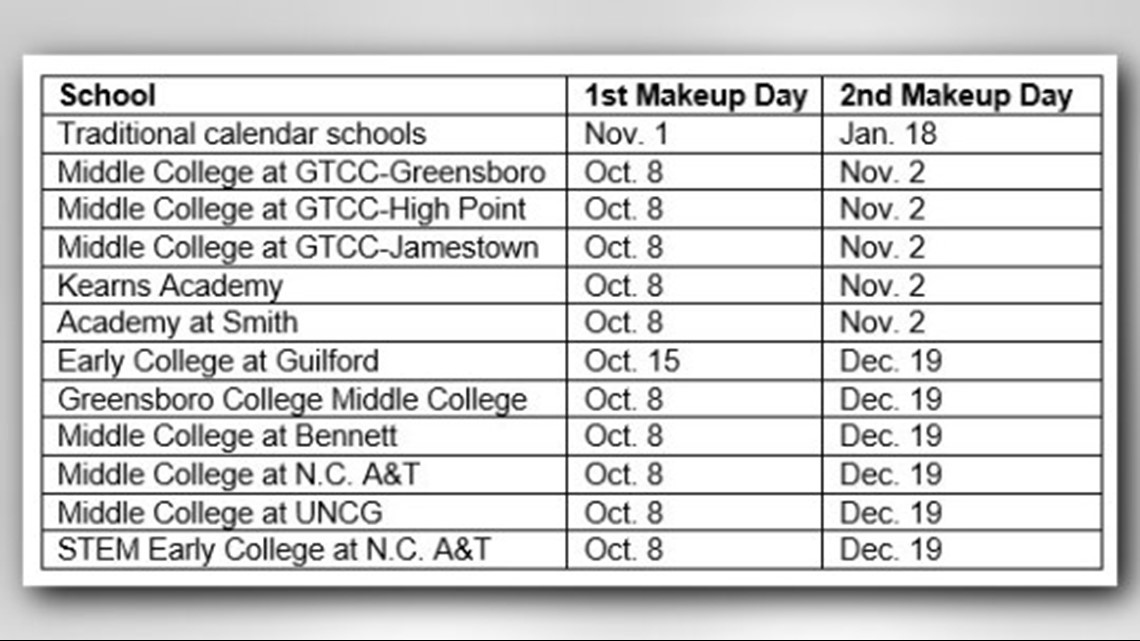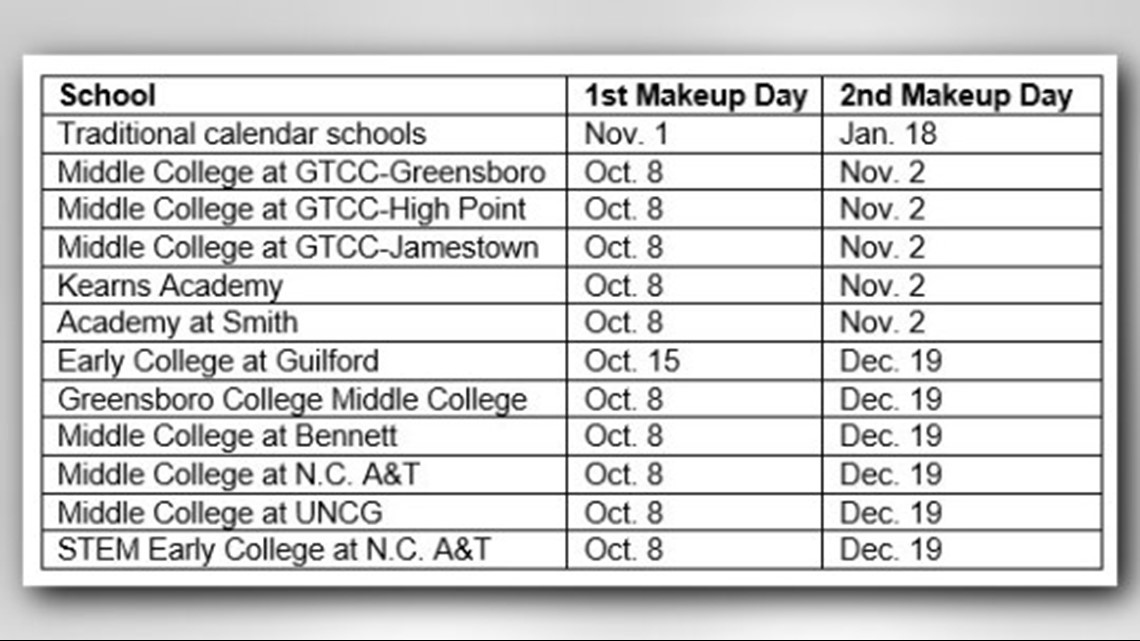 GCS schools closed on Sept. 14 and 17 as Hurricane Florence hit the North Carolina coast, and again on Oct. 11 and 12 when Hurricane Michael came through Guilford County. On Oct. 2, the state legislature waived make-up days for Hurricane Florence.
However, with just three make-up days left on its Traditional Academic Calendar and winter weather yet to arrive, the school day will start 5 minutes earlier starting in January when students return from winter break.
The state requires that all schools provide at least 1,025 hours of instruction each year. The longer days will ensure that GCS meets this requirement without having to add more make-up days in June.
"Historically, we experience our worst weather in Guilford County between January and March," said Chief of Staff Nora Carr. "We want to have additional minutes in the bank so we can deal with any more issues that might arise this year and still meet state requirements."
According to district records, prior to this fall, GCS had not missed an instructional day due to inclement weather before winter break since 2010.
For more information regarding the inclement weather plans click here
WINSTON-SALEM FORSYTH COUNTY SCHOOLS
Other school districts have also announced their plans. On Tuesday, Winston-Salem Forsyth County Schools (WS/FCS) Board of Education voted to forgive the school days missed during Florence, Sept. 13 - 14. However, the school will make up a day for Oct. 12, that was missed due to Michael, which will be on Jan. 22, 2019.
ROCKINGHAM COUNTY SCHOOLS
Rockingham County Schools announced they're forgiving two of the five days missed on the traditional school calendar, one of the three days missed on Dillard Academy's calendar and two of the four total days missed on Rockingham Early College High School's calendar. RCS will make up a day on Oct. 29.
Dillard Academy make-up Days are Oct. 22 and Nov. 6. Rockingham Early College High School make-up days are Sept. 21 and Oct. 11 (Early Release).