GREENSBORO, NC- Once upon a time, a man named Philip lurked inside a hotel. Suicide or homicide, Philip can never tell. With him, a lady named Lydia, cries along the halls. She too, died years ago, but still lives inside the walls.
Ok, cheesy attempt at a spooky nursery rhyme aside, it's said two spirits remain inside the Biltmore Greensboro Hotel. Built in 1903, it's alive with history and possible the dead.
"There have been many people, with good intentions and bad intentions that have walked these halls, and it's possible some of that energy has been trapped inside," said Brian Coleman, the Biltmore's General Manager.
When Coleman first came to the Biltmore, as a housekeeper in 2005, he said he was well aware of the stories of Philip and Lydia.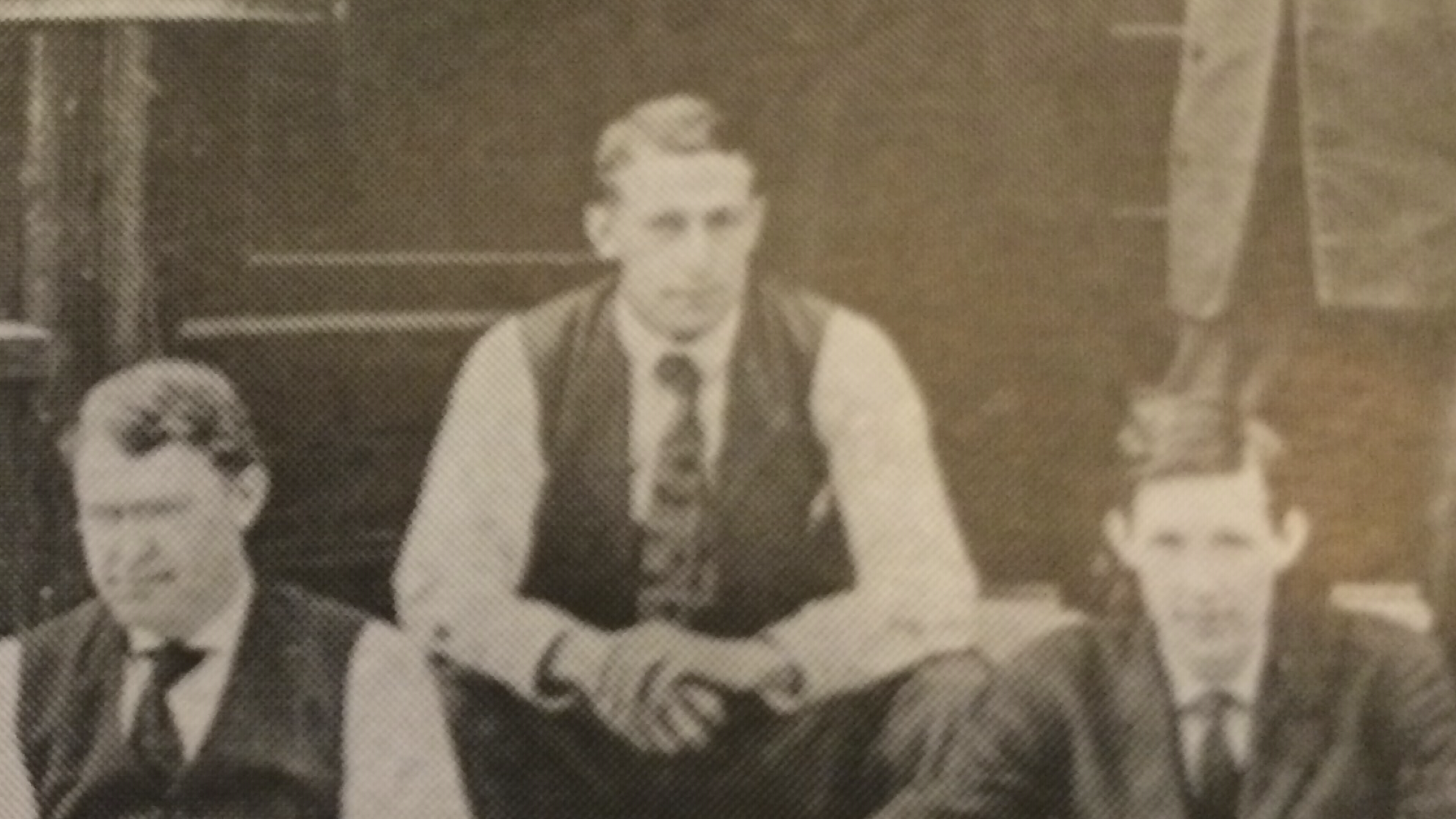 The hotel started as an office building for demin pioneers, the Cone Brothers in the 1900s. Philip, an accountant for the brothers, was found in an alley early one morning. His death remains a mystery. Some said he committed suicide- and was found in the alley next to the Biltmore with a piece of piano wire stuck in his throat.
Dan Riedel, owner of Carolina History and Haunts said there's a different tale to tell.
"It's believed he uncovered something in the company, possibly embezzlement," said Riedel. ""Philip was strangulated to death with piano wire that was cut out of the piano in the lobby of the building. It was followed by then throwing his body out of the window in the alley way."
Philip is said to have stuck around the Biltmore, haunting female guests in particular.
"It's possible he may have been messing with someone he shouldn't have been messing with before he died," said Riedel.
A noisy spirit, guests have reportedly complained to the front desk about loud footsteps and shuffling of paper.
"We've had people say they have heard loud footsteps. Now, the halls of the hotel are carpet, so you would have to stomp to hear what they say they hear, sort of a shoe on wooden floor sound," said Coleman.
Once woman reportedly complained to the front desk one late night, begging them to tell her neighbor to keep it quiet.
"They checked and told here there was no one next door to her. The room next to hers was 332 and that's Philip's room," said Riedel.
Some claimed they've seen someone standing at the edge of the bed in the room, which was once Philip's office. The window in his room, the same one from which he met his untimely death.
"You look up and kind of back up one you realize there's no one there," said Coleman.
After the Cone Mills Corporation moved from the building, it changed over to the hands of a woman named Ava B. Taylor. The businesswoman reportedly ran an apartment home with only female tenants, sort of a secret brother. One lady of the night, first called Wendy and later discovered to be Lydia, also met her demise inside the hotel.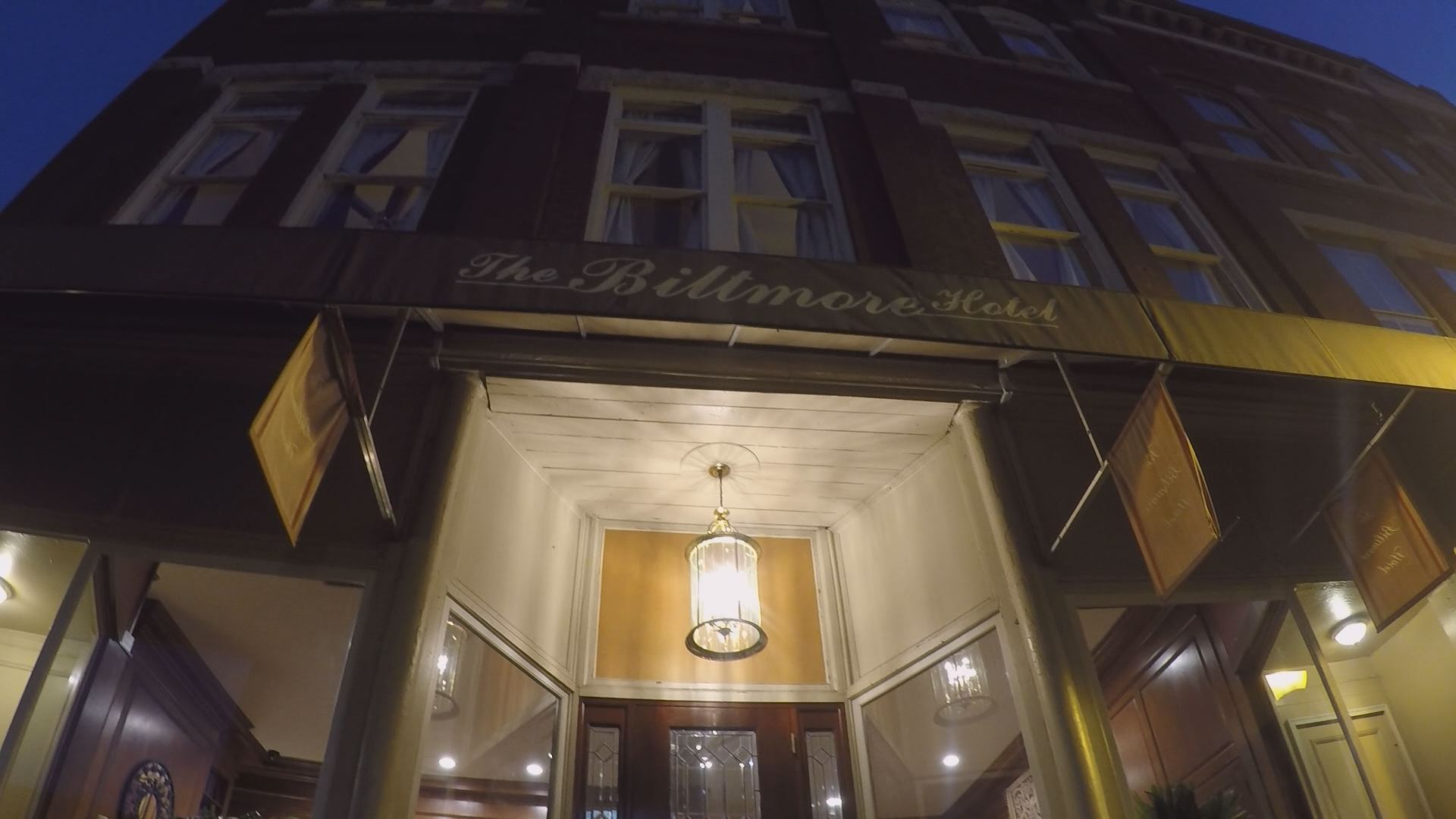 The Biltmore Greensboro is the last stop on the Nightmares Around Elm Street tour, ran by Riedel. He explained Lydia was killed by one of her clients.
"She was thrown over the balcony and landed at the end of the stairs," he said. "They say if you stay in her room, room 223, be respectful and bring something pink."
Lydia's room is now painted pink; under a dresser in the room, a pink purse and hidden in the closet, pink lipsticks; gifts to keep her happy.
"At one point, people would say the light was on in the bathroom and they hear water running. They would ask the front desk to tell housekeeping to remember to turn the water off, but housekeeping hadn't gone into the room yet," Coleman said. "The TV would turn on without explanation. At one point, we didn't book anyone into that room unless it was absolutely necessary."
It's said female guests who stay in the room will find their purses tipped over, and anything pink inside separated from the rest of it's contents. Lydia's perfume is also said to linger in the hallways.
"I can always tell when she's aggravated," said Coleman. "That's what I call It because it's a strong floral scent."
The door of Lydia's room is said to be the only one in the hotel that will not stay open.
"We've replaced it, we've leveled it, but without fail it's the only one that will slowly creak close every time'" said Coleman.
Riedel added, "Believe it or not, but the only way to keep the door open, is to ask her, 'Lydia, will you please let the door stay open?'"
The only person to ever claim they saw Lydia, after her death, was a young boy in 2010.
"Housekeeping would always find stands of long red hair in the sink of her bathroom, as if someone was standing there brushing their hair," said Coleman. "A mother came downstairs one night, very angry, asking us why housekeeping was playing a trick on her son, who is autistic. She said he rarely speaks, but that morning he came out of the bathroom and wanted to know who the pretty red-headed lady was."
Strange things have happened in and out of the hotel. An explosion closed the "boarding house" in the 1960s. Later it reopened as the Greenwich Inn and new management took over, changing it's name to the Biltmore Greensboro in 1992. Years later, in 2014, a taxi crashed through the lobby and in early 2016, an explosion sent a sewer man crashing in the side, shattering windows.
"It's been through it, that's for sure," said Coleman.
So, what's the real story of the Biltmore Greensboro? Is it just an old building full of creaks and shadows? Or are the spirits of Philip and Lydia keeping tabs on the guests?
"It's a good story, like a fairytale, but it's only real if you believe it," said Coleman.
"Yes, I do believe. I've seen too many things and it's funny because we don't tell guests about the stories unless they ask and without fail, guests always seem to have some sort of story when staying in those two rooms," Coleman laughed.
Several paranormal investigations have taken place inside the Biltmore Greensboro. So far, no one has been able to prove definitely that the hotel isn't haunted. So, whether or not you believe, if you do plan on staying at the Biltmore, you might want to bring earplugs and something pink.