GREENSBORO, N.C. — Snow is coming down yet again in the Piedmont. The WFMY News 2 Weather Team has been tracking this all week and now snow is coming down and covering the ground in many places.
You can expect this to continue through around midnight or a little after. It will be sticking to roads making things slick.
How long is this storm going to last?
Snow started falling in the Triad between around 6pm and 8pm this evening. It will continue through around midnight to perhaps 2am.
This is all happening because cold air rushed in yesterday, and now we have a new weather system moving up the coast.
At this point, it's likely all of us in the Triad will get at least a little snow. Lowest amounts will be a trace or a dusting in areas north and west where it will stop the quickest. Areas south and east could pick up one to two inches.
You need to watch the roads. They're becoming snow covered. Here's an update around 9pm from Tim Buckley.
Whatever is left of the precipitation will leave us behind by Saturday morning, but slick roads may remain as temperatures stay below freezing. Sunshine will return Saturday afternoon.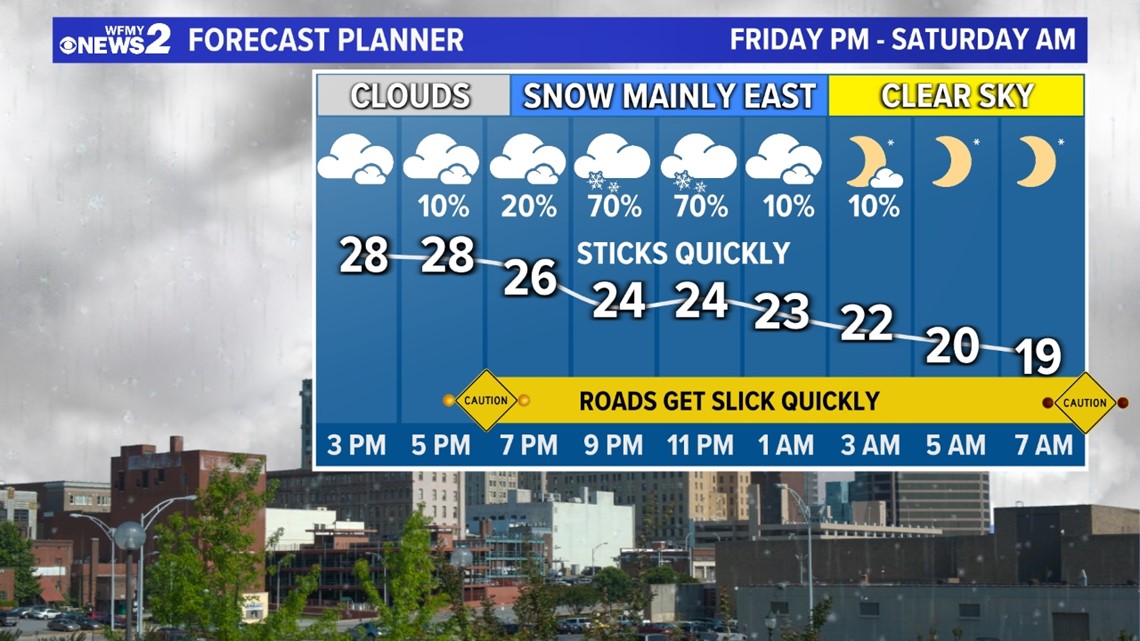 How much for my neighborhood?
The most difficult question to answer this time is, "How much snow will I get?" Remember that not all of our area is guaranteed to see snow. So, it's possible you may end up with nothing.
Still, it's within two days so it's time for us to put out a snow map to let you know what the potential may be if you get snow showers either or both days.
Plan on around an inch of snow if you see snow showers from the Triad east. Highest amounts may be around two inches in our area if you get into a heavier band.
Lowest amounts will be a dusting to near no snowfall.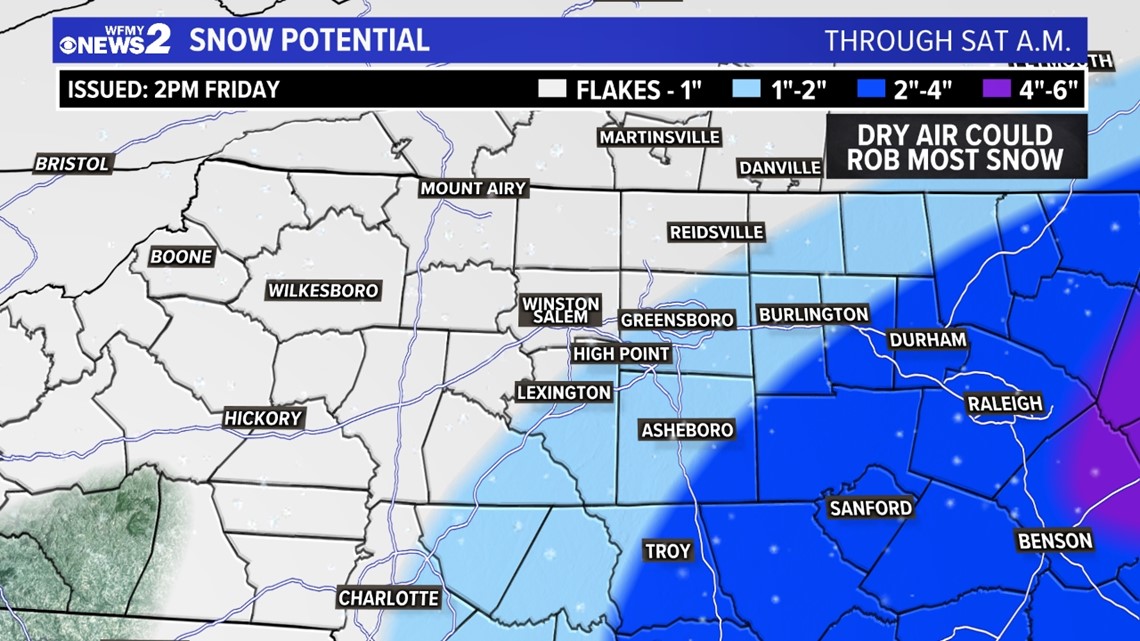 It's just a possibility, not a certainty
For now, we're going to leave our WFMY News 2 Snow Meter at "possible". This means snow isn't a guarantee either on tonight or on Friday.
The fact that snow showers are likely to be scattered and mostly light Thursday night means that's not guaranteed for your area.
On Friday, snow showers may only impact a portion of our area, mainly east of Greensboro.
So, for now, we will leave the snow meter in the possible range.
Keep it with the News 2 Weather Team for updates on the winter weather through the weekend.