GREENSBORO, N.C. -- It was a tense night at Shiloh Baptist Church, where the community 'mass meeting' for Marcus Smith was held. The night was called 'Justice For Marcus Smith.'
38-year-old Marcus Smith died in police custody on September 8, 2018. The Smith family believes the way he was restrained is what killed him. They call it hogtying.
The Greensboro Police Department says using a device called a 'rip hobble' is protocol. Police Chief Wayne Scott said it was used so Smith would not harm himself, or others as he was acting erratically under the influence. He was running in and out of traffic, saying he was going to kill himself.
Mayor Nancy Vaughan was put on the hot seat during the meeting. At one point the commentator told her to sit down as she was speaking.
Many attendees cried out to Mayor Vaughan that they wanted Police Chief Wayne Scott to be fired. She never directly responded to that, but did say she has some lingering questions.
"I have great concerns on how this was handled," Mayor Vaughan said. "I have concerns about that first press release that was put out, I want answers on why it was said that he was suicidal and dropped to the ground, that obviously was a lie and I think that has to be answered too and we're going to ask those questions."
Those questions she referenced will be a topic of discussion at Tuesday nights city council meeting at 5:30. The Smith supporters are bringing a list of demands, which include an apology from the Greensboro Police Department, compensation, and the banning of what they call the 'hogtying' practice.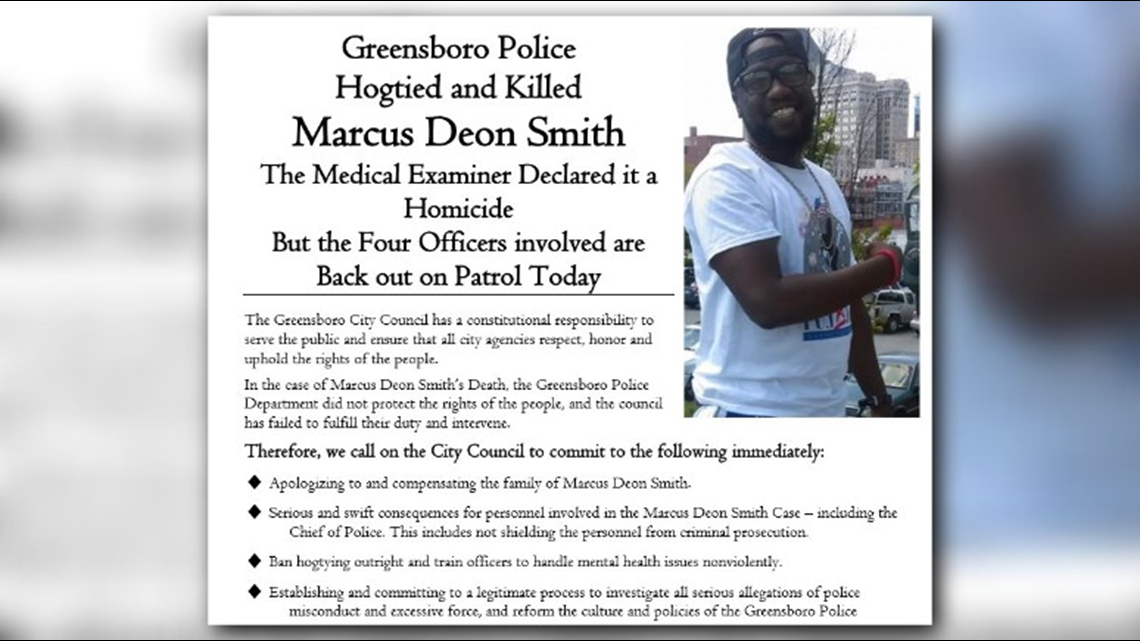 The Smith family says the four officers involved in the 'hogtying' practice, where the 'rib hobble' restraint was put on, should be punished rather than back on patrol. They were initially put on administrative leave as is protocol. The family says EMS also should have responded in a quicker manner that night, and showed more compassion.
"I feel the paramedics are just as responsible because when they call for 911, the ambulance never shows up, he clearly asks for help, he did not try to intimidate officers," Smith's sister said at the meeting.
The ambulance did show up, and indicated that Marcus had a pulse as he was about to be taken to the hospital. Greensboro Police say Marcus died about 40 minutes after leaving Church Street.
Marcus' fathers parting words for the night were "Karma will be back."
The autopsy said there were several factors in his death including cardiac arrest due to restraint, drugs, and an underlying heart problem. The death was listed as a homicide, which the City says does not mean criminal involvement. It means the death was not from natural causes, which can or cannot mean wrongdoing.
The District Attorney's office says they'll meet with the State Bureau of Investigation for their report this week. Previously, the District Attorney's office stated the officers acted within the scope of their duties.
The Smith family lawyer disagrees.
"A medical examiner said Marcus Smith's cause of death was homicide, homicide in a medical sense means a death at the hands of another, and the hands of another were the Greensboro Police Department."
"It was good to come out and hear what the community has to say, and I know a lot of people will be at tomorrow's City Council meeting," Mayor Vaughan said.