LEXINGTON, N.C. — A Triad bride-to-be is getting married in just weeks, and a porch pirate made her schedule even more stressful.
Fallon Stewart said someone stole her bridesmaid gifts this week.
She said someone in a red Jeep pulled up to her home in Lexington, grabbed the packages, and drove off.
Stewart said the gifts inside were worth hundreds of dollars.
"I already have enough stress. This is the day that I wanted my whole life. To think that I will have to sit here and figure out...hundreds of dollars of stuff is completely gone," Stewart said. "We've saved the money, we've done the right thing. We work hard every single day for everything we have, and now it's just gone."
On Friday, Stewart got a surprising update. She walked onto her porch and found the thief had returned. She said, this time, the thief returned one of the stolen packages.
The opened cardboard box had a note written on the side. It said, "I am very sorry about taking this. I was not in the right state of mind."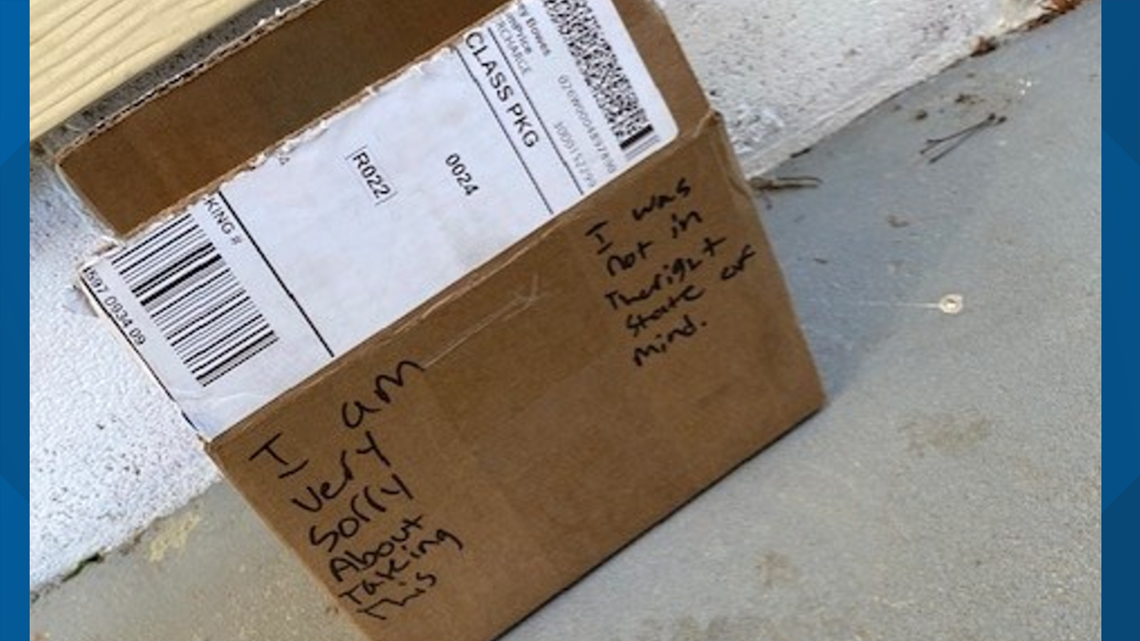 While speaking with WFMY News 2 on Zoom interview Friday afternoon, we caught an exchange between her and the alleged suspect - who returned to her home again - this time to seemingly apologize in person.
"I would just suggest you right now go and get my packages and bring them back to my house," she told the person, "This is News 2 and they have me on a video right now because I was going to do another report. This is my wedding you're playing with. I'm 25-years-old and I've waited for this day my entire life and you're about to ruin it. I'm just letting you know."
As of Friday evening, most of the gifted were returned to Stewart. She said one item is still missing.
Stewart said her neighbors have been helping her gather information on the suspect. She said they have the suspect's name, license tag number and place of work.
The Davidson County Sheriff's Office is working with Stewart on the case.
She said Amazon is working with her to get replacements in time for the wedding. The owner of Etsy shop Stewart ordered from - Boho Lux - reached out to her directly, offering to replace her items for free - and send the gifts with expedited shipping.