GREENSBORO, N.C. (WFMY) – Tropical Storm Michael has slammed into the Piedmont Triad and across the state bringing significant and widespread damage.
Michael has dumped heavy rain causing flooding and wind damage across the state.
The Piedmont Triad has widespread damage from flooding, fallen trees, and power outages.
RELATED: LIST: School Closings, Delays in the Triad for Friday
SUSPECTED TORNADO
WFMY News 2 received reports of a possible tornado that touched down in Reidsville in Rockingham County Thursday afternoon. A tornado warning was issued for both Rockingham and Caswell Counties but has since expired. According to the Reidsville Fire Department, there is lots of tree damage in the area. The National Weather Service will be out Friday afternoon to investigate the damage in Reidsville to determine if it was a tornado. Reports came into to emergency crews that a suspected tornado came through the area of Freeway Drive in Reidsville.
PHOTOS | Michael Pounds The Triad, NC With Heavy Rain And Flooding
PHOTOS | Michael Pounds The Triad, NC With Heavy Rain And Flooding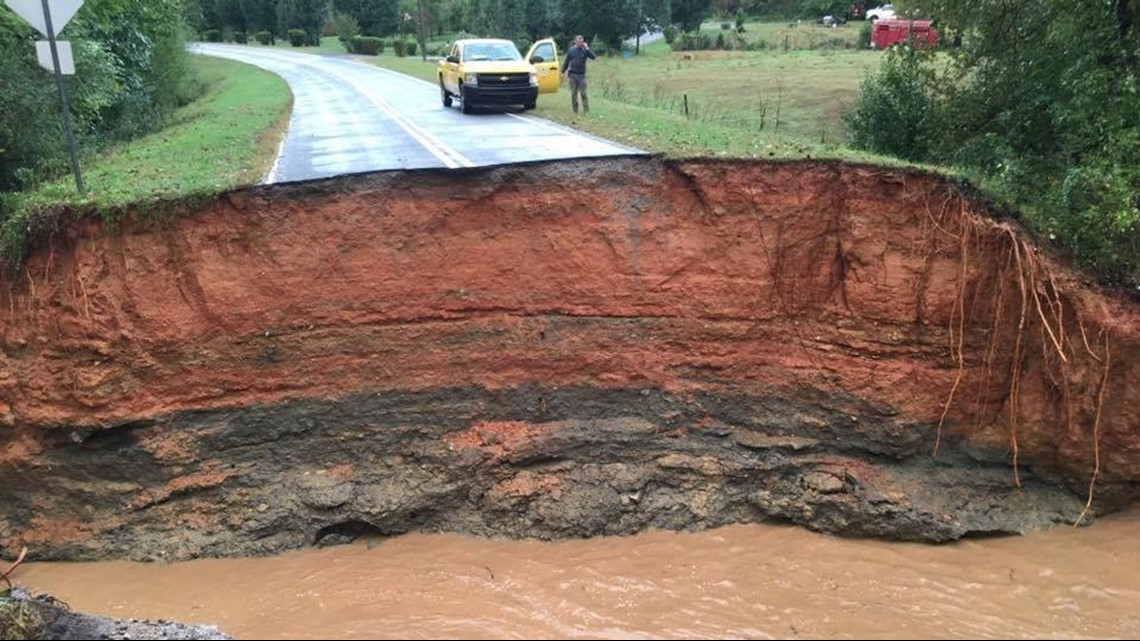 POWER OUTAGES
If you're having trouble getting through to Duke Energy to report a power outage, you're not alone.
Duke Energy says their customer service lines are down, and they're having problems with their phone system. They say they are working to fix the problem as quickly as possible.
Michael Causes Thousands of Power Outages Across Triad
Hundreds of thousands are without power in the Triad.
Can't Get Through to Duke Energy? You're Not Alone.
Intense video captures the moment a power line exploded at Latham Park during flooding caused by Michael.
STATE OF EMERGENCY
A state of emergency has been declared in Guilford and Davidson counties. Greensboro Mayor Nancy Vaughan has also declared a state of emergency for the City of Greensboro.
RELATED: State of Emergency Declared For Parts Of The Triad As Michael Dumps Heavy Rain
North Carolina Governor Roy Cooper declared a state of emergency on Wednesday while announcing the activation of the National Guard.
RELATED: 'Michael Still a Threat, Should Be Taken Seriously': Gov. Cooper Warns
SWIFT WATER RESCUES
Gov. Roy Cooper said dozens of swift water rescues have taken place across the state including in Guilford and Forsyth Counties. In Danville, VA crews have also performed swift-water rescues due to flooding.
Live Blog: Michael Arrives in the Carolinas #StormTrack2
APARTMENT EVACUATIONS
Flooding has caused apartment evacuations in Winston-Salem. Firefighters evacuated people from their apartments on Ladera Crest on 25th Street due to the rising waters.
There's also another report of evacuations at the Bethania Station Road in Winston-Salem.
The City of Winston-Salem said at least 50 people were evacuated from apartments. Evacuees were placed on buses while waiting for American Red Cross shelters to open.
FLOODING PROBLEMS
Tropical Storm Michael has caused widespread flooding in the Piedmont Triad. A flash flood warning was issued for the Piedmont Triad. The storm dumped heavy rain across the state causing flooding.
RELATED: Human Chain Formed to Rescue Man After Truck Submerged in Floodwater in Winston-Salem
Incredible video captured in Forsyth County as people formed a human chain to rescue those trapped in flood waters. The man in Winston-Salem has several guardian angels to thank after they rescued him from his truck after it was submerged in floodwater. The strangers pulled together, literally, to save him as his truck started to flood.
Here's additional flooding captured in Forsyth County.
Here's a look at the flooding at Elkin High School including both the football and baseball fields.
In Danville, also hit hard with flooding as cars were seen in flood waters while trying to get around the area.
This was the scene at the intersection of Wildwood Rd and Main Street in Salem, VA. Christina Garnett, a Virginia resident, captured footage of high flood waters from Hurricane Michael as she made her way home.
Check out this flooding video in King!