LUMBERTON, N.C. — LUMBERTON, NC -- Update: FBI urging that the public be on the lookout for a pair of Adidas shoes that belong to 13-year-old Hania Noelia Aguilar.
Related: Search For Hania: FBI Asking Public To Be On Lookout For Missing NC Teen's Adidas Sneakers
The FBI has obtained surveillance video in the search for 13-year-old Hania Aguilar and is asking for more.
The agency is focusing its efforts on when and how the stolen SUV used to kidnap Aguilar got from Rosewood Mobile Home Park to where it was found on Quincey Drive. The FBI says it's canvassed several homes and businesses in Robeson County while looking for leads. Aguilar was kidnapped from the mobile home park more than two weeks ago.
Thursday's request of the public is any video submissions from the surrounding area, specifically along Highway 41 and Elizabeth Road in Lumberton. Popes Crossing Road, Wire Grass Road, and Lovett Road are other nearby streets where video could be helpful.
On Tuesday, the FBI asked local deer hunters to turn over surveillance video.
News outlets report the agency said in a statement Tuesday that they needed "every piece of video" that could help determine the exact movements of the SUV stolen from the mobile home park where Hania Aguilar was kidnapped Nov. 5.
Along with the request of deer video surveillance, the FBI released how many interviews they have conducted thus far in the investigation.
Since Hania was kidnapped on November 5th, the Lumberton Police Department, FBI, and other law enforcement partners have followed up on nearly 800 leads and conducted 400 interviews.
EXTENDED COVERAGE: FBI Increases Reward To $25K To Find 13-Year-Old, Hania Aguilar
Relatives say the eighth-grader went outside to start a relative's SUV to prepare to leave for the school bus stop. Police say a man then forced her into an SUV and drove off.
The SUV, that was owned by a relative of Hania, was later found in Lumberton, several miles from the mobile home park.
PHOTOS | Have You Seen Hania Aguilar? 13-Year-Old NC Girl Abducted From NC Home
Authorities searched more areas on foot Tuesday using drones and dogs.
According to Lumberton Police Captain Terry Parker, witnesses said the man who grabbed Hania was wearing a yellow bandana over his face.
Anyone who sees Aguilar or the stolen vehicle is urged to call Sgt. Pete Locklear at the Lumberton Police Department at 910-671-3845.
PHOTOS | Have You Seen This Man? FBI Want To Question Man In NC Teen's Abduction
PHOTOS | Have You Seen Hania Aguilar? 13-Year-Old NC Girl Abducted From NC Home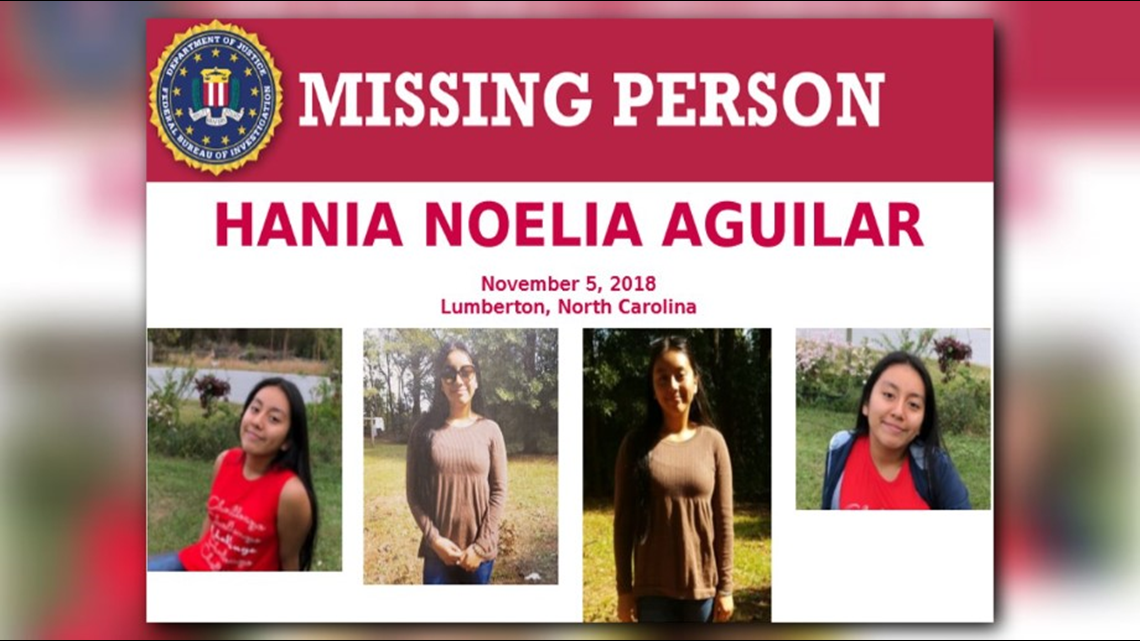 Follow WFMY News 2 on Facebook and Twitter
► Make it easy to keep up to date with more stories like this. Download the WFMY News 2 App: Apple Users, Android Users