GUILFORD COUNTY, NC -- Getting in the Christmas spirit has been tough for Mariah Clark this year.
She's been missing her special someone, her husband, Terrance.
"This is our first Christmas apart so it's going to be weird," said Mariah.
Terrance Clark is an infantry specialist in the Army.
He's spent the last 6 months serving in Afghanistan.
In that time, he says he's only talked to his wife once.
"It's kind of hard to deal with honestly," said Terrance. "You spend a lot of time together and then you're just gone."
Mariah says it's hard being apart but she always keeps him close.
She carries around a large cardboard cutout with Terrance's face on it and takes pictures to send to him while he's on deployment.
"I don't know," Mariah laughed. "It just makes me feel good to have them with me."
Mariah Clark spent her Tuesday night enjoying the festive light display at McLaurin Farms with the cardboard cutout version of her husband.
Soldier Photobombs Wife's Christmas Photo In Surprise Of A Lifetime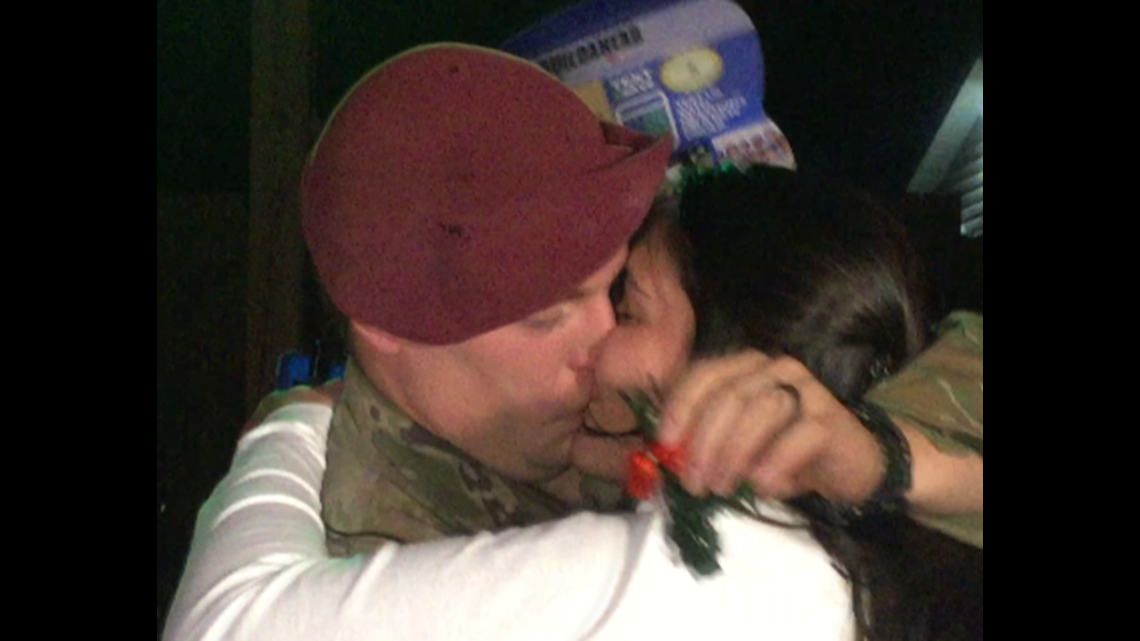 Meanwhile, the "real" Terrance was hiding in a nearby shed.
Mariah didn't expect him to come home until next month.
She thought she was taking another snapshot with just the cardboard cutout but what she didn't see was her husband sneaking up from behind.
It was a surprise that Terrance has been planning for several months.
"I wanted to do something for her that would be a big deal to her," said Terrance. "Something that would be really memorable."
It was a picture perfect surprise.
Both Terrance and Mariah had tears in their eyes when they finally reunited.
"It's incredible," said Terrance. "It's ridiculous."
"It's one of the best feelings in the world," said Mariah.
Terrance will be home for two weeks before he has to return to work.
The couple says the only thing they have planned is to spend time together.
Follow WFMY News 2 on Facebook and Twitter
► Make it easy to keep up to date with more stories like this. Download the WFMY News 2 App now