GREENSBORO, N.C. -- Sometimes spending time in the kitchen pays off. You can cook for hours and get a great meal out of it. But some kitchen practices are cooking up concern.
Lately, the City of Greensboro has been sharing their F.O.G. policy online. F.O.G. stands for fats, oils and grease. The city posts that fats, oils and grease generated by residential and commercial cooking can clog up the city's sewer collection system, which could lead to pipe blockages and then sewage spills or backups.
PHOTOS | Don't Throw That Grease Down The Drain!
PHOTOS | This is Why You DON'T Throw Grease Down the Sink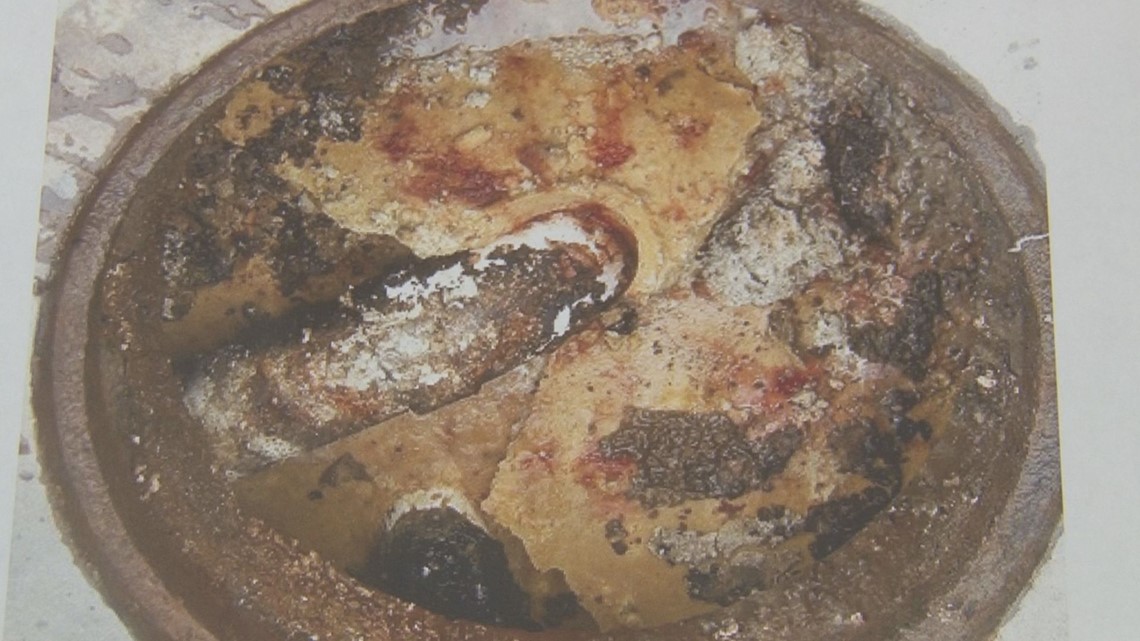 "It goes out like a liquid, but overtime when it gets into the pipes," explains Ignatius Chukwu, who works in the city's Water Resources department. "It's going to congeal and stick to the sides of the pipes and begin to clog the pipe."
So far, there has been about 40 of these backups in Greensboro in 2018. Those sorts of problems can create health risks, damage to home or buildings and threaten the environment. City workers also say it takes time and money to clean them out.
The City of Greensboro has a "grease policy" restaurants are supposed to follow. The policy mandates all food service establishments use a grease trap or a grease interceptor in their sink that prevents the grease from going down. Grease interceptors must be installed to the standards of the North Carolina State Plumbing Code. Grease traps must be cleaned at least once a month and grease interceptors, which are larger, must be cleaned by a state licensed professional every quarter.
"This is a big challenge," Chuckwu says. "People forget because it's out fo sight."
Part of what Chuckwu does is inspect restaurants drains to make sure the traps work properly. He checks in with each of the city's more than 1,500 or so restaurants at least twice a year. He says not only grease, but food particles can cause build up.
"the pipes were not designed to carry those types of things," he explains.
The city can enforce the policy with restaurants, but not with residential homes. Instead, the city is working to educate residents on the best ways to use or dispose of grease.
When it comes to residential households, the city's guide is pretty simple to follow: don't put fats, oils and greases down the drain.
"When they're loaded with grease, that's like quicksand," explains David Southern, a plumber and drain cleaner with Webster and Son's Plumbing in Kernersville. He's been on several clogged pipe calls and says it's usually not a quick fix.
Southern says it could take a long time to snake the pipe and clear it away. He says it's possible the problem could be so bad that your pipes need to be replaced. He estimates these fixes can cost anywhere from a few hundred to more than $1,000.
"Even my mom, before I stared doing this job would take her cans of grease and she'd pour it down into the sink and then run hot water behind it," he explains. That will take and let the grease get out of the sink but ten feet away, the pipe gets colder and the stuff freezes up. After doing this for a while that's when you run into having a pipe that's solid full of grease."
The city recommends pouring waste grease into a disposable container to throw in the trash. Be sure to scrape grease and food scraps from plates, pots, pans, utensils, and cooking surfaces into the container, too. Food can get clogged up in the grease, further worsening the pipe problem.
There's also another option besides throwing grease away. The City of Greensboro says that if you collect your grease, there are companies that could buy it off of you. You can click here or reach out to the City's Water Resources Department at 336-373-2055 for more information.