GREENSBORO, N.C. -- A Greensboro family will always have an incredible story to share about the birth of their baby girl. The couple counted their newborn's ten fingers, ten toes and one nose, but they weren't expecting to see a full bottom tooth.
"When I said she had a tooth, everyone was like whatever, but when the nurse grabbed her and said get the midwife back in here, she said, 'Yeah, it's a tooth!' and they all started freaking out," laughed dad Tavon Richmond.
You can imagine the surprise!
"It was a full tooth. It wasn't partial, it was there," said Richmond.
Eight pounds, 3 ounces and yes a full bottom tooth! The discovery came just moments after little Kennedy Richmond was born.
PHOTOS | Triad Baby Born With Full Bottom Tooth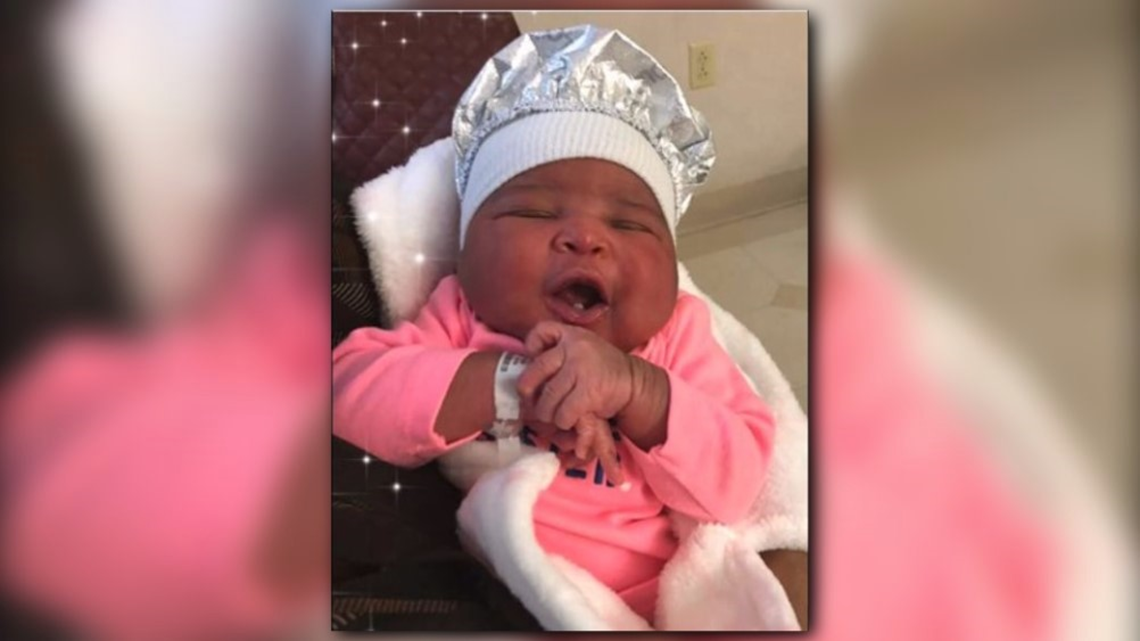 "I had her in my arms and I see something white, but I just thought it was something she might have gotten in her mouth," said mom, Iesha Washington. "Oh, my God! It's a tooth! I've never seen a baby with a tooth!"
Not many people have. According to the National Institutes of Health, one in every 2,000 to 3,000 babies are born with teeth. Typically, the doctor will remove it as soon as possible to avoid problems with nursing and to prevent the baby from cutting its tongue.
"We are nervous," explained Richmond. "We don't want it to fall out and her swallow it. But it hardened up on her real quick and it's still kicking around."
Kennedy's safe delivery and unique tooth was the bright spot in a dark tragedy happening at home.
An EF2 tornado hit their east Greensboro neighborhood Sunday, April 15, 2018; just weeks before the couple's May 20th delivery date. Sadly, their Hearn Avenue home took a direct hit, causing extensive damage especially to the nursery upstairs.
"Trees, limbs, street poles and lights just hanging everywhere," described Richmond. "The roof had collapsed in. I walk in and there's water coming down everywhere then I think, 'Oh, my God! The baby's stuff!'"
They lost everything, including all of the baby gifts they received from the shower, the day before.
"We work really hard for so much stuff and we put a lot into us getting our first home and I didn't want the girls to lose anything. I didn't want the baby to lose anything," he added.
"It was scary, it was real scary. On top of my health and the baby, I was like, we really don't need this right now, we can't afford this right now," said Washington.
Almost immediately the community responded.
"People we didn't even know, genuine people really came out and helped us," said Washington.
Weeks later, when the couple discovered their precious angel had a special gift, that little white tooth gave them something else to focus on and one incredible story to tell.
"We're going to share the tornado and the tooth story just to let her know something we've been through and that we came together as a family and we came out strong."
It took four weeks after the tornado for the Richmond family to make repairs, but they're finally back inside their house and little Kennedy is snug as a bug at home.
As for Kennedy's tooth, she's already taken her first trip to the dentist. Normally, a pediatric dentist would pull the tooth, but because the tooth is hard and does not pose a choking threat, they have decided to keep it in.
Follow WFMY News 2 on Facebook and Twitter
► Make it easy to keep up to date with more stories like this. Download the WFMY News 2 App: Apple Users, Android Users