Law Enforcement officers do so much to keep our communities safe from protecting schools, our neighborhoods, to random acts of kindness.
National Law Enforcement Appreciation Day honors all of our nation's law enforcement as they serve and protect.
WFMY News 2 has highlighted the following stories from our own community as a way to thank all of our officers for the work they do daily.
SRO STOPS ATTEMPTED SCHOOL SHOOTING
When we think of heroism we think of Smith High's School Resource Officer (SRO) D.K. Evans who stopped a suspected school shooter.
Police arrested Steve Brantley Spence who entered Smith High's campus with two guns, several magazines and a backpack filled with boxes of bullets. A third long gun was later found in a stolen car that Spence was driving.
RELATED: 'We Got Lucky': Man Arrested At Smith High Had 2 Guns, Magazines, Backpack Of Bullets: Police
Court documents showed he also had a hit-list with 5 names of people he planned to kill. Greensboro Police Chief Scott said SRO D.K. Evans responded in less than a minute. When Officer Evans confronted the suspect, Spence pulled out a gun and took off running. Spence was arrested after a brief chase by the SRO and other Greensboro officers who had at that point responded to the scene.
NC DEPUTIES STAND IN AS DANCE PARTNERS FOR KIDS
It takes a few good dance moves and a lot of confident deputies to take on the dance floor! But that's exactly what Chatham County Sheriff's Office deputies did in March as they attended Bonlee Elementary School's first Daddy/Daughter and Mother/Son Dance.
Deputies Dance With Students At School Dance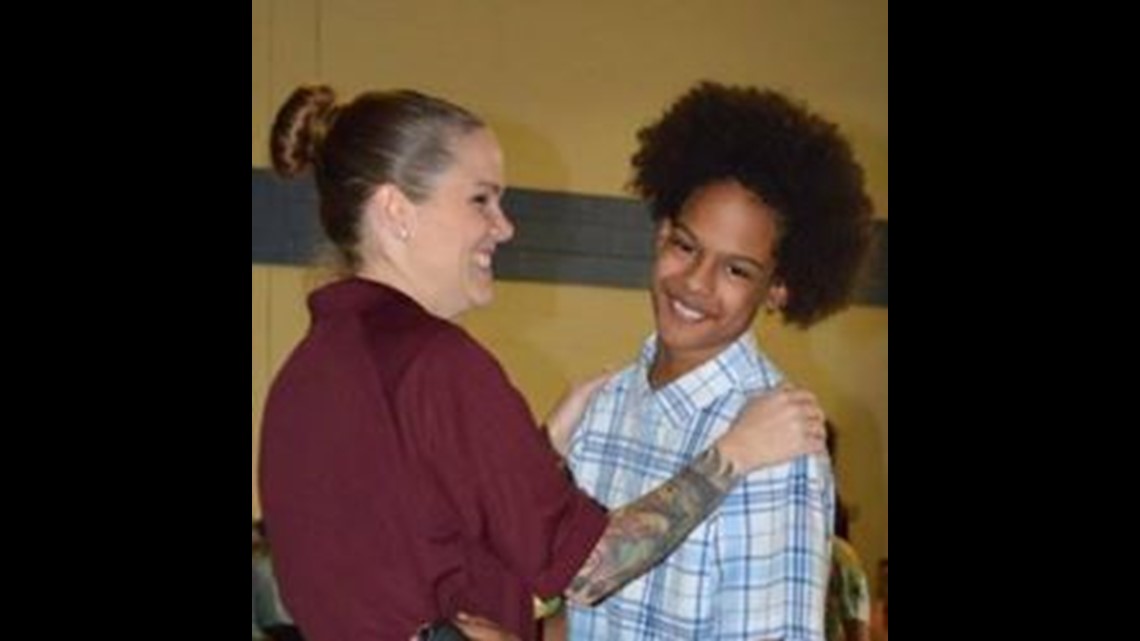 Nearly 100 students showed up at the dance but not all of them had parents who could attend. That's when the deputies stepped up and onto the dance floor so students could have someone to dance with.
RELATED: NC Deputies Stand In As Dance Partners For Kids Whose Parents Couldn't Be At Dance
The Sheriff's Office received support nationwide after WFMY News 2's story and they even heard from inmates who wrote letters all the way from California.
WINSTON-SALEM POLICE OFFICER PUSHES NAVY VETERAN IN WHEELCHAIR
It was a heartwarming moment captured on Veterans Day weekend as a Winston-Salem Police Officer pushed a Navy veteran in a wheelchair all the way down the road to his hotel.
Officer Coppola and Cpl. Veal met David Lane, who's a Navy Veteran at Chick-fil-A after his electric wheelchair broke down.
RELATED: Winston-Salem Police Officer Pushes Navy Veteran In Wheelchair All The Way To Hotel
The officers knew right away they had to help. The officers pushed the wheelchair all the way down the road to Lane's hotel. Cpl. Veal escorted them with blue lights to ensure their safety to the hotel.
OFFICERS SAVE CHOKING TODDLER
Two Winston-Salem police officers are forever a little girl's heroes. In July, Officer Jason Zimmerman and Corporal Josh Best were awarded the department's Life-Saving Award after they helped save a choking toddler in June.
Winston-Salem Police Department
RELATED: Winston-Salem Officers Recognized For Helping Save Choking Toddler
The person who nominated the officers for the award said their quick actions that day played a critical role in saving the child's life.
TROOPER SAVES INJURED OWL
In June, a North Carolina Highway Patrol Trooper helped release an injured owl he saved. The barred owl named, "Troop 2" was released at the Country Park in Greensboro after spending months at a rehab facility in Huntersville.
The owl known as number 21301 at the Carolina Raptor Center suffered from a fractured wing.
Trooper Mendenhall saved the owl after it was hit by a car along I-40 in Forsyth Co. The owl was named after Trooper Mendenhall and also WFMY News 2 who followed the owl's journey during its rescue, recovery, and release.
RELATED: Injured Owl Saved By Trooper Released in Greensboro's Country Park
TROOPER HOLDS BABY AFTER ROAD SIDE DELIVERY
Oh, baby! That's right a North Carolina Highway Patrol Trooper helped deliver a baby on the side of the road after he stopped a speeding vehicle! In November, Laura Baker and her husband, Jimmy, were headed to Rex Hospital but the baby couldn't wait.
"As soon as we had pulled over, my water broke. So, we knew we didn't have much time. So Sgt. Maynard comes over to access the situation, and he's holding my hand," Laura said.
The trooper was captured holding baby Halyn!
Another way officers were shown appreciation today
In honor of National Law Enforcement Appreciation Day, one lucky officer with the Burlington Police Department got a special surprise!
That's because over 100 kindergarteners from Grove Park Elementary lined up to present Officer Jerry Christian with cards of appreciation on Wednesday.
Each student also personally thanked Officer Christian as they presented him with the cards.
Officer Christian was working at the school on Wednesday serving in the role of an Elementary School Resource Officer.
RELATED: NC Trooper Holds Baby After Helping With Road Side Delivery