Guilford County Public Health will hold a drive-thru mask giveaway at the Greensboro Coliseum. You can find more details below. We recommend checking the health department's Facebook page for the latest updates.
When: Monday, Jan. 31 from 2 p.m. to 7 p.m.
Where: Greensboro Coliseum, 1921 West Gate City Boulevard, Greensboro, NC 27403
There will be signage to help you find the event.
Supplies are limited and will be given out on a first-come, first-served basis.
Pickup is limited to one box of N95 masks per household. Each box contains 20 masks.
This event was originally scheduled for Saturday but pushed back to Monday due to winter weather.
GCPH had another mask giveaway on Friday in High Point, but supplies quickly ran out before the event was even scheduled to start.
"Due to an overwhelming response to the N95 mask giveaway event today, we made the decision to begin earlier than the scheduled time. Due to the amount of cars that arrived before the 11 a.m. start time, the line was beginning to impede regular street traffic and posed a number of safety and accessibility concerns. We were able to distribute approximately 10,000 N95 respirator masks, which is very encouraging in light of the recent spike in COVID-19 cases/transmission rates," GCPH said.
Viewer Valerie shared the photo below from the High Point giveaway on Friday. She said her husband arrived early only to find a long line. She said he was told soon after that they were all out of masks.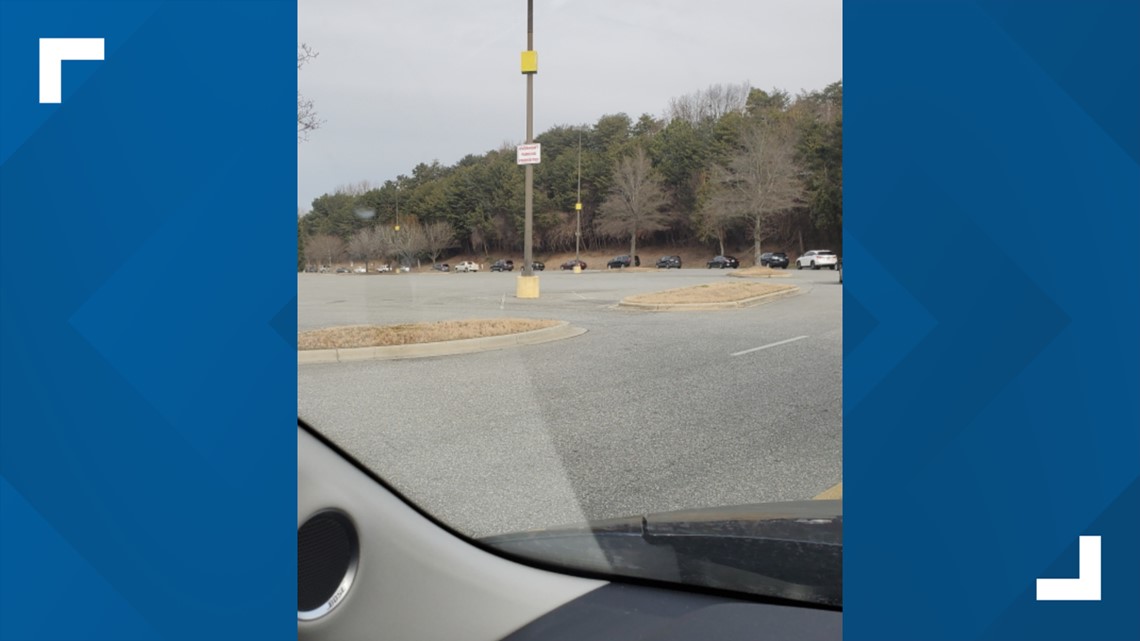 Q: Will kids' sizes be available?
A: Guilford County Public Health says these N95 masks are one-size-fits-all. There are no child-specific sizes.
Q: Do I need to bring an ID?
A: GCPH says no ID is required.
Q: Will these be the KN95 masks with ear loops or N95 masks with headbands?
A: GCPH says these are N95 masks with headbands.
Q: Do I need to go inside at either of these places?
A: GCPH says both these events are drive-thru. There's no need to get out of your car.
Other giveaways:
Randolph County Public Health is also offering free N95 masks to the public. You can get one pack that includes three masks. One pack is limited per person. The packs must be picked up at the front desk of the Randolph County Public Health Department, located at 2222-B South Fayetteville Street, Asheboro, Monday-Friday, 8 a.m. to 5 p.m. You can contact the Randolph County Health Department at 336-318-6200 if you have more questions.