GREENSBORO, N.C. (WFMY)--The history of slavery in the United States is a difficult subject and for African-Americans tracing history and records where they exist is a daunting task. Many are conducting their own genealogical research to understand their ancestry and build their family lineage. Some descendants of slave-holders are also looking into the past to reconcile their families roles. In many cases, extensive professional research coupled with DNA testing can cost a lot of money.
A project piloted by UNC Greensboro (UNCG) has now received additional funding to make some slave records more accessible and researching them easier. The 'People Not Property' project looks to digitize property deeds and bills of sale in North Carolina which are linked to slavery. It is an addition to the evolution of the Digital Library on American Slavery, the project is leading towards a unique, centralized database of bills of sales indexing the names of enslaved people from across North Carolina, according to the project's website.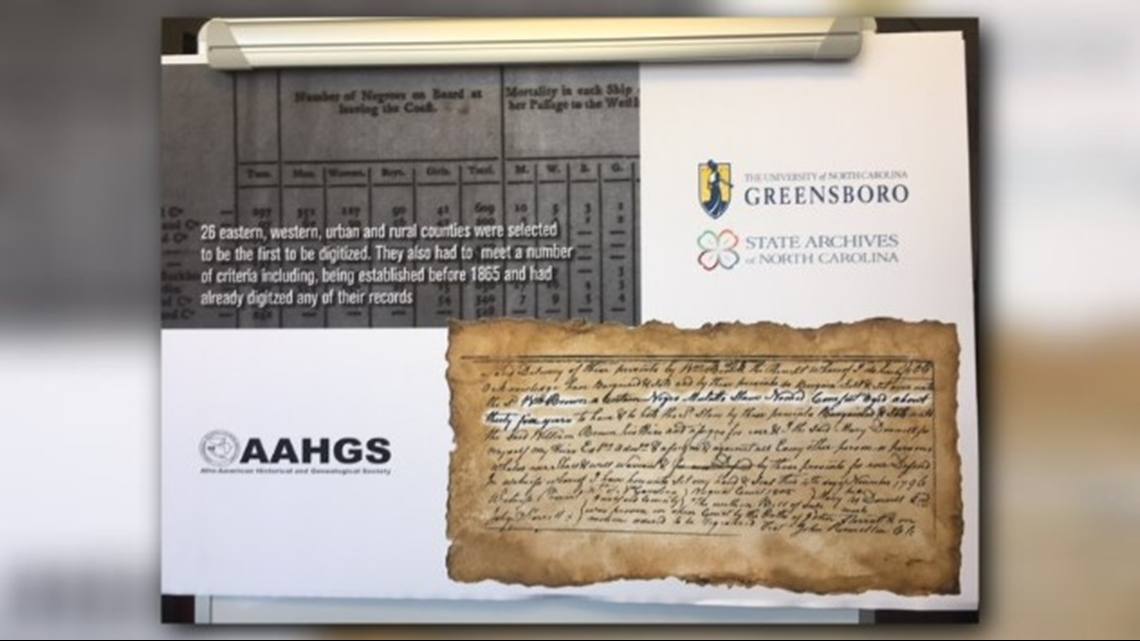 "People don't think to look in property records but property records are where you are going to find a lot of these things and one of the things we see in this project is insurance registries because people were insuring their slaves as property," said Richard Cox, a digital technology consultant with UNCG libraries and one of the primary researchers on 'People Not Property'. Cox is also the co-chair of the project's working group.
"They are all handwritten documents from the 1800s so there are a lot of challenges with that but it's a challenge we are looking forward to," said Cox.
The university has teamed up with the North Carolina State Archives, the Afro-American Genealogical Society, various researchers drawn from academic institutions across the state and 26 North Carolina county registers to digitize those records. The database will be available online and accessible to the public.
"In Guilford County, we have about 400 Slave deeds that are online and in Buncombe County they have about the same," said Jeff Thigpen, the Guilford County Register Of Deeds.
There are nearly 10,000 slave deeds and bills of sale which researchers plan to digitize and transcribe.
The National Historic Publications and Records Commission's nearly $300,000 grant would go towards that.
"Part of the goal has been for people to be able to reclaim their history and to be able to do their research so they know those family connections, added Thigpen. Buncombe County's Register of Deeds was one of the first to begin the digitization process in 2012.
"For many African-Americans, since there were no birth certificates, there were no marriage certificates or licenses they lose the trail in slavery," said Dr. Arwin Smallwood, Professor, and Chair of North Carolina Agricultural & Technical State University's (NCA&T) Department of History.
Smallwood who has written and researched extensively on African-American history and politics in North Carolina and across the country is also on the working group for the project.
"Much of African-American history is really these documents. Families who owned slaves going back to the 1600s in Virginia and North Carolina."
He said most people then moved down into South Carolina, Georgia and then further from the coast westward into Tennessee and Kentucky and as they settled, they established various records and documents.
"In those papers, they name the slaves they give descriptions of the slaves, they talked about whether they were light or dark, whether they had scars. They talk about the skills that the slaves possessed whether they were carpenters, seamstresses, brick masons or blacksmiths," added Smallwood.
Deeds and bills of sale are often the only documentation of the movements and at that time, distributions of black people that exist prior to the 1865 Emancipation.
"This is about people and human beings and we need to understand that history," added Thigpen whose office fields requests for genealogy research.
"There are counties who have unfortunately lost their records to fires, floods, the passage of time so there is a very important preservation aspect," concluded Cox.
Cox also add that some of these deeds tell the stories of how some family members bought each other out of slavery or re-entered in order to stay together.
When completed, the People Not Property - Slave Deeds of North Carolina will include robust metadata, high-resolution images, and full-text searchable transcripts. Researchers hope to open the project to states beyond North Carolina, by creating a central location for accessing and researching slave deeds from across the Southern United States, according to the project's website.