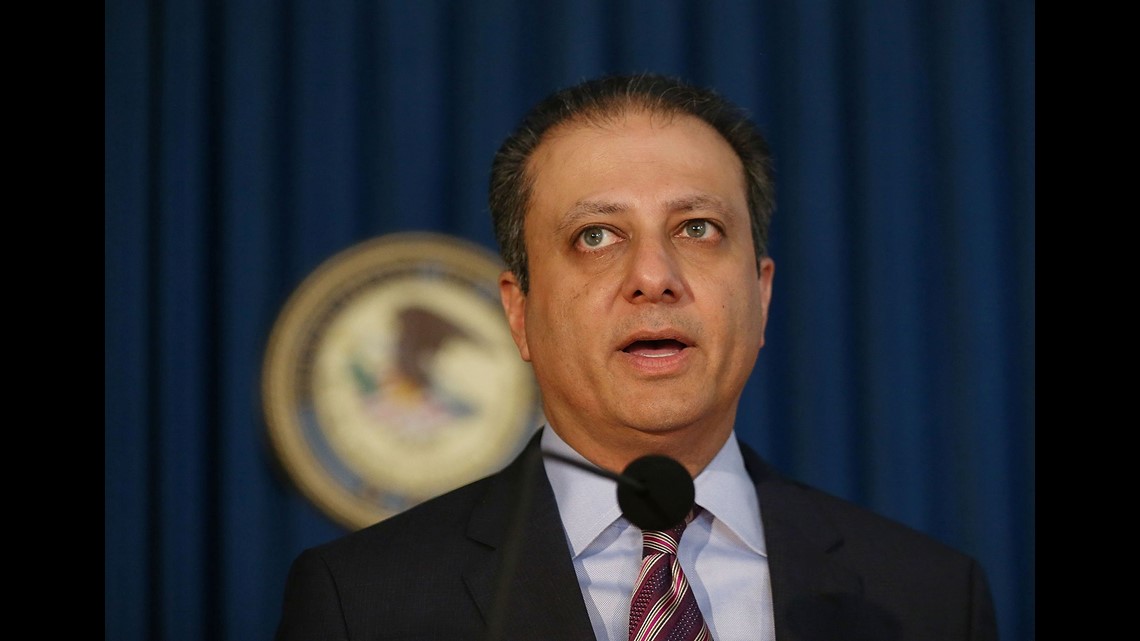 Speaking on his podcast, Bharara addressed speculation that he may throw his hat into the race to replace former attorney general Eric Schneiderman, who abruptly resigned this week after he was accused of physically assaulting four women.
Bharara, who brought charges against state legislative leaders and a top aide to New York Gov. Andrew Cuomo, confirmed that he would not seek the state Legislature's approval to become interim attorney general to serve through the end of the year, saying it has the "look and feel of a backroom deal."
But he did not rule out running for the position in November, when it will be on the ballot for a full, four-year term.
"The question about what I'll do with respect to the election in November, that's for another day," Bharara said on the podcast, Stay Tuned. "Like I said, I think politics is not really for me, but it's an important job, it's an important time, so we'll see."
Bharara railed against corruption in state government during his time as the lead federal prosecutor in New York's Southern District, which includes Manhattan and the Lower Hudson Valley.
An Obama appointee, he served in the role from 2009 through 2017, when he was fired by President Trump's administration.
Corruption cases
Bharara's office brought corruption cases against former New York Assembly speaker Sheldon Silver, a Democrat from Manhattan; former Senate majority leader Dean Skelos, a Republican from Nassau County; and Joseph Percoco, Cuomo's former top aide, close personal friend and campaign manager.
All three cases resulted in guilty verdicts, though Skelos and Silver are being retried after a subsequent U.S. Supreme Court decision led to their cases being overturned.
Bharara's office also secured the conviction of Thomas Libous, a Republican from Binghamton, N.Y., for lying to the FBI. The conviction for the former Senate deputy majority leader was vacated when he died in May 2016 while his case was on appeal.
Schneiderman, meanwhile, announced his resignation Monday, hours after The New Yorker published an article detailing allegations from four women who said Schneiderman slapped, choked, spat on or otherwise degraded them.
The former attorney general has said he "strongly contest(s)" the allegations and is facing a criminal investigation.
On his podcast, Bharara said lawmakers should keep Solicitor General Barbara Underwood in charge of the Attorney General's Office through the end of the year, calling her "eminently qualified" and "beyond reproach."
Underwood took over on an acting basis Tuesday.
Under New York state law, the Legislature appoints an attorney general to serve out the current term when there's a resignation in the office.
Assembly Speaker Carl Heastie, a Democrat from the Bronx, announced Wednesday that he would be accepting résumés from prospective candidates through Friday and would hold public interviews next week.
"This process would allow us the opportunity to recommend or select a well-qualified replacement, so that public uncertainty regarding who fills this important office will be resolved as soon as reasonably practical," Heastie wrote to legislative leaders.