PHILADELPHIA — President Joe Biden on Saturday cloaked himself in the most pro-labor president ever label, reveling in cheers from exuberant union members at the first major political event of his reelection campaign as he said his economic agenda is boosting the middle class.
He spotlighted the sweeping climate, tax and health care package signed into law last year that has cut the cost of prescription drugs and lowered insurance premiums, pocketbook issues that are part of his administration's focus on his achievements during his first two years in office — and his centerpiece argument for a second term.
"I'm looking forward to this campaign," the Democrat said. "We've got a record to run on."
His choice of Philadelphia and Pennsylvania — and a friendly union audience — reflected their crucial role in his reelection effort. The city was the site of his campaign headquarters in 2020 and the state was one of a handful that had voted for Republican Donald Trump in 2016 but flipped back to Democrats four years later.
Until now, Biden's primary campaign activity has been fundraising as the campaign tries to amass an impressive fundraising haul before the year's second quarter concludes at the end of the month. The president raised money at a private home in Greenwich, Connecticut, on Friday and soon will hold fundraisers in California, Maryland, Illinois and New York.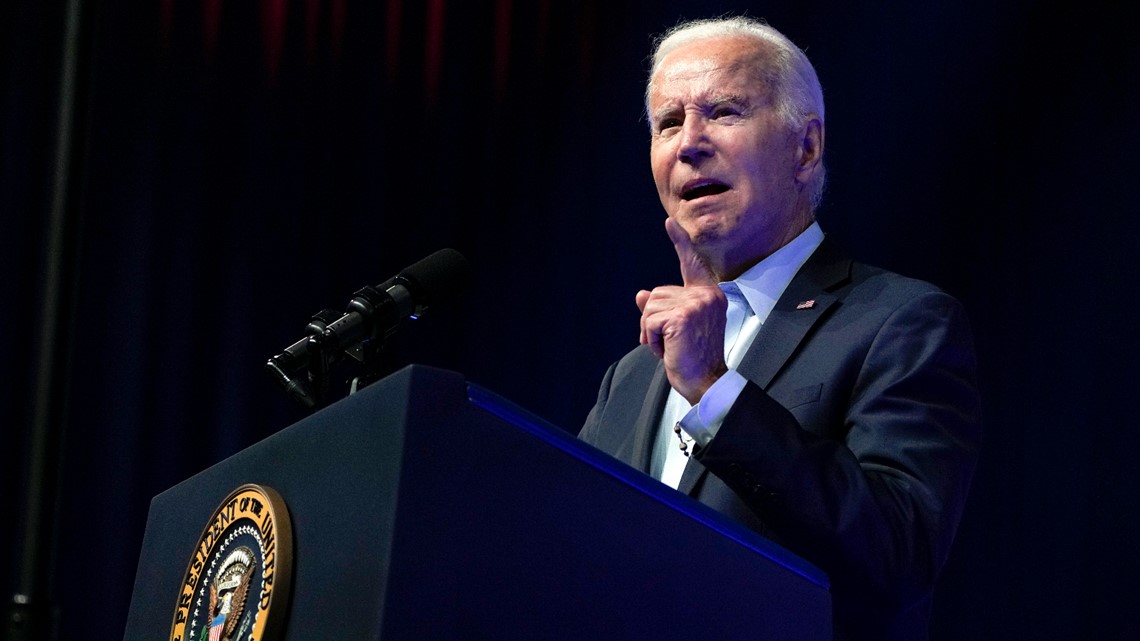 More than 1,000 union workers in different color T-shirts bearing their organization's logos began chanting "Let's go, Joe!" and "We want Joe" and blowing whistles hours before Biden arrived. Members of unions representing professions from carpenters to airport service workers to entertainers to heavy service equipment engineers praised Biden — some speaking in Spanish with translators.
The event, which organizers said included unions representing 18 million workers nationwide, recalled then-candidate Biden opening his 2020 presidential campaign at a union hall in Pittsburgh, and Biden likes to say no president before him has been as pro-union. He told reporters before leaving Washington that he had met with business leaders on Friday and that corporate interests and "unions are beginning to work together."
"I'm excited about this is the beginning of something big," Biden said, "and we'll begin changing the economic balance."
Several of the nation's most powerful unions — including the AFL-CIO, American Federation of Teachers and the American Federation of State, County and Municipal Employees — officially endorsed Biden's campaign on Friday. The first-of-its-kind joint endorsement among the unions and the backdrop of hundreds of workers are part of a meticulously choreographed effort to show the support of labor behind what Biden himself calls the most pro-union president in history.
The union endorsements followed Wednesday's joint endorsement from major environmental groups, a back-to-back backing by design, according to a campaign official, meant to demonstrate that tackling climate change through green jobs does not threaten workers' rights.
The Philadelphia event also comes amid some encouraging economic news for Biden, with inflation cooling last month, continuing a steady decline in consumer prices primarily driven by lower gas prices, a smaller rise in grocery costs than in previous months and less expensive furniture, air fares and appliances.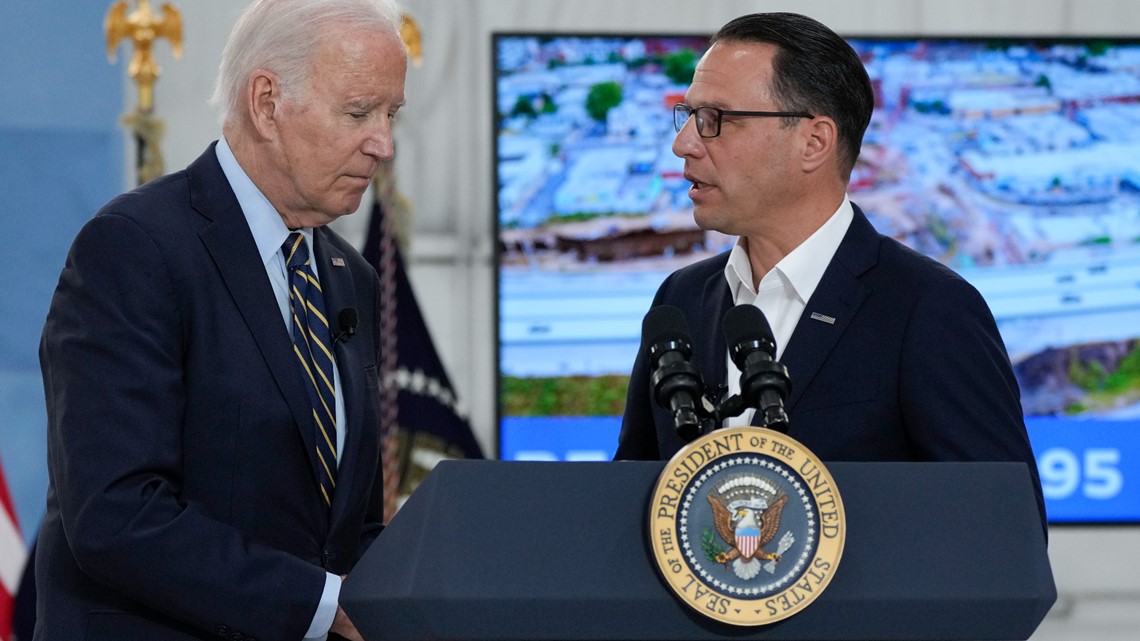 Michael Smith, a 62-year-old retired electrician who was attending Saturday's rally and is a member of the International Brotherhood of Electrical Workers, said he liked Biden's chances of reelection next year because of his administration's championing green jobs and construction nationwide as part of the bipartisan infrastructure law Biden signed in 2021.
"You can see see how important that is with 95 going down," Smith said of the legislation, adding "That is a big factor in creating work and jobs. Not just for unions but for the middle class."
Another union member on hand, 53-year-old Jennifer McKinnon, a grade school librarian and member of the National Education Association, said she felt that Biden had a personal commitment to education because his wife, Jill, was a teacher who continued to teach English at a Northern Virginia community college as first lady.
"I'm very optimistic. I fear that the Republicans are going to get caught in their cycle that they did last time and people aren't going to buy it this time, so Joe's going to sweep right in," McKinnon said of the 2024 election, alluding to Donald Trump, who is the early front-runner for the Republican presidential nomination.
Many in the crowd also said they thought the criminals cases in federal and New York courts against Trump could complicate his electoral pitch even though his message of economic populism resonated with some union members in the past. AP VoteCast, a sweeping survey of the 2020 electorate, found that about 6 in 10 self-identified union members supported Biden, a margin that outpaced Trump but was not commanding.
Randi Weingarten, president of the American Federation of Teachers, said part of the reason the AFT and other top unions endorsed Biden nearly 18 months before Election Day 2024 was to promote Biden's economic record against Republican-championed cultural issues.
Clark Hamilton, a 63-year-old retired electrician said that Biden represents union values but noted that the president also sometimes "plays it like most politicians, in the middle." He referenced Biden urging Congress to helped prevent a rail strike last year, which the president said could cripple commerce nationwide.
"That's a shame," Hamilton said. "But he was trying to save the economy."
Still, Hamilton said he's confident that Biden's record will secure him a second term net year "especially if it's against Trump."